Batavus Champion bike from 1978
restoring retro glory with some help from the Internet
Almost a year ago I bought an old steel racing bike from 1978. I wanted to figure out if using a bike to commute worked for me. It did! I used it to ride more than 1000KM before I decided to get a modern road bike. Now, almost a year later, I decided to put the powers of the internet into good use: to bring the bike back to its retro glory!
Vespa self destruction
In September 2015 I used the Dutch graiglist (marktplaats.nl) to find a bike suitable for commuting. A few weeks earlier my Vespa moped decided it was time for self destruction - its cylinder got jammed and destroyed the engine. I was using a normal 3-speed city bike to commute since I hate using the car due to the Amsterdam traffic, but I found it too heavy and inefficient for daily commutes.
Faster forward like a champion
So there I found it, an fine example of 70s low end bike design: the Batavus Champion. By no means a special or performant bike, even in its day. But to me it meant everything: it moved me faster forward than any other bike I owned and it was unlike I had seen before!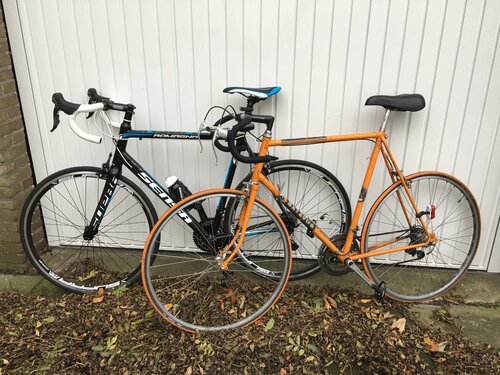 Batavus Champion specifications when I found it:
heavy frame made from steel
double front crankset
6-speed rear cassette
fluffy saddle
a '90s Syntace front stem
two tires "in original condition"...
worn out, rattle inducing, bearings
The first time I used the brakes one of the bolts holding the brake wire snapped. Clearly this machine required some overdue maintenance!
Local bike shop to the rescue
So I went to the local bike shop to fix my newly found piece of biking history. Two new tires, an entire set of new bearings (at the crankset, rear and front) and some fresh bolts in the brakes (to hold the break wire). When I got it back it felt like new, ready for many kilometers of commuting!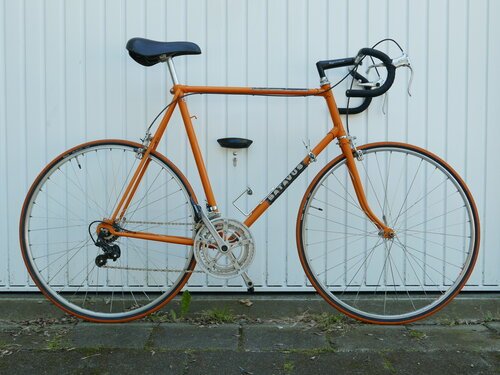 After about 1000KM of riding I bought a modern road bike, mainly because of improved geometry, lower weight and better gear system. The modern bike rides better and because of it the Batavus stood still once more...
Restoring the retro glory
Something happened during the last year of biking: my condition improved significantly. I can now ride any bike with ease, pretty much regardless of its weight or geometry. I figured it would be cool to ride on the old Batavus again!
With my newly acquired bike knowledge, I investigated the old Batavus, it needed serious cleaning, degreasing and some of the mechanical parts seemed non original.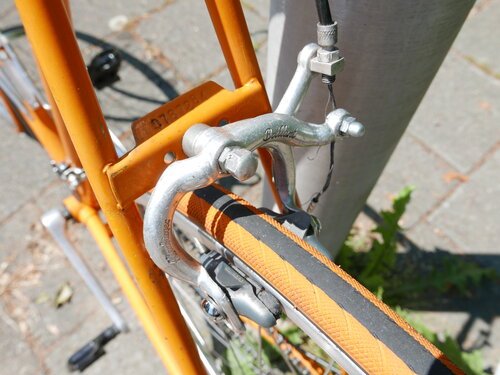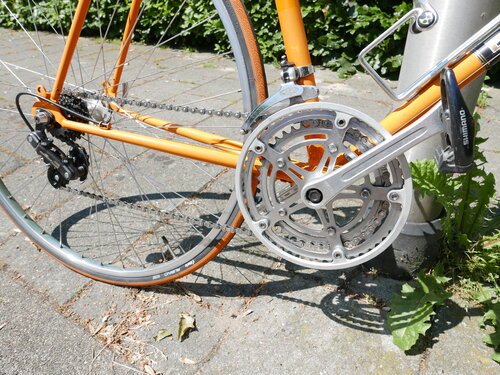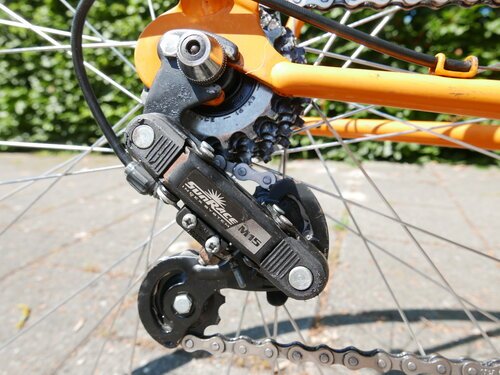 Powers of the Internet
Obviously I was not born a 1978 Batavus bike expert..., but luckily I am quite handy when it comes to Internet. After some extensive searching I found an original advertisement of the Batavus Champion from 1978: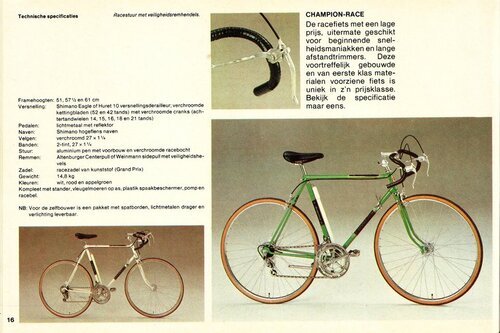 Not only gave this advertisement an indication how the bike looked originally, it also specified what gear shifting groups where available for this bike!
Derailleur
The rear derailleur on my Batavus was rusty and obviously not original (it was still available at the local branch of Decathlon...). Luckily I found a guy selling a period correct Hurret rear derailleur!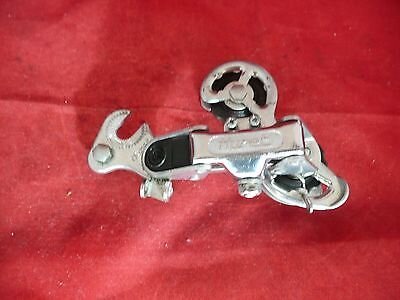 The derailleur was shipped from the other side of the world to me and I got it installed on the bike. It fitted perfectly!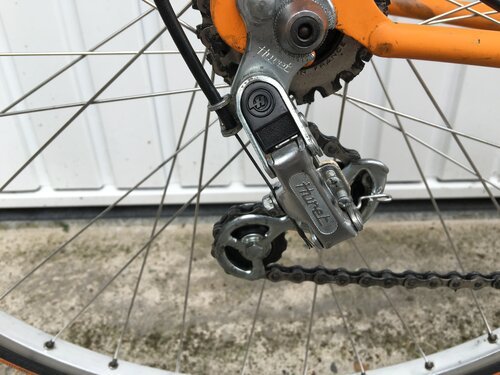 Pump
Unlike modern bikes, the old Batavus has a special hook on its frame to mount a large bike pump. Obviously the pump was missing from my bike. I found a fitting Italian Silca pump with a matching Presta pump head.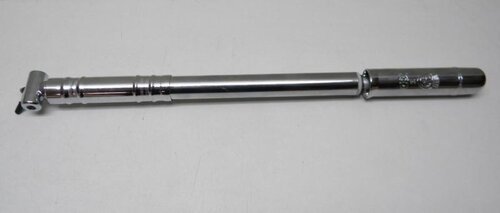 Retro drink bottle
When you ride a bike, you should always have something to drink with you. I figured that a modern drinking bottle would be silly on this bike. After some searching I found a mid seventies new old stock (NOS) drinking bottle somewhere in the United States of America. The owner was happy to ship it to me, just as happy as the local Dutch customs office which charged me a whopping €36 for this old piece of plastic as import duties...!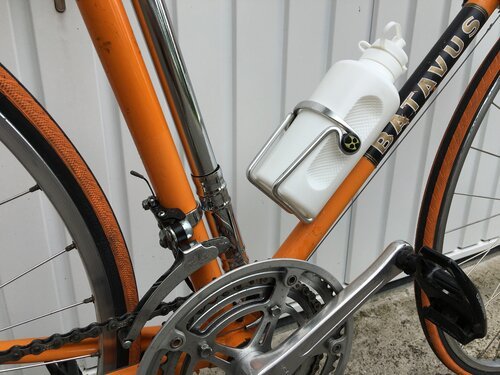 Stem
When I found the Batavus it had a much newer black Syntace stem mounted to the steer. Functional for sure, but I deemed it nicer to replace it with a metal coloured stem from santafixie.com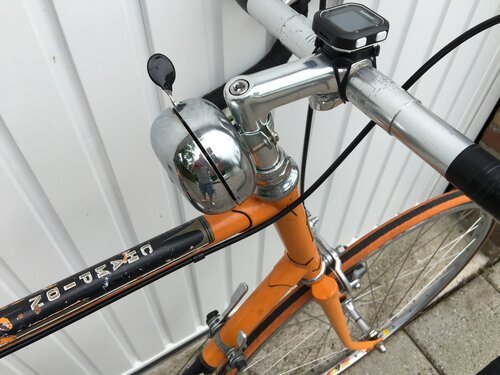 In addition to the stem, I added a large ding-dong bell and equipped the bike with a tiny (but powerfull) little Garmin Edge 25 GPS bike computer.
Saddle
A bike's appearance is defined by its saddle for a large part. The saddle I got with the Batavus was big, fluffy, and not exactly sporty.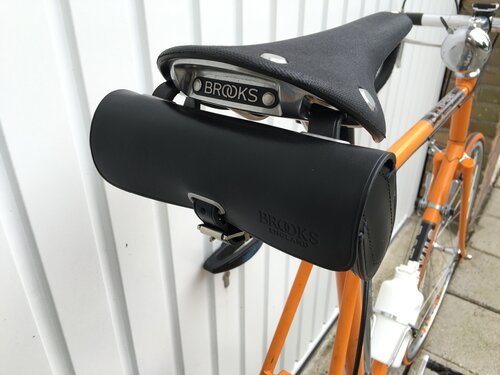 The Brooks Cambium C15 is a modern saddle with retro looks. It was not hard to find a matching saddle bag in similar retro style.
The result
After many (international) shipments of bike parts I am very happy with the result: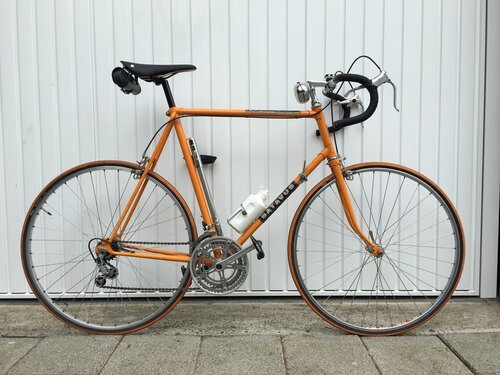 The bike is back and fully appreciated for its retro vibe. For sure a modern bike can ride faster, but why move in hurry if you can travel in style? :-)
Did you enjoy this post?
If you found this content useful,
consider showing your appreciation
by buying me a coffee ❤️😋: