Limitations of sleep tracking using a wearable
Comparison with a chest strap HR-monitor
Sleep monitoring is a popular feature of many smartwatches and wearables. Devices like Fitbit, Withings, Apple Watch and Biostrap analyse biometrics during your sleep. These wearables are worn on the wrist and use optical sensors to capture your heart rate. I wondered how the optical sensors would compare to a high resolution chest strap HR-monitor.
Optical HR-monitoring requires power
Most smartwatches and wearables use optical heart rate sensors to measure your heart rate. These need a light emitter (usually green or (infra)red LED's) and a photo sensor to analyse light refracting off your flowing blood. This data is analysed and processed into metrics such as heart rate. Because this sensor type requires processing and multiple components, it typically uses more power. Check out my detailed post about different HR-monitor types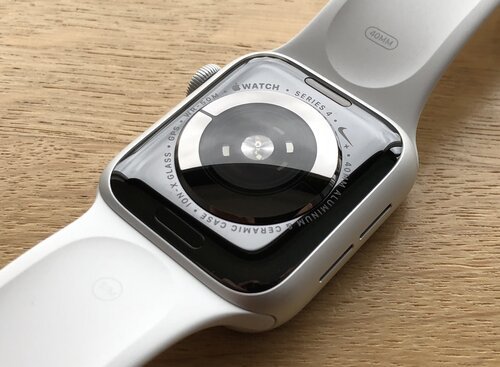 Limited by battery power
As batteries in wearables are usually limited because of their physical size, heart rate monitoring cannot be done continuously during sleep. It's common to only take heart rate measurements with intervals as low as just once every 5 or even 10 minutes!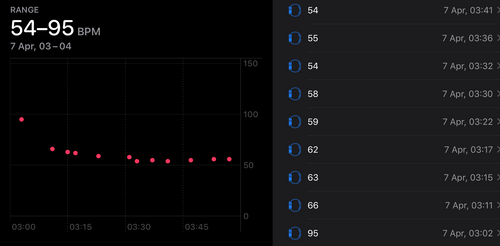 That means you'll get just 6 or 12 measurements per hour. That is very limited when you consider that your heart will beat 3600 times an hour at a common 60BPM.
High resolution HR-monitor: chest strap
Contrary to the optical sensor used in most wearables, a chest strap HR-monitor can easily capture your heart rate in realtime: providing multiple (accurate) measurements per second! This is why this sensor type is popular by professional athletes during their workouts. Like I explained before, it can do this because of its conductive connection to your body allowing it to capture your heart's electric activity directly.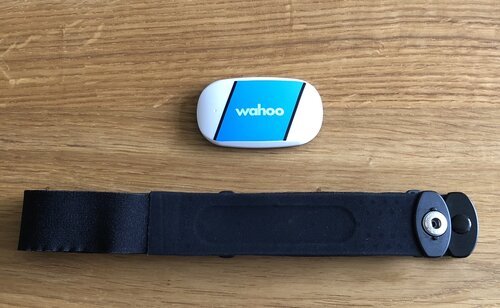 Although the chest strap is power efficient and reliable, it's not very comfortable to wear for any other than working out. That's why all the sleep tracking is usually done using optical sensors in wrist worn wearables.
Experiment: wearing a chest strap at night
What difference would it make if sleep analyses was done using multiple data points per second instead of just a few measurements per hour? I decided to wear a chest strap heart rate monitor during my sleep to find out.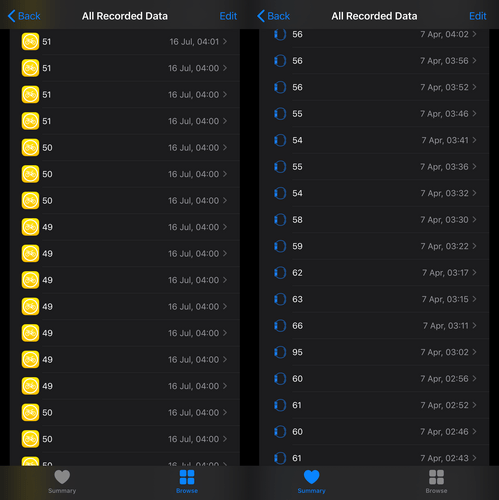 To compare data from the chest strap I decided to wear another (optical) heart rate monitor on my wrist: Biostrap. Like most smartwatches, it uses an optical sensor to capture metrics. I configured it to capture data every 5 minutes (a common interval, just like Apple Watch).
Findings
My experiment went well, a night without interruptions other than my regular nightly "daddy duties". The next morning I reviewed the data captured by both sensors.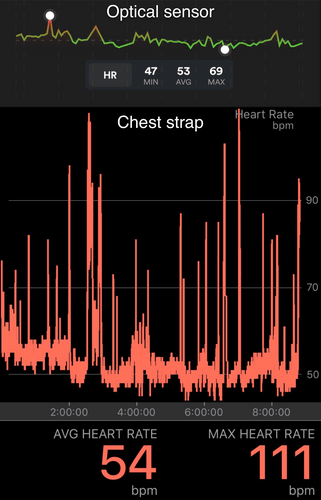 You can clearly see the difference in data collected by both sensors. They more or less agree on the average and minimum heart rates. But the data from the chest strap clearly shows more and higher spikes. The chest strap detected a maximum of 111 BPM versus the 69 BPM maximum measured by the optical sensor.
I wonder where these spikes come from, I think they may be the result of me dreaming, turning around or (slightly) waking up in response to an external sound. Because of their short duration these spikes are missed by the optical sensor which only does one heart rate measurement every 5 minutes.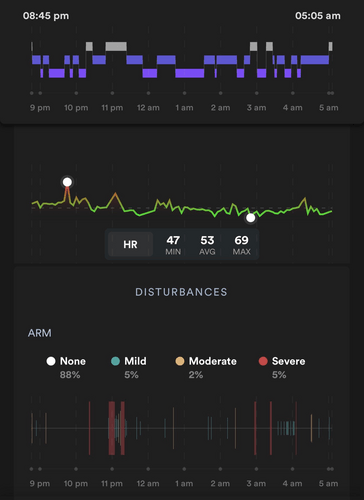 This is why most wearables use a gyroscope sensor in addition to the heart rate sensor. Some smartwatches use the microphone to detect external sounds, too.
Conclusion
Wearing a chest strap HR monitor during sleep revealed that data captured by the commonly used optical heart rate sensor is incomplete. Short disturbances (causing spikes in heart rate) are easily missed.
In a way, the optical heart rate sensor feels like a speedometer that only works a few times per hour. Additional data from gyroscope and microphone can't fully make up for the missing data. You would consider your speedometer broken!
Therefore you should consider if sleep tracking using a wrist worn sensor is worth all the effort. You might be better off spending your time and energy doing something else, like sleeping! Sweet dreams!
Did you enjoy this post?
If you found this content useful,
consider showing your appreciation
by buying me a coffee ❤️😋: