Improve your sleep by blocking light
On the benefits of wearing a sleep mask in bed
Over the past few weeks I have been experimenting with wearing a sleep mask in bed, blocking all light. Our bodies produce the sleep hormone, melatonin, in darkness. Living in an environment awash in artificial light, is therefore exactly the sort of thing that disrupts one's circadian rhythm. Can a simple mask help?
Why good sleep is important
A good night's sleep is incredibly important for your health, it's just as important as eating healthy and exercising:
Poor sleep affects hormones that regulate appetite. Those who get adequate sleep tend to eat fewer calories than those who don't.
Good sleep maximises problem-solving skills and enhances memory.
Recovery from exercising happens mostly during sleep, therefore a good sleep enhances athletic performance.
Good and regular sleep allows your body's immune system to function at its best, limiting the chance to get ill.
Sleep hormone melatonin and darkness
Melatonin, a hormone produced in the brain's pineal gland, is responsible for regulating your body's clock, or 'circadian rhythm'. The release of this hormone is largely controlled by exposure to natural light, or lack thereof (darkness). Production is triggered in the evening and melatonin continues to be released throughout the hours of darkness that follow. When the day breaks, melatonin levels drop until the next evening. Darkness is therefore very important for your body to sleep.
Artificial light disrupting your rhythm
We live in environments awash with artificial light, this light disrupts our rhythm. The natural distinction between day and night is no longer warranted. Consider light sources that might interrupt your circadian rhythm: A street light? Your partner's iPhone? A hallway light?
In a 2010 study, researchers in China found that when exposed to a noisy, bright environment, test subjects wearing eye masks and earplugs experienced better sleep than those who went without.
The Mindfold: total darkness with your eyes open
One way to ensure total darkness when you're in bed, is to wear a sleep mask. While reading about the daily routines of successful business people and professional athletes, I stumbled upon a billionaire advising to invest in a $20 sleep mask, the Mindfold.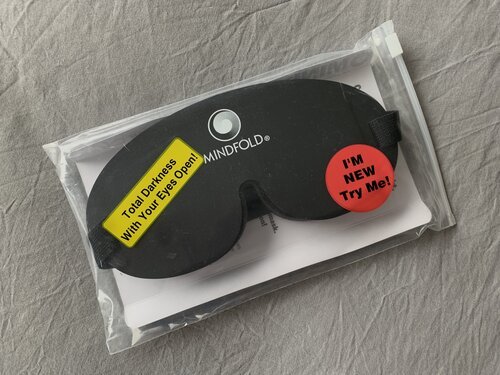 Not been discouraged by the 80's vibe of the mask's branding and website, I decided to take a chance and order a few. Few weeks (!) later, I received the package from Colorado.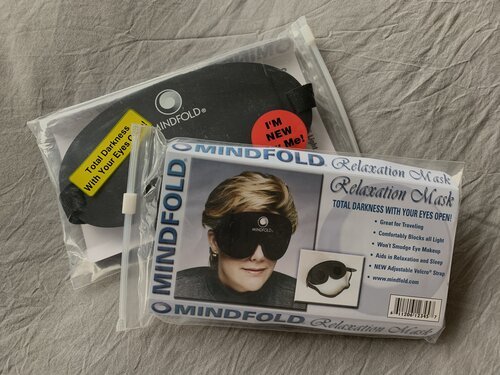 Don't let the branding fool you: the Mindfold is a seriously effective thing to eliminate all light from passing through. You quite literally experience complete darkness with your eyes open (in brightly lit environments). It's quite amazing not to be able to see a difference between having your eye lids open or closed.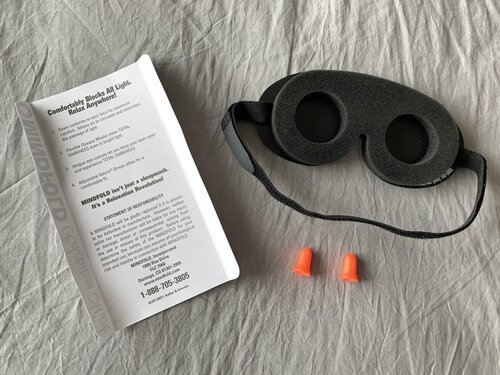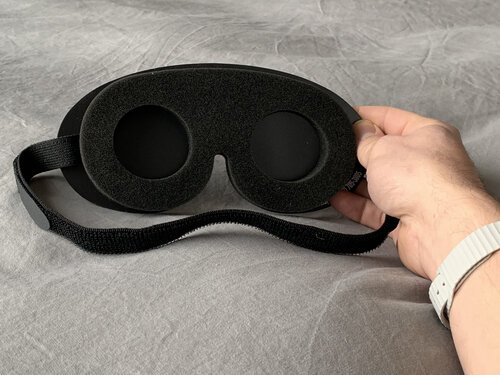 The mask has a soft foam cushion that ensures a perfect fit in combination with the simple but effective Velcro straps. The mask is flexible, allowing it to conform to your face. After wearing it for a few weeks I don't even notice it anymore!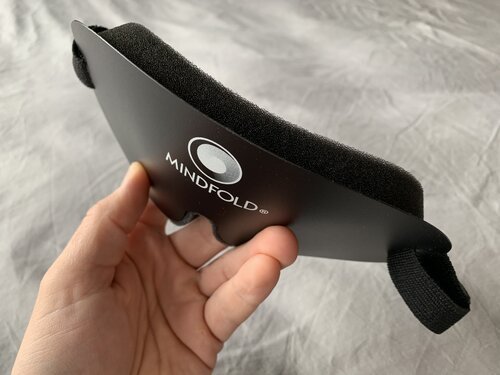 Wearing the mask
Admittedly, it took some time for me to get used to wearing a mask at night. At first it feels weird, alien and uncomfortable. But almost immediately I sensed the effect of total darkness: it's so much easier to fall a sleep.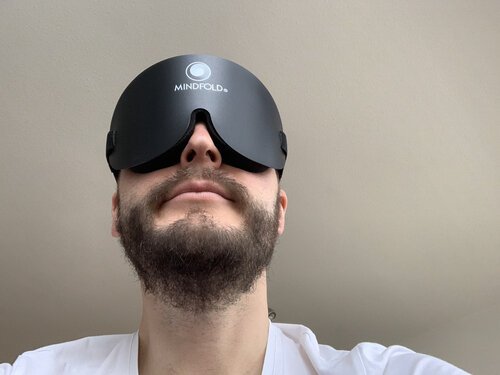 Benefits of the sleep mask
You really have to give the mask a chance to reach its full potential. After some time getting used to it, I really started to appreciate it's effects. I fall asleep quicker, stay asleep longer and feel better rested.
Sometimes I feel a little disorientated when my alarm wakes me up while wearing the mask. Like the feeling you have when you're sleeping really deep. It's a testament of the effectiveness of the darkness, I guess.
Another funny effect is that when you wear the mask regularly, it elicits a sort of Pavlovian response. The mere act of putting my mask on, induces a near-immediate state of drowsiness.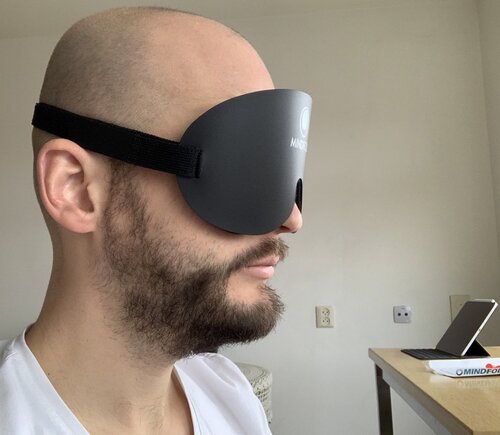 Measuring sleep effectiveness
I wondered if the sleep mask's effectiveness could be measured so I collected data using different sensors and trackers. I looked at heart rate, the number of disturbances, and heart rate variability (HRV).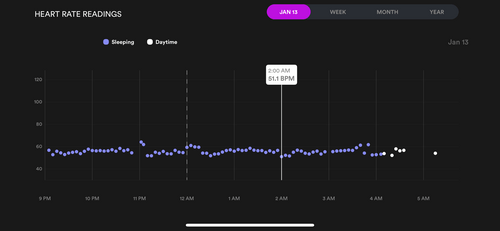 Using Biostrap, I measured my heart rate while sleeping with the mask. As you can see in the graph, my rate is very constant and near my known minimum rate (±50BPM). You can see that I experienced a "dull" night, in the sense that I was "busy" sleeping and not much else. (Good!)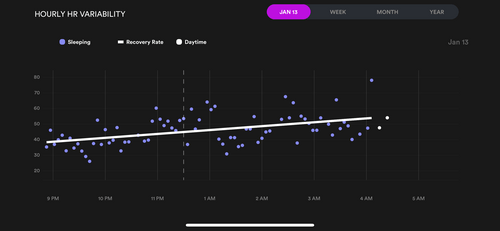 During the same night my HRV went up, indicating a decent recovery. When you have a high HRV, it means that your body is responsive to both the parasympathetic and sympathetic nervous system. The higher the variability between these two branches, the better your body is capable of adapting to its environment and performing at its best.
Be aware that HRV is personal and you should be looking at your personal data only, identifying trends in your own data. If you know your minimum and maximum values, you can say something about how well you have recovered. As you can see in the personalised Biostrap data, there was a steady recovery rate during this night: I slept well!
The power of naps
While sleep experts out there would agree that consolidated sleep is ideal, there are times when getting all the sleep you need might not be possible. This is when a (power) nap can help you.
Napping mid day is considered to be the best time as it limits interference with your circadian rhythm. While a short nap can have positive (muscle memory) effects, real benefits are measurable when you sleep for at least 90 minutes. This is because typically you're not going to get into REM sleep unless your nap is at least 90 minutes. REM sleep is the time when new learnings are committed to memory. In many ways it's like a reset for your brain, allowing it to take on new cognitive challenges afterwards.
The mask makes it easy to do a daytime nap, the total darkness allows you to sleep quickly - even when there is daylight outside. I don't even close the curtains anymore when I do daytime naps, it's not necessary when you have the mask.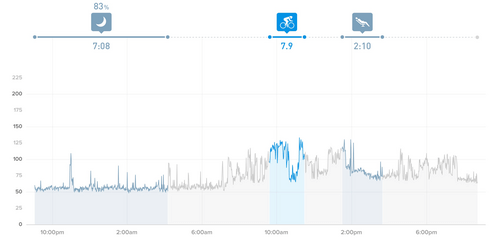 Heart rate data from my WHOOP strap clearly show the restorative effect of a nap during the day. This data is from the same day as the graphs shown ealier. It allowed my heart rate to return to normal values after an cycling session earlier that day. As I like to wakeup early in the morning (around 4.15 am), I regularly nap to stay energised and focused.
Conclusion
A sleep mask was not something that I thought I needed, until I started wearing one. Its effects are tangible and measurable. Considering there are only 24 hours in a day, you might want to optimise your time in bed.
Investing in a good night's sleep will provide you with benefits throughout the entire day. Wearing a sleep mask is a simple and cheap thing you can do to sleep better. I found it to be an incredible tip, you should give it a try, too!
Did you enjoy this post?
If you found this content useful,
consider showing your appreciation
by buying me a coffee ❤️😋: