Minimalistic road bike with Gates carbon drive
Meet your new therapist: the Schindelhauer Siegfried Road
For the past few months I have been riding a special kind of bike, the minimalistic Siegfried Road from Schindelhauer. It is unlike most road bikes as it lacks a conventional chain and derailleur. It features the Gates CDX carbon drive. It's an exercise in minimal design. After riding it for nearly 1000KM, it's time to tell you all about it.
Schindelhauer
Since 2009 the Berlin based Schindelhauer has been designing bikes that are technologically advanced yet straightforward. They value good design and practicability, their minimalistic bikes are built for everyday use.

They use high-quality parts that are meant to last. From the very beginning Schindelhauer developed bikes with a Gates Carbon Belt drive.
Siegfried Road
Although my commuter bike is still going strong, I wondered what it would be like if one would design a road bike with the Gates Carbon Belt Drive. Schindelhauer designed such a bike, the Siegfried Road.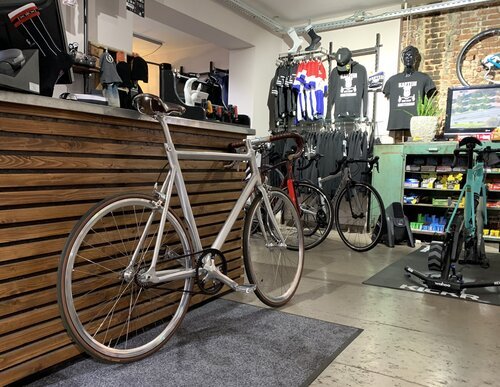 Adhering to the good Velominati rule #58, I supported the local bike shop and ordered the Siegfried Road to be delivered in Amsterdam, by Kaptein Tweewielers. It's a fabulous shop in downtown Amsterdam, if you're a local and in the need for some road bike advice you should check them out.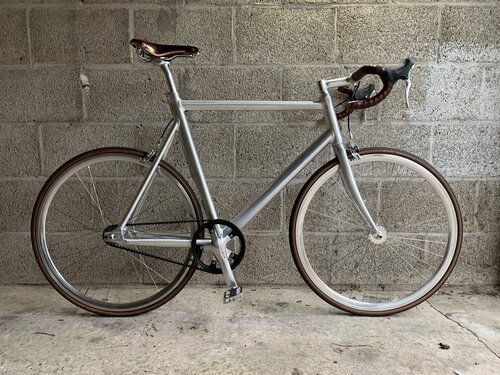 The Siegfried Road comes with a high quality, brown leather, Brooks Swift saddle, an absolute legend with lots of history. The bike comes with matching brown leather bar tape.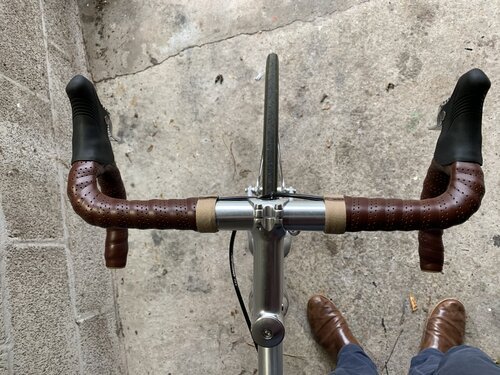 Although I appreciate the quality, I did not like the retro vibe of the brown colour. I couldn't help but feel that the bike would benefit from a little modernist touch, while staying respectful to the overall minimal design. Leave it to me to take a brand new bike apart...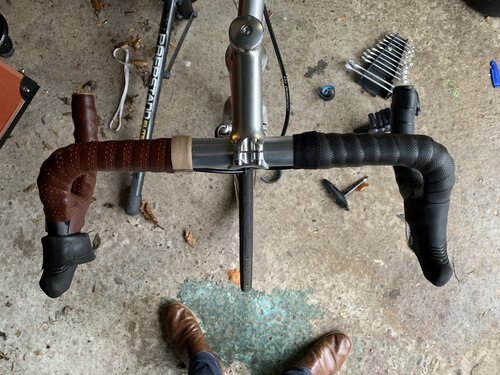 It's amazing what you can learn from YouTube, replacing the bar tape takes a little practice but it's not that hard to do. I removed one of the cranks to install a power meter and fitted a Wahoo speed sensor to work with my favourite bike computer app.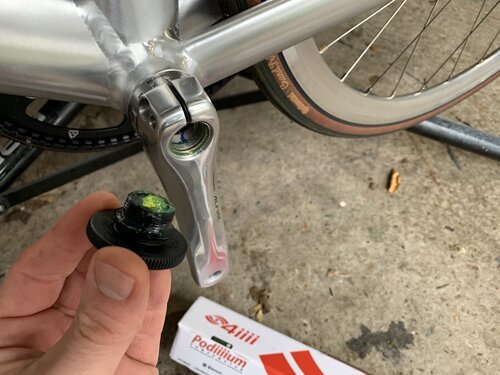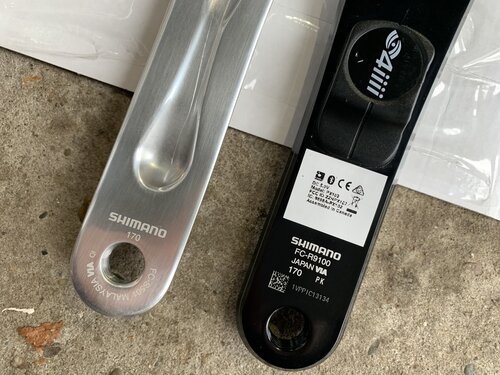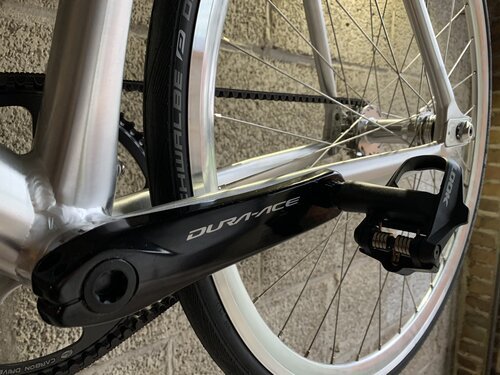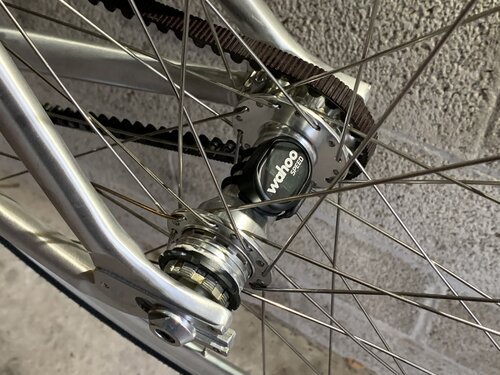 Changing the tires on a bike with a belt drive can be a little tricky as the belt should not be 'flexed' in any direction. By loosening the rear axle it becomes possible to create just enough clearance to carefully take the belt from the sprocket. I installed the very dependable, durable, black, Schwable Durano Plus tires.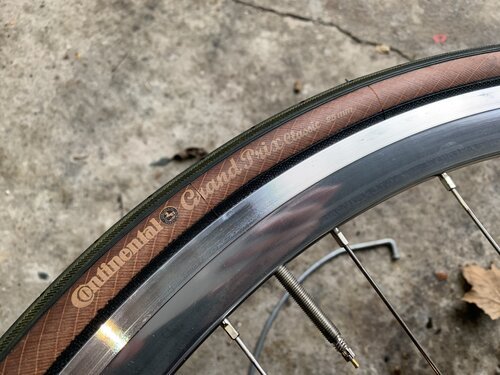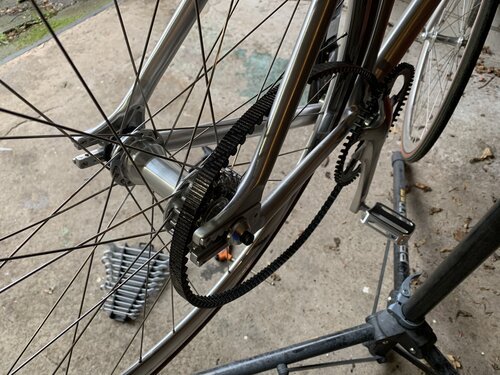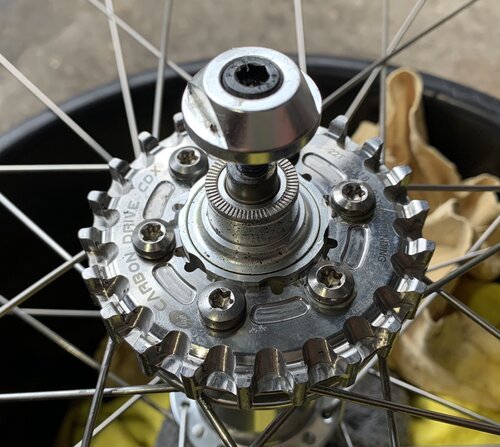 I replaced the Swift saddle with a high quality Brooks Cambium C13 carbon saddle and installed Look carbon click pedals. After some hours of tinkering on my new bike, I endend up with what one could call: "Siegfried Road with a touch of Willem"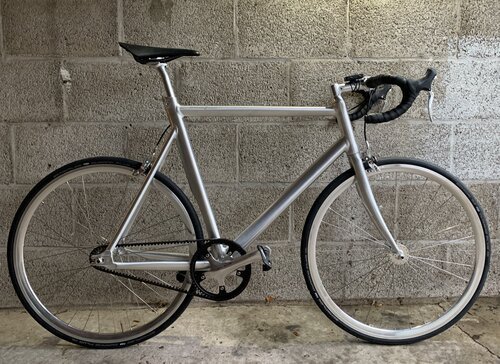 Pure awesomeness
If you think it looks great, you're not alone. Over the past 1000 kilometers I have received numerous remarks from fellow cyclists, inquiring what bike it is that I'm riding. People notice the lack of screaming colours and decals. Its minimal design stands out in a good way.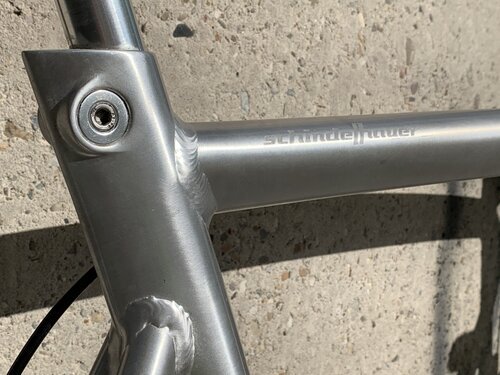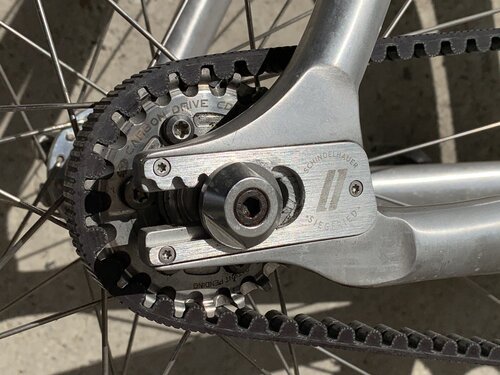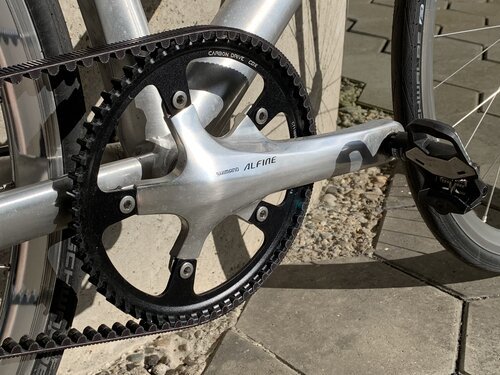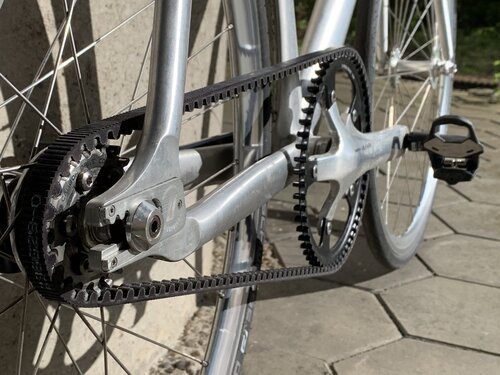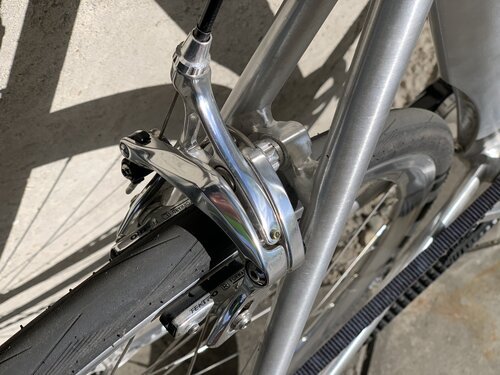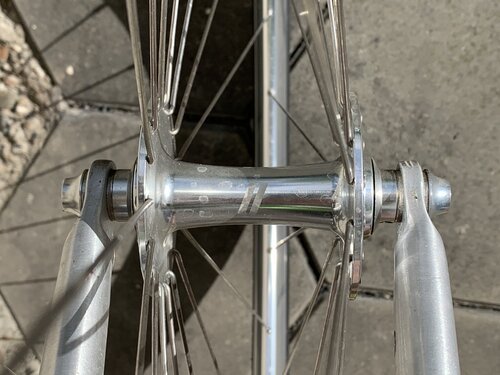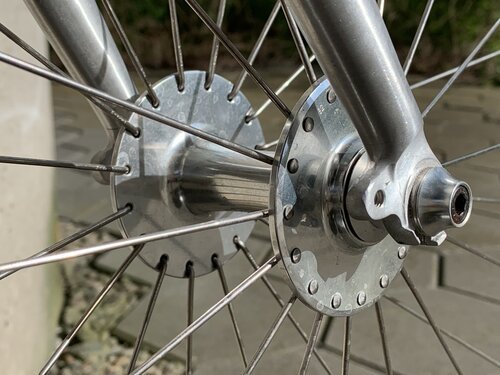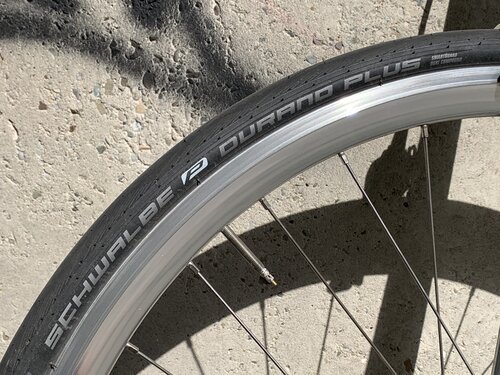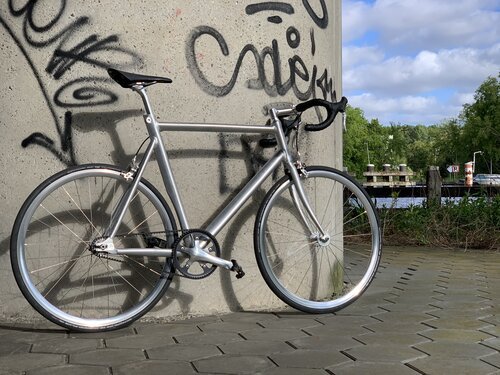 Riding minimalism
If you like cycling, you probably know that it can clear your mind in a very refreshing way. Some say that riding your bike has a therapeutic effect, an exercise of mindfulness during your workout.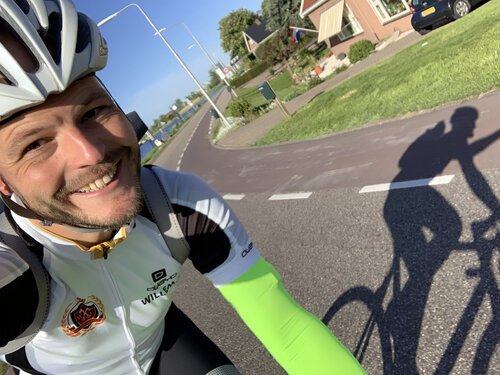 Fixed gear bike
The Siegfried Road is a single speed bike, I ride it in the so-called 'fixie'-configuration: where the drive train is fixed to the pedals, enforcing the pedals to rotate as the bike moves. You'd be surprised how much mental effort you unconsciously allocate to the continuous process of selecting the right gear while cycling.
Riding a fixed gear bike means that "you're always in the right gear", you just have to pedal a little harder or faster. It takes a little time to get used to. Some cyclist describe riding a fixed gear bike as something that makes them feel "more connected" to the cycling. I kind of understand what they mean with that. It's nice, in a therapeutic, tranquil way.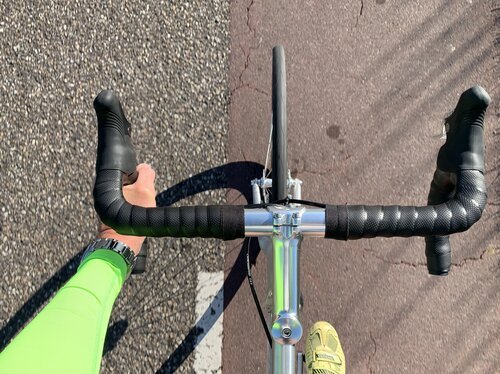 The belt drive advantage
The Gates Carbon drive on a road bike like the Siegfried is a perfect fit. It operates in absolute silence, there are no rattles, no chain-slap-sounds, nothing. Just you, the bike, the road and nothing else.
Adding to the riding pleasure, the Gates Carbon drive on the Siegfried Road means that maintaining your bike becomes a lot easier. If you ride your bike on a wet road, you can easily rinse of any dirt with a little bit of water.

Conclusion
The Siegfried Road is not for everyone, but for those who appreciate minimalistic design in a sporty package, it is great. Have it in single speed or fixed gear configuration and simply go out and ride.
Its timeless design, combined with long lasting components make the Siegfried Road a trustworthy companion for those times when you simply want to ride your bike. I love it for this!
Update
September, 2020: : I found a beautiful bike computer for this bike: Omata One
Did you enjoy this post?
If you found this content useful,
consider showing your appreciation
by buying me a coffee ❤️😋: