Listen to your body
Why I stopped using health and fitness sensors
A good customer of mine was once a physiotherapist, he told me about people asking him to "feel their muscles" to tell them how they where doing. "Crazy!" he told me: "I can never feel better than the people themselves, if they only would listen to their body". This caused me to question the health and fitness sensors I use.
Why the data?
Three years ago I was shocked by the news of another customer of mine that nearly died because of something suddenly going wrong inside his body. I don't know exactly what happened, but it struck me: health is a feeble thing and this father of three triggered me to consider my own health.
Back then, my car and moped were my best friends. I didn't do sport and consumed anything as I pleased. Living the good life, so I thought.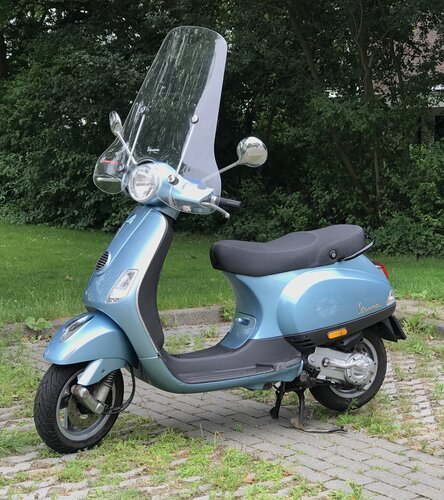 Then - in a weird coincidence - the engine of my moped blew up. This big bang caused me to use a bike for commuting to work. In the beginning the 16 kilometres to work felt like cycling the "Tour de France": my body was in bad shape.
Weeks went by and I felt better. I used Strava and Garmin to keep track of my performance. Out of my curiosity for watches I got an Apple Watch that made me aware of my heart rate during the day and sleep patterns at night.
Add a smart scale, blood pressure meter, thermometer and before you know it, you've got a big data thing going on :-)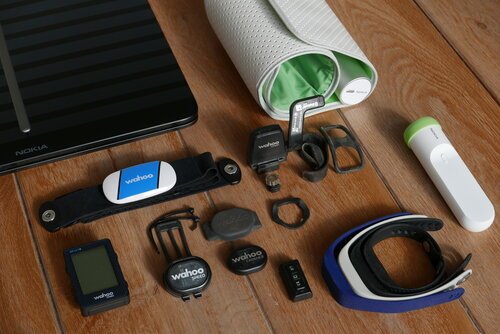 Learning from the data
Using Apple Healthkit and Biostrap I combined all the data. Visualising progress and finding correlations between measurements. I learned what effect my behaviour has with regard to:
weight: within 12 months after I started cycling I lost as much as 15 kilos. When I stopped using alcohol entirely, just six months ago, I lost another 10 kilos. The result is dramatic: from 110KG in 2015, to 85KG today.
heart: exercising regularly on my bike caused my heart rates to be much lower. When I push for maximum performance it follows the intensity level much more closely: returning to normal quickly after workout. Resting rates at night down from an average of 70BPM in January 2016, to ± 50BPM last night!
sleep: I am now able to wake up without an alarm clock because I understand when (and why) it's time to go to bed. I also found out that the occasional nap during the day can have incredible positive effects. 7 hours of sleep a day seems to be perfect for me.
alcohol: drinking beer was one of my greatest hobbies until I saw the data! After a good night out, my heart rate went up as much as 40%! Sometimes it took days for measurements to return to normal.
blood pressure: When I started measuring blood pressure about six months ago, it was pretty high: 141/92mmHg. I stopped using alcohol and I no longer add (additional) salt to my food. In just six months my blood pressure went down, I now regularly measure as low as 115/75mmHg!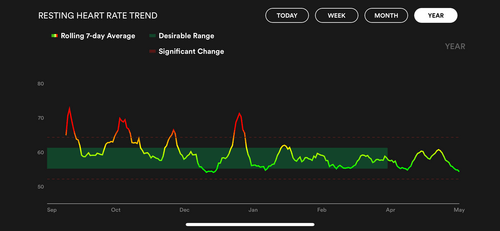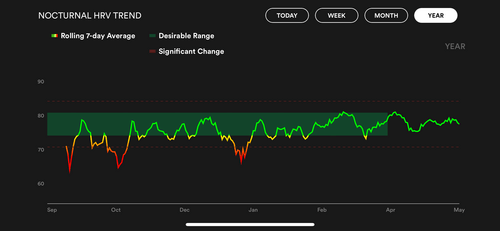 My measurements are stable and predictable now. Funny thing is that I can now accurately guess my heart rate based on how I feel within ±5 BPM. This brings me back to what my physiotherapist customer told me: "People are born with all the sensors they need"
Nervous system
The nervous system derives its name from nerves, which are cylindrical bundles of fibers that go from the brain and spinal cord, branching into every part of the body.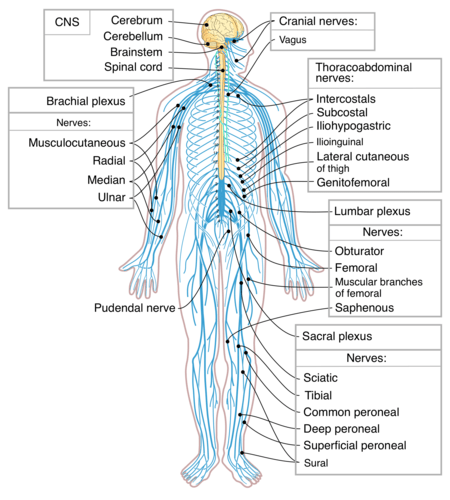 Your nervous system is a vast network inside your body that allows signals be send from one part of your body to others. It's fast (100 meters per second!) and precise (up to individual cell level). It allows you to feel how your body is doing, much more detailed than a bunch of bluetooth sensors can capture.
Conclusion
If you understand how you feel, then you don't need biometric sensors or fitness wearables. But, to gain that understanding they can be incredibly helpful.
I used data as quantifiable proof of progress. Measuring improvements in fitness and well being. They are means to an end.
Now I feel better then ever, I stopped using the health and fitness sensors and simply trust my feeling. I may pick them up one day to "calibrate my feeling", but for now I have disconnected them. I learned to listen to my body!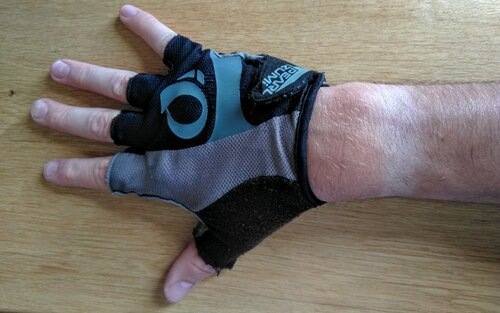 Did you enjoy this post?
If you found this content useful,
consider showing your appreciation
by buying me a coffee ❤️😋: