Commuting by bike
One week (240KM) on the VanMoof Electrified S
For a few years now, I commute to work using a bicycle. I have lost more than 15KG since I stopped using my scooter. This week I tested a VanMoof Electrified S, an electric bike with an industrial, minimal design. Is it any good? How does it compare to a normal bike? Will an electric bike make you lazy? Read along to find out!
VanMoof
Founded by two Dutch brothers, VanMoof is focused on making the perfect city bike. Their bikes are strong, tough enough to survive life in a city. Many of the parts (80%) are designed and produced by VanMoof themselves. Their design teams sit right above the store, close to all the action and right in the middle of the city. They love their bikes.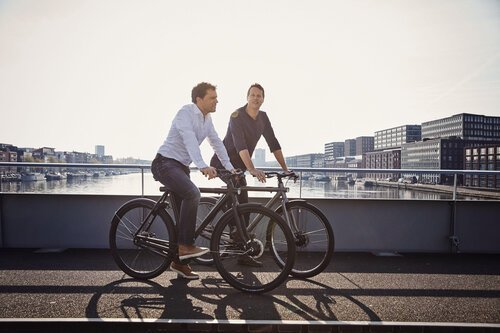 Electrified S
The Electrified S is the result of all VanMoof's efforts to design the perfect bike. It's a bike designed for cities, for commuting, to get from A to B, hassle free. It has an anti-theft tracking system and integrated lights. But it's best feature is the hidden battery and electric motor.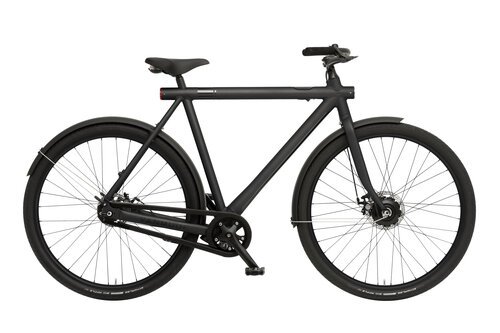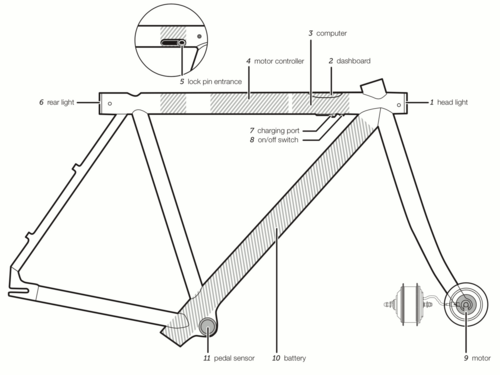 The bike is available in black, grey and white, available with various options for carrying luggage. It's engine delivers 250W of power, meaning you don't need a driving license, insurance or registration plates. By EU-law the Electrified S is considered to be a normal bycicle, not a moped or scooter like the faster pedelecs are.
Specifications
range 60KM (full power mode) ~ 120KM (economy mode)
weight 21KG (measured with chain lock)
engine 250W front-wheel hub motor
battery 418WH battery, integrated into the frame
speed 32KM/H in the United States or 25KM/H in EU-countries
charging from 0 to 100% in 6 hours
size suitable for riders of 170 - 210CM
tires Schwalbe Big Ben on 28" wheels
brakes front and rear mechanical disc brakes
lights integrated lights powered by the battery, activated by sensors
chain and gears fully enclosed anti-rust chain and SRAM automatix gear system
price € 2998 (at the time of writing)
The bike's battery is the most expensive part of the bike. VanMoof indicates that the battery will last for about 1000 charge cycles (after which it will loose its capacity). Replacement batteries are available for about €600. This mandatory maintenance is something you should take into account (just like other means of transport require maintenance too).
One week on the bike...
Usually I go to work by bike, cycling about 160KM a week. Depending on the weather I use a road racing bike or a normal city bike. My commute is a 16KM ride that I complete in about 40 minutes. The route takes me through Amsterdam and the Dutch country side (with lot's of windy open fields, the so-called 'polder').
I had the opportunity to test the VanMoof Electrified for a week, riding it through and through. What could possibly interfere with me riding the perfect bike?
... in Dutch weather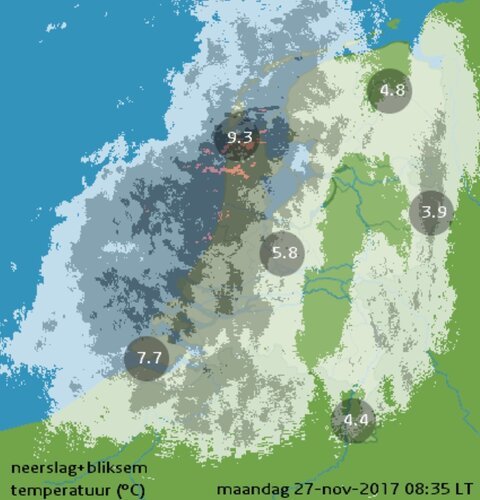 They say that there is no such thing as bad weather... only bad gear. Despite the rain, cold and wind I took the bike and drove it during my daily commutes.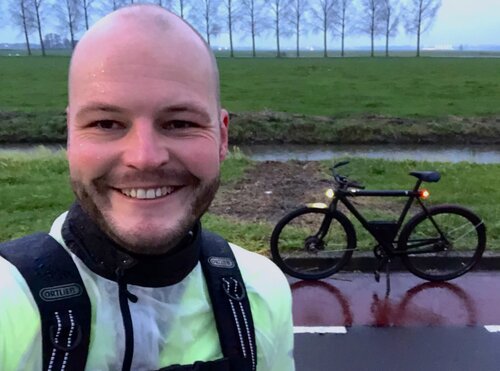 The VanMoof Electrified S turns a common commute into a joyride! You go faster and more easily through the wind. That makes you smile, it really does!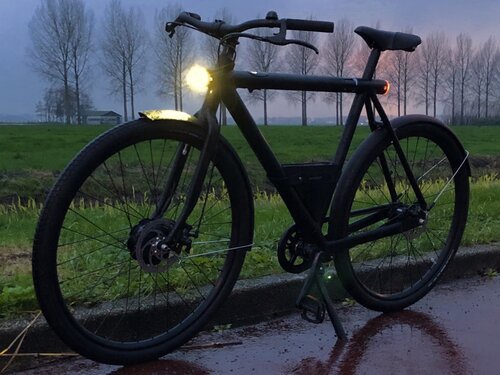 Unlocking the bike
The Electrified S is a SmartBike, it connects to your smartphone by Bluetooth. You can unlock the bike by simply touching it (it detects your presence by the signal of your phone).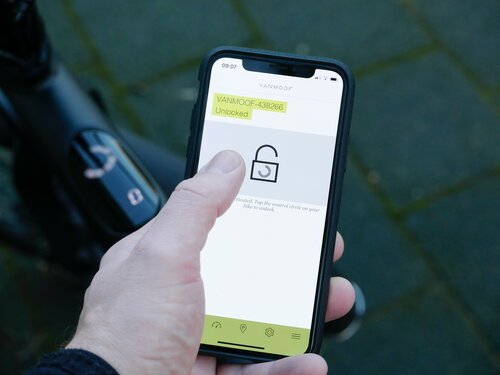 The VanMoof app
In addition to unlocking your bike, you can use the app the check the status of the battery, the location where you've parked it and configure things like the lights and speed.

The Electrified S is limited to 25KM/H in EU-countries. However, the app provides you the option to change that into 32KM/H or 20MPH (to comply with US laws). VanMoof recommends to keep the local police happy by sticking to your country's limits... a recommendation you can choose to ignore.
Anti-theft and "Piece of Mind Service"
The bike has a GSM integrated into its frame, making it possible to remotely track its position. It doubles as anti-theft tracking system. Stolen bikes get tracked down. With their "Piece of Mind Service", VanMoof offers you the guarantee that if your bike gets stolen and it can't be recovered within two weeks, they'll replace it.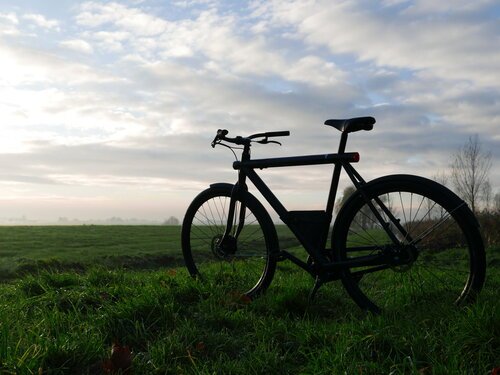 Riding the electric bike
The bike rides like any other bike: no need to learn any special controls or tricks. The engine only kicks in when you cycle. It support your efforts, it doesn't move by itself. You can choose from 4 levels of electrical support.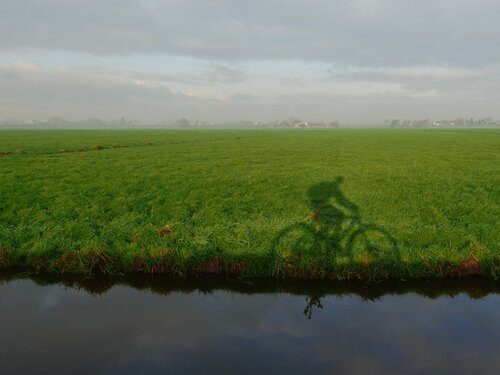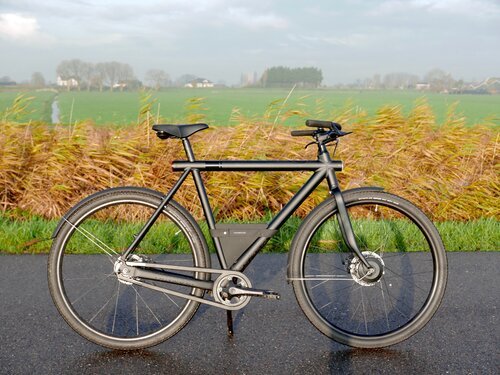 The bike is well balanced and handles well. The extra weight of the battery and engine adds to the confidence the bike gives you riding. It feels like a tank while being as agile as a roadster.
It's ease of use and the extra speed make the Electrified S a very nice bike to ride. During rush hours I very often were faster than cars and busses.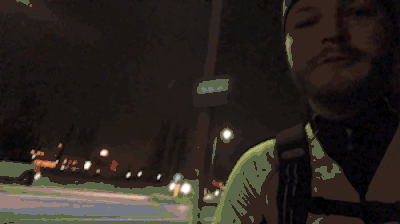 Steering and charging
Because of the display is integrated into the frame it is better protected against bumping into other bikes when parking the bike somewhere in the city. Right underneath the touchscreen you'll find the charging connector and a button to manually power the bike on or off.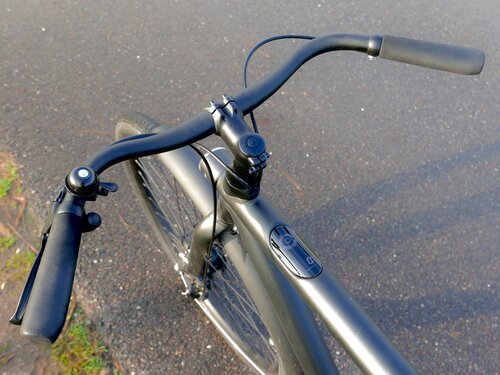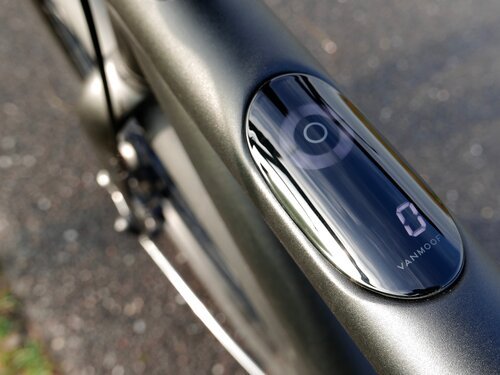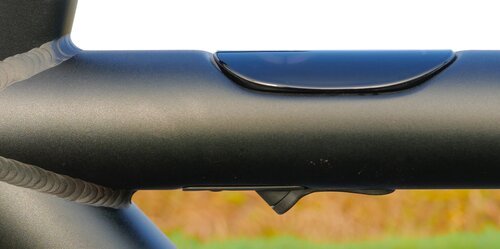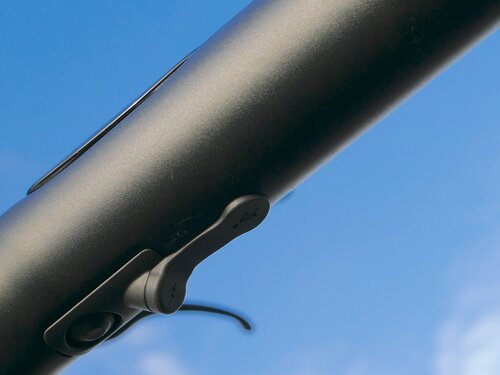 Electric engine
The motor is integrated into the front hub. It very much looks like a normal wheel front wheel hub, only slightly larger in diameter.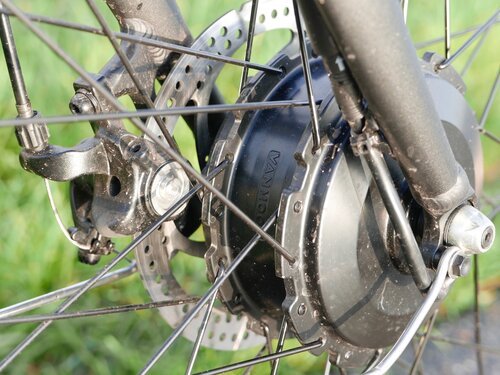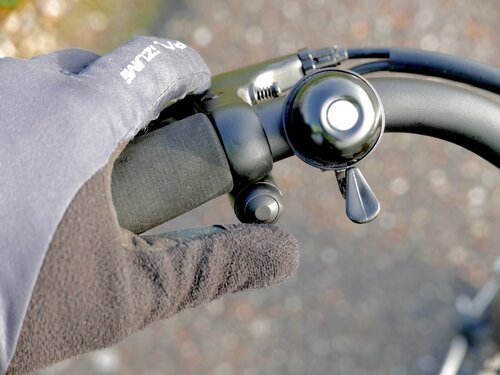 For those moments that you need a little bit extra help you can use the booster button. It (temporarily) increases power from the engine.
I used it leaving traffic lights or whenever I climbed a bridge. It's useful because it allows you to use the electrical system in economy mode (for longer range) while still being able to quickly unleash the electrical superpowers.
Lights
Both lights are integrated into the frame. Like the touchscreen, this means the lights are better protected against bumping into other bikes. They are bright and do their job very well.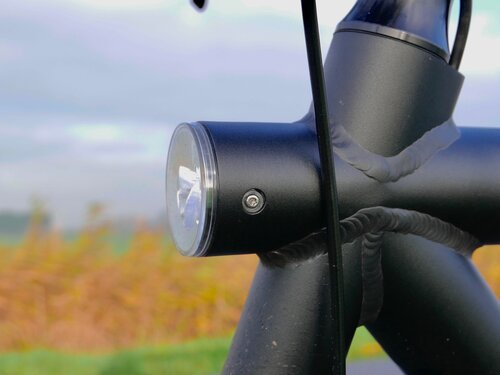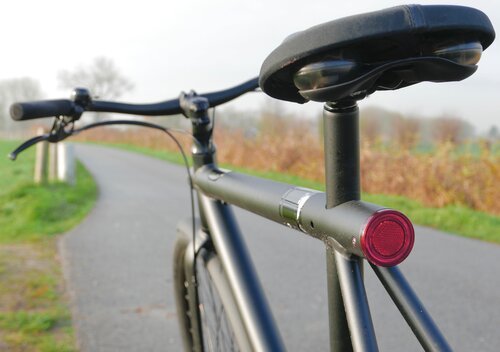 One disadvantage of the rear light is that if you use a rear carrier, child seat or a long jacket - the light gets blocked. Other bikes like the Sensa Cintura use an ILU light that is integrated in the rear mud fender. Depending on your use, that may be better.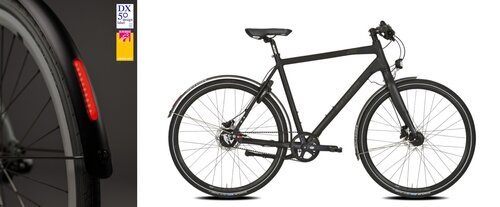 The chain guard 'floats' around the chain: it is not attached to the frame. It's made from flexible plastic. This makes it resilient to damage.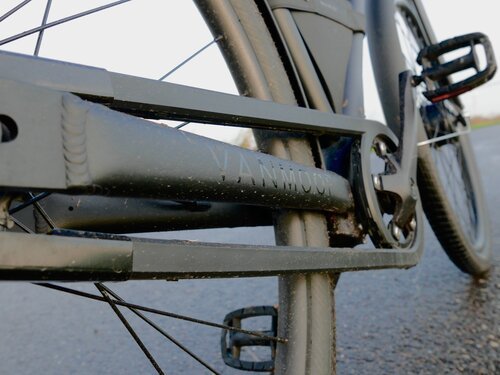 Gears
The bike is equipped with a SRAM Automatix two gear rear hub. The two gears have a ratio of 1:1 and 1:1.37. The bike automatically shifts up at approximately 18KM/H. This is fine when you are using the electric engine, but it makes cycling without electric support very heavy... which I found out the hard way (when I ran out of battery power).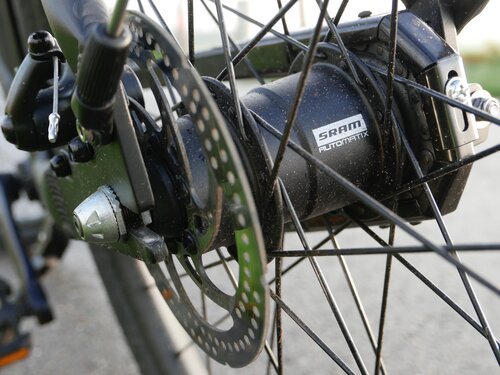 A manual gear system (like the Shimano Alfine) gives you more gears and would make the bike nicer to ride with less or no electric support. The Electrified S would benefit if VanMoof would offer this as an optional upgrade.
Tires and brakes
The bike comes with Schwalbe Big Ben tires. As the name suggests, these are big fat tires. They are nice, give the bike great traction and limit the chance you get stuck in tram rails...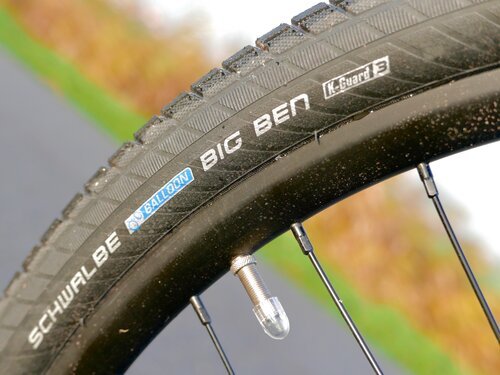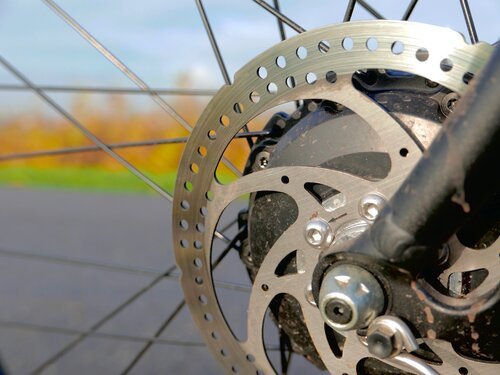 In combination with the enormous grip the Big Ben tires provide, the mechanical disc brakes do their job well. The bike brakes very well, even in wet conditions. On a fast electric bike this is no luxury, but an absolute must!
Carrying things around
The bike I tested only had a small luggage compartment used for the chain lock. You can opt for a front or rear carier.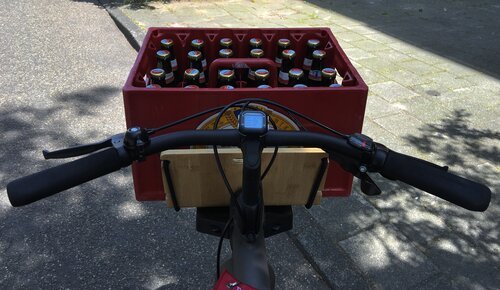 Range and running out of power
When using the most powerfull setting, the bike has a range of about 60 kilometers. During my week I ran out of power once, after 55KM, in heavy wind, the engine stopped. That was not a problem, lights and the bike lock still functioned and I continued home using manual pedalling power only (comfortably riding at 22KM/H).
Test: Electrified vs normal bike
One thing I immediately noticed was that it is much colder on the electric bike (compared to a normal bike). I quickly figured this is because I am going faster and I am doing less. This is easily solved by a good pair of gloves and a warmer jacket, but it made me wonder: would I become lazy using the e-bike?
Measuring heart rate
I decided to find out how much less effort my body had to deliver when riding the e-bike. In order to find out, I decided to compare the Electrified S to a normal bike, another similar VanMoof, but without an electrical engine.

Using a waist worn heart rate monitor, I measured how much work my own body did. Higher heart rates indicate more physical effort.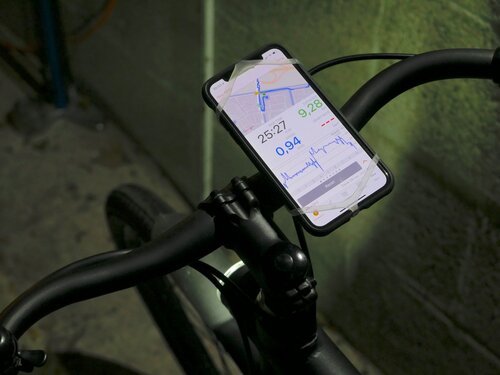 I drove both bikes over a nearby circuit with roads in all directions (compensating for wind). Between laps I rested long enough for my heart rate to go back to rest. I did two laps on each bike: one "easy riding" at ±20KM/H and one "full speed" at ±30KM/H.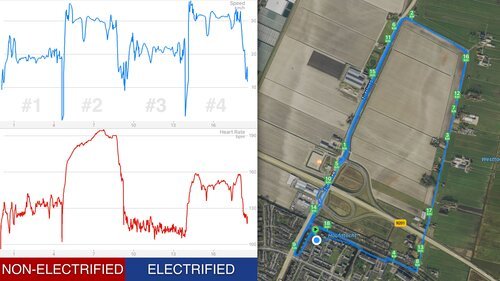 lap #1: Non-electrified at ±20KM/H ~ 130BPM
lap #2: Non-electrified at ±30KM/H ~ >180BPM
lap #3: Electrified at ±20KM/H ~ 110BPM
lap #4: Electrified at ±30KM/H ~ 150BPM
It is not surprising that your body is working harder on a normal bike. At full speed, this is really intense, you'll get tired quickly. My heart reached rates up to 195 BPM, considered very high for somebody of my age.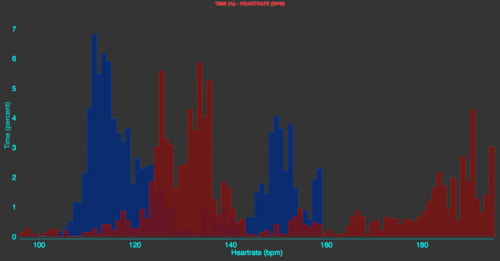 The test shows that if you ride slowly on an electric bike, you're not working out that much (indicated by the very low heart rate). But at higher speed you are in fact still working out!
Conclusion
After one week with the VanMoof Electrified S during which I cycled about 240KM, I can say that this is in fact a very good bike. Commuting to work on this bike is fun. It's speed advantage gets you from A to B faster, its powerful engine saves you any sweat.
The electric advantage makes commuting on this bike much easier and less of a physical effort. All of this while your body still burns calories. If it works for you obviously depends on where you live, but I definitely recommend anyone to try!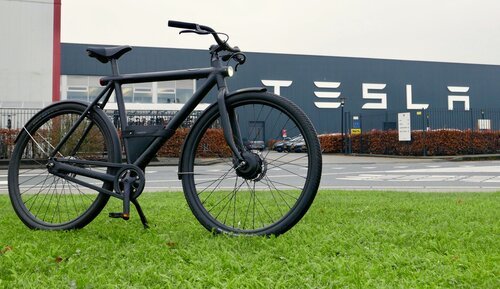 Did you enjoy this post?
If you found this content useful,
consider showing your appreciation
by buying me a coffee ❤️😋: