Tablet as main computer
Comparing the Microsoft Surface Pro to iPad Pro
For the past few weeks I have been using the Microsoft Surface Pro as my main computer. It's a modern tablet computer that can be used as laptop with the type cover. With the Surface Pen, it's a versatile PC that works in a lot of different ways. Time to find out if it's any good and how it compares to my other tablet computer, iPad Pro.
Microsoft Surface
For some years now, Microsoft makes its own computers under the Surface brand. The Surface computers are special because Microsoft creates both the hardware and (Windows) software. This allows for seamless integration between the physical machine and its bits and bytes.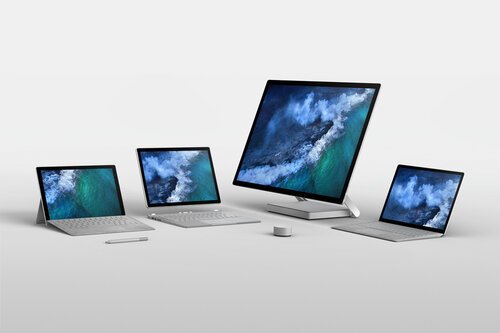 People praise Microsoft for providing the best possible Windows experience with Surface. The product line includes desktop, laptop and tablet computers - all equipped with touch screens to enable different kind of PC-interactions beyond the traditional mouse/keyboard input.
Surface Pro
In order to develop the new Snake '97 update for Windows 10, I needed a PC that could run Visual Studio and had a touch screen. Because I like working with tablets, I decided to try the Surface Pro. It's Microsoft's take on a tablet computer that can also function as laptop.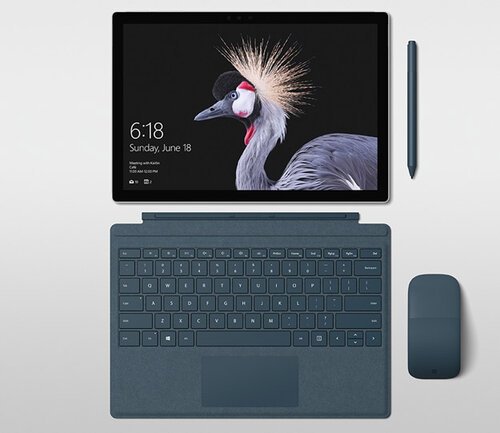 Just like the iPad Pro, you need to buy the keyboard and stylus separately. I think that's stupid in the same way they don't sell cars without steering wheels... Well, at least you'll get more unboxing fun this way. :-)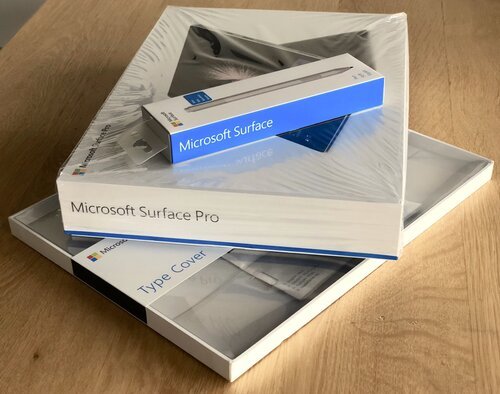 After unboxing it's time for updating. Don't rush or plan to go anywhere, because this process can take hours. Really, hours.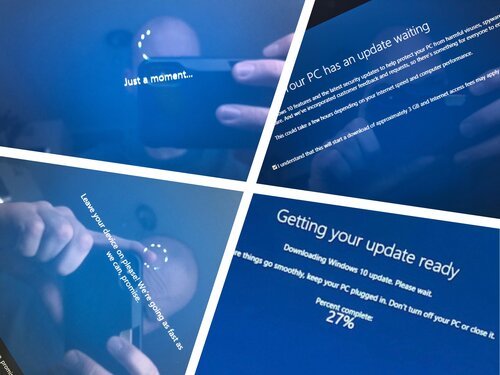 It took almost 7 hours before I was able to actually use my new Surface Pro for the thing I bought it.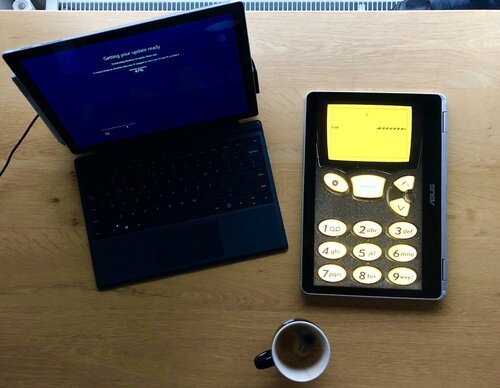 The contrast with my Chromebook (that I bought and setup at exactly the same day) couldn't be bigger: the Chromebook was ready to use in just a few minutes.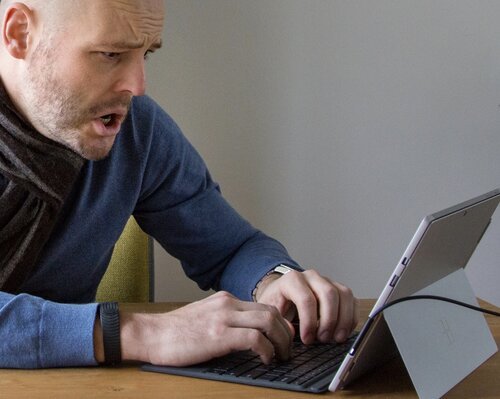 Windows 10
After a rough start, things got better quickly. I was surprised how far Windows has evolved to accommodate touch screens. In tablet mode your apps and start menu are full screen. You can switch, close and combine apps using easy to learn gestures.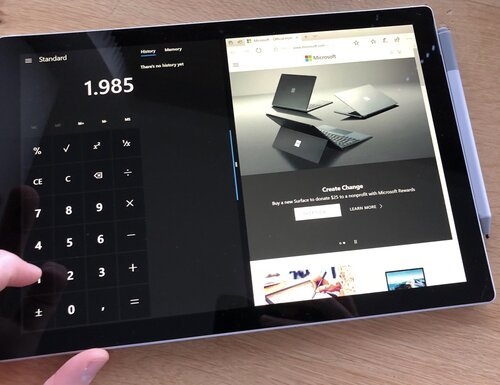 With the Surface Pen you can annotate pretty much anything, from PDF's to webpages.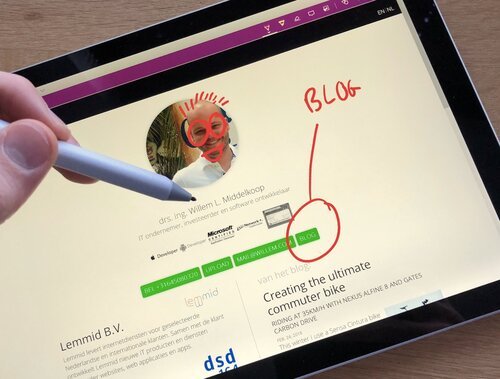 The contents of the display rotate along with the orientation of the device. This makes reading a document a breeze.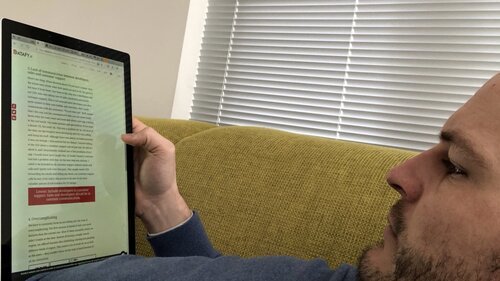 Surface Pen versus Apple Pencil
Last year, I replaced my paper pencil with a digital one. Contrary to the Apple Pencil, you can use the Surface Pen as a pointing device to "hover" over buttons, much like moving a mouse cursor over menus and buttons.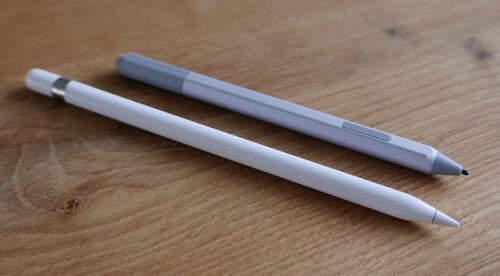 In addition to hovering, the Surface Pen has two buttons and the option to hold it upside down to use it as an eraser (in most apps). This makes the Pen more versatile than the Apple Pencil, which is just that: a pencil.
To find out which I liked better, I did a direct comparison by designing a specific piece of work on both devices. It is interesting to notice the differences in how the digitising works. I found the Apple Pencil to be slightly more accurate, better following my physical movement.
However, the extra buttons on the Surface Pen allowed me to quickly copy/paste certain sections of my work and switch to the eraser function more quickly. The integrated kickstand is sturdy enough to tilt the Surface and use the Pen under angle, nice!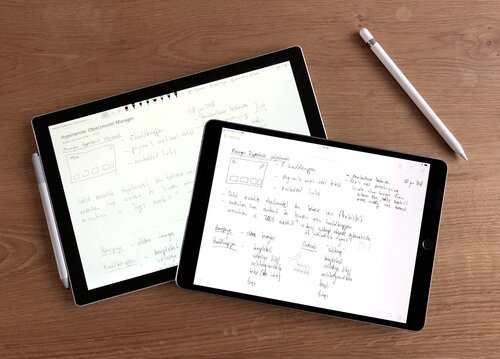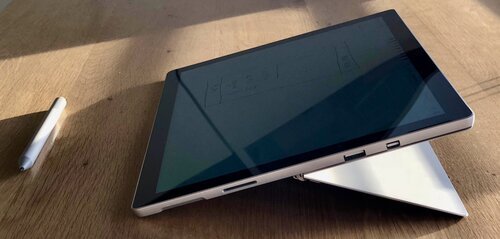 An easy trick to compensate for inaccuracies in digitising is to simply zoom in (by pinching with your fingers), draw on a larger scale and then zoom back. It's an advantage that most folks forget when making the switch from paper to digital. This works on both iPad and Surface.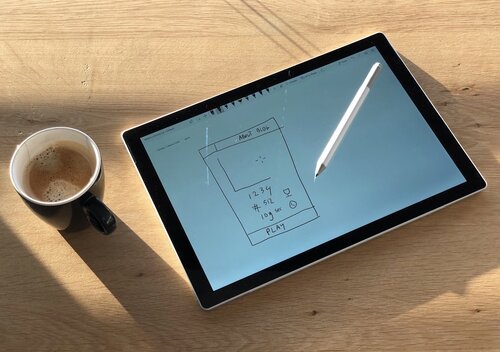 Tablet as main computer
Because of my work as app and web developer, touch screen interfaces are really important to me. The majority of web traffic (visitors of my customers' websites) is either mobile or tablet, traditional PC's are losing. My main computer should have a touch screen interface because I don't want limit myself to mouse and keyboard. The keyboard is however, an essential tool for me when I use the tablet as main computer. Both the iPad and Surface have keyboards that connect magnetically.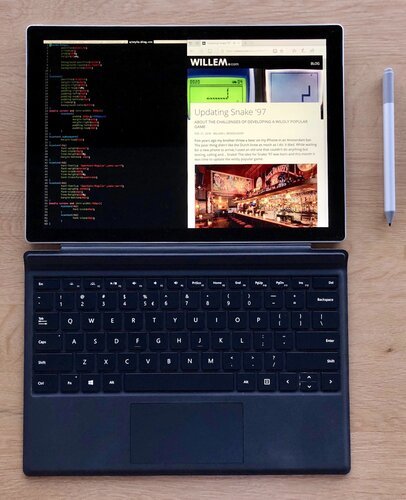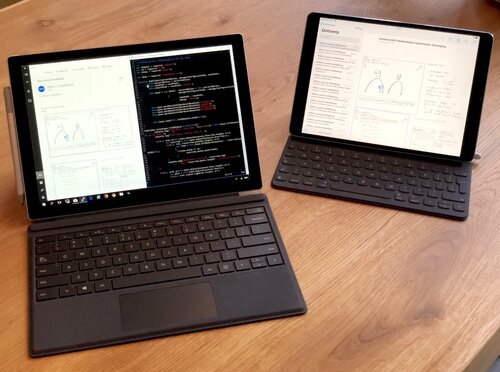 The Surface's keyboard has more keys (ESC, F1, F2 etc), backlight and an integrated touchpad. You need these extra's because often Windows apps, especially older ones, rely on this. The iPad's keyboard on the contrary, lacks the function keys and has no trackpad, because iOS works well without the mouse.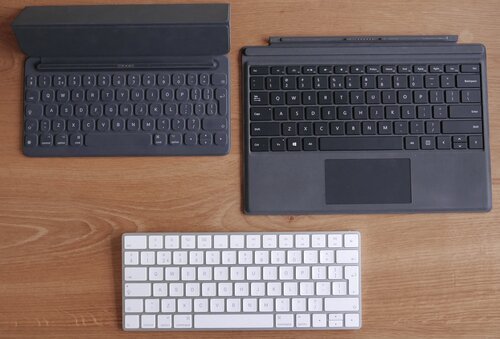 Both keyboards take some getting used to, but get the job done well. I like the simplicity of the iPad's keyboard but prefer the Surface's flexibility to use the keyboard under different angles (using the kickstand and the magnetic "popup fold").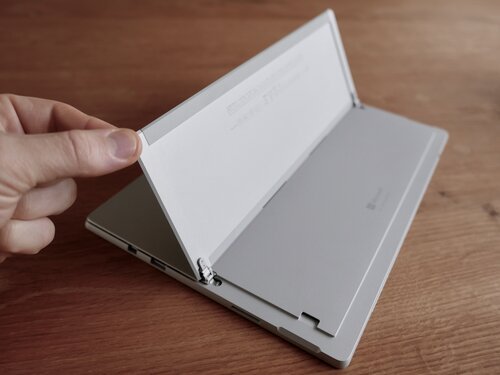 Software
Both Windows and iOS offer their own diversity of apps. Basic things like email, browsing, spreadsheets and text editing can be done just as good on any device. Thanks to the modern web you can connect to your favourite web applications and services. The real difference is in the more specific and advanced type of software. Apps like Photoshop, Visual Studio, Xcode don't work on iOS.
But, there are many good apps out there that will allow you to draw, code and be creative on iPad. The advantage of iOS apps is that they usually have a touch optimised interface that introduces novel ways of getting work done.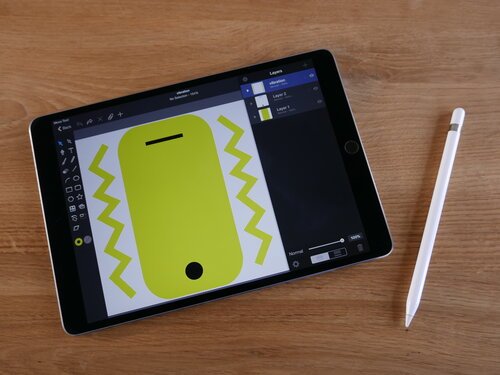 For those moments that you really need access to a specific piece of software that doesn't have a suitable alternative on iOS, you can always use Remote Desktop to connect to another computer. I use this to check websites in Microsoft Edge and Internet Explorer on my iPad.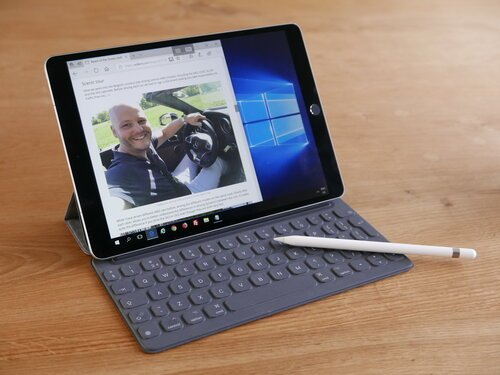 On Windows you'll have all the apps you can think of. But often they lack optimisation for touch, forcing you back into traditional PC/mouse mode. To make matters worse, these traditional apps require an Intel processor that consumes more power (compared to iPad's chip) - depleting your battery faster.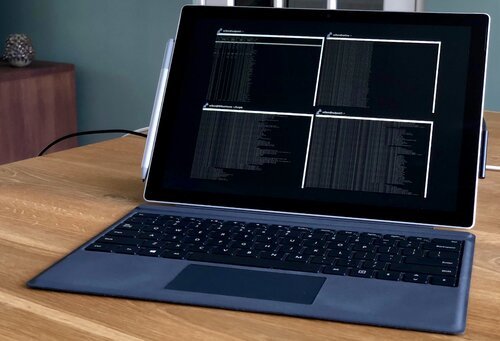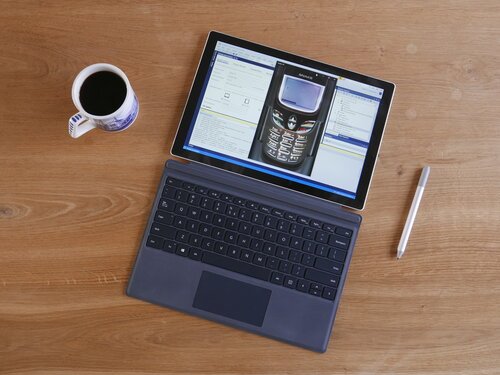 Conclusion
While both Surface and iPad can be used to get things done, they differ greatly because of their different origin. One is a laptop with tablet features, the other a tablet with keyboard support.
Much like you shouldn't bring a knife to a gunfight is the decision of which tablet is better. It totally depends on what software you need (and want) to use. If you're thinking about getting one of these devices, I'll have a simple advice: just do it.
Both are great and provide you with (novel) ways to get things done. I like working on tablets because they offer great flexibility and mobility. Rather than replicating traditional workflows, using a tablet as main computer is all about reimagining the way you work.
What is your main computer?
Tablet
Laptop
Desktop
Smartphone
Did you enjoy this post?
If you found this content useful,
consider showing your appreciation
by buying me a coffee ❤️😋: