One year of cycling
GPS recording an entire year of bike rides using Garmin and Strava
One year ago I started recording all my bike rides, including commutes, short grocery trips and long Gran Fondos. I equipped my bicycles with Garmin Edge computers that recorded location (GPS), speed, cadence and my heart rate. I covered more than 7683 kilometers during 320 hours of riding. It's time to review all the data and share some photos I took along the ride!
Collecting cycle data
While it is possible to record cycle rides from your smartphone, I chose dedicated bike computers to record my rides. They provide more accurate speed data and can be connected to external sensors, like cadence and heart rate sensors.
On my Sensa Romagna road bike I used the advanced Garmin Edge 1000 bike computer while on my VanMoof city bike I used the compact Garmin Edge 25. Both bikes are equipped with speed and cadance sensors, and during many of my rides I wore a heart rate monitor. Bike rides were uploaded to Strava for analyses and aggregation.
Data collected:
speed (using GPS and speed sensors)
distance
GPS location (where I went)
heart rate
local temperature
time (of the day and duration)
cadence (revolutions per minute of the pedals)
Among the rides where my daily commutes and short trips to the local grocery store. I even recorded my nightly rides to (and from) the Amsterdam bars. About once every month I drove a "Gran Fondo" (Italian for long distance ride). Combined with the varying Dutch weather conditions these long dinstance rides (>100KM) provided a real challenge for both man and machine.
Heatmap: Where did I go?
Strava provides an option to generate an heatmap, visualising all the GPS location data. The more frequent a route is, the more red (or hot) it becomes (hence the name heatmap).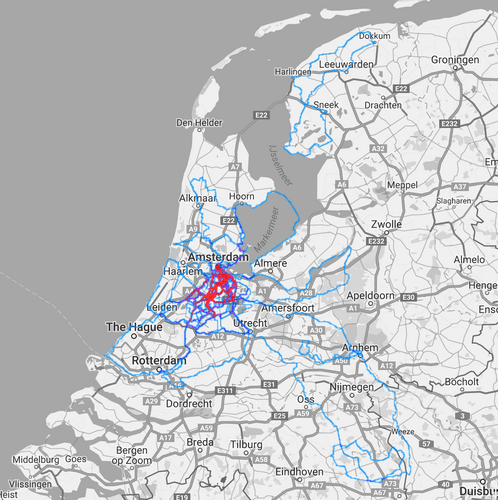 On this map of The Netherlands you can clearly see that I did most of my rides just under the city of Amsterdam. That's no surprise since that is where I live and work.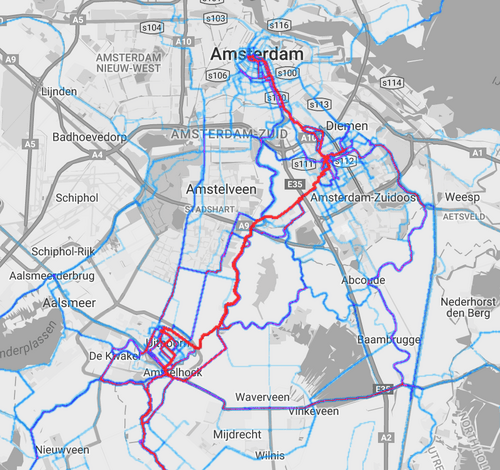 If we zoom into the Amsterdam area, my main commute route can be distinguished easily. My house is in Uithoorn (lower left) and I work in Amsterdam-Zuidoost. You can also spot alternative routes and my favourite area in downtown Amsterdam.
Summarising the data
Using Strava and Garmin Connect it is possible to summarise the data:
total distance of 7683 kilometers
total ride time of 319 hours and 56 minutes
weekly average distance of 147.75 kilometers
weekly average ride time of 6 hours and 9 minutes
366 rides
250744 calories burned
average heart rate of 145 BPM
maximum heart rate of 198 BPM
average speed of 25 kilometers per hour
maximum speed of 57 kilometers per hour
average bike cadence of 83 RPM
coldest ride, temperature of -4 °C (30 December 2016)
hottest ride, temperature of 35 °C (20 July 2016)
longest ride 231 kilometer during 9 hours 11 minutes (Fietselfstedentocht, 16 May 2016)
fastest commute 27 minutes 15 seconds for a distance of 16.17 KM (35.2 kilometers per hour)
Tires, wear and tear
During the year I had two punctures and wore out four tires. But the most visible wear on the bike were my pedals, they where new when I started just 12 months ago...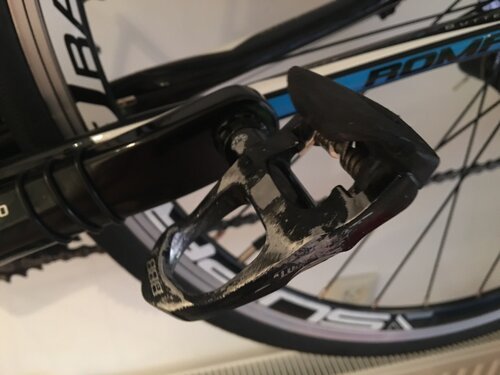 Next year
In 2017 I will continue collecting cycle data to do a back-to-back comparison next year. Feel free to follow me along into the new year: strava.com/athletes/12012433
The year in pictures
I took photos during many of my rides. Click on any photo for an enlargement.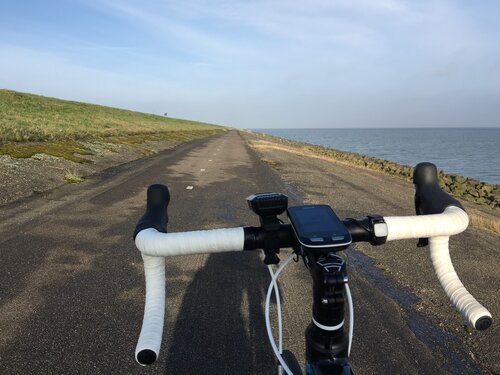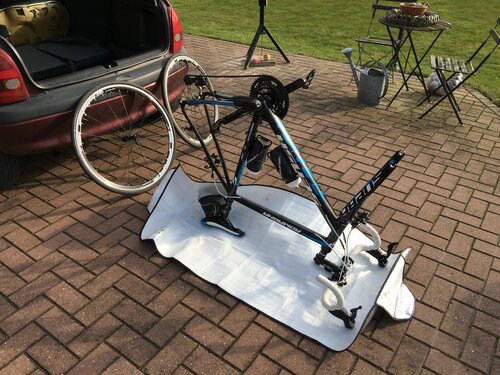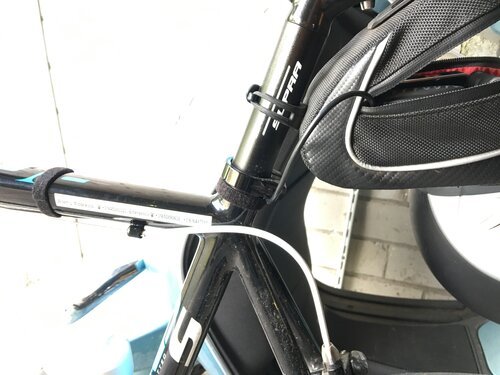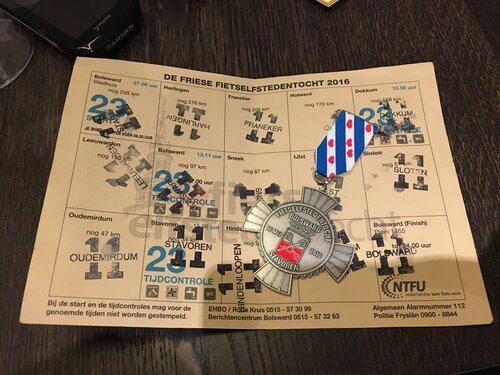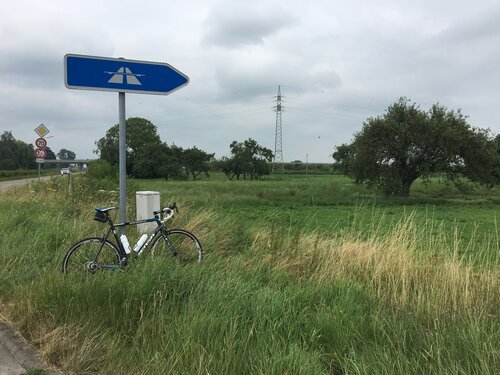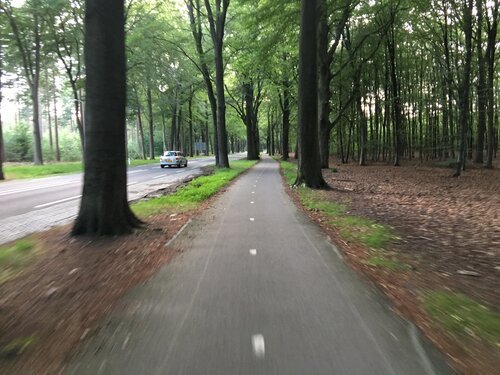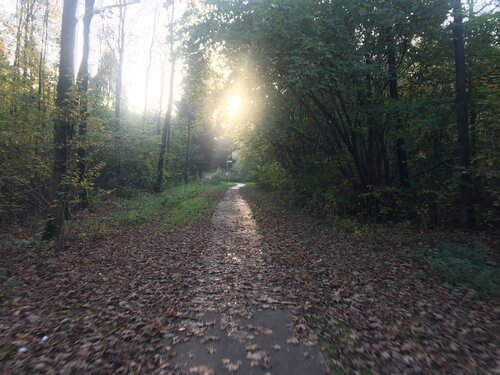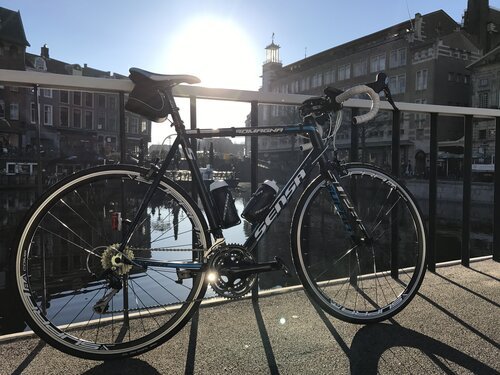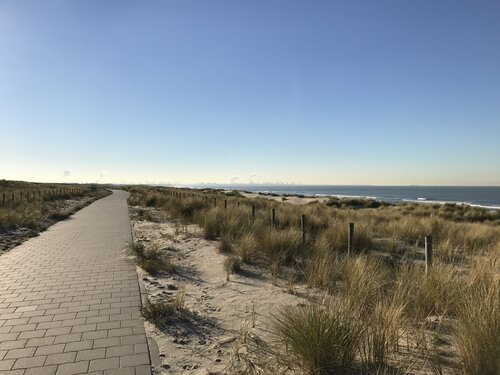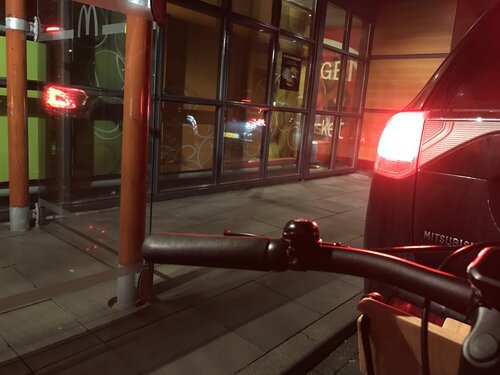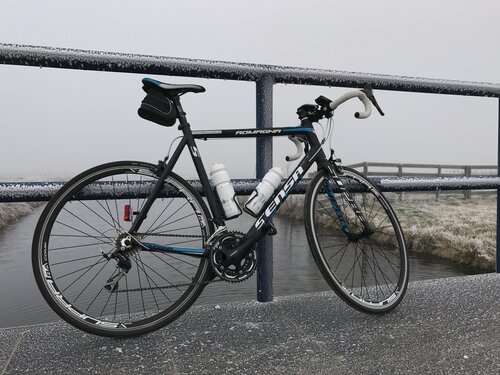 The Netherlands is beautiful by bike. Click any picture for an enlargement:
Did you enjoy this post?
If you found this content useful,
consider showing your appreciation
by buying me a coffee ❤️😋: