Creating the ultimate commuter bike
Riding at 35KM/h with Nexus Alfine 8 and Gates Carbon Drive
This winter I use a Sensa Cintura bike with a Gates Carbon belt drive as my daily commuter. It's a bike designed to be nice to ride thanks to its sporty lightweight frame. It's also meant to be low on maintenance thanks to the belt drive and Nexus Afline 8 integrated gear hub. After 1800KM in just eight weeks, it was time for some upgrades.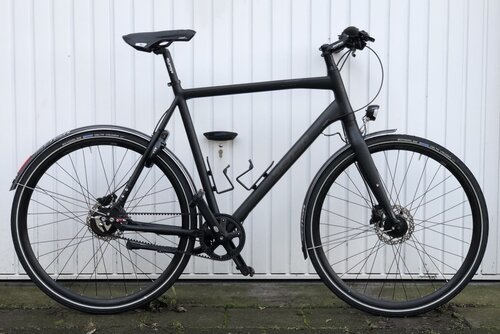 Sensa Cintura Belt-Drive
The Sensa Cintura is a trekking bike with the following specifications:
Frame: Alu 7005 HydroFormed double butted smooth welding - belt drive
Front fork: Supra tapered 1.5 superlite alloy disc
Group: Shimano Alfine-8 + Gates CDN Belt Drive + Shimano hydraulic disc brakes
Seatpost: Supra base line
Head light: Hub dynamo + Bumm Lyt
Rear light: Integrated ilu in fender with stand light (powered by dynamo)
Stem: Supra competition line
Wheels: Supra TA Pro disc rims + Shimano disc hubs
Tires: Schwalbe Delta Cruiser
Saddle: Selle Italia Net
Colour: Matt Ano-Black
Weight: 13.8KG
It's a nice bike with various sporty components combined with maintenance friendly parts such as the integrated gear hub, disc brakes and the belt drive.
I have chosen this bike to be my primary bike during the Dutch winter when my normal road bike stays inside. Previously I used my road bike through the winter, too, but the dirt, combined with road salt (used on icy roads) proved to be killing for my group set... resulting in high wear and damage.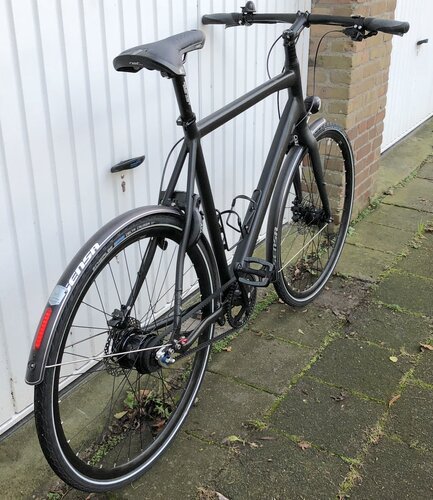 Although I like the style of the bike, I didn't like the excessive branding on the fenders (both from Sensa and my local bike shop). After some careful testing I completely removed the paint from the fenders using a chemical solution (after taking it apart and removing other parts). The result is a much cleaner look: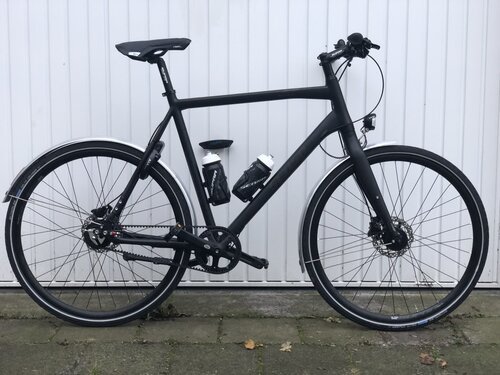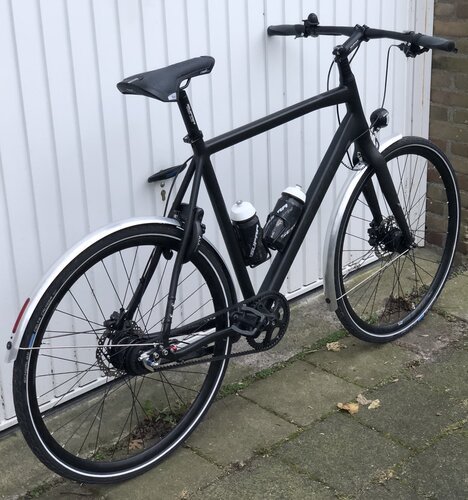 Dutch Winter
During winter in The Netherlands it's often cold, wet and windy. If the temperature gets anywhere near the freezing point, the Dutch government applies a layer of salt on icy roads. The "salty wet slush" on the road surface is killing for bike components: instantly inducing oxidation and causing excessive wear.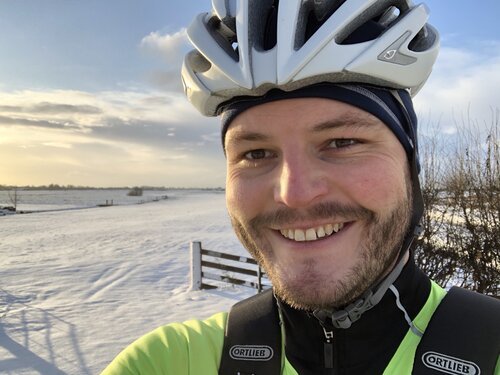 You can't escape these bad conditions if you use your bike for daily commutes. The only thing you can do, is to clean your bike more often. But with Dutch conditions this becomes cumbersome very quickly.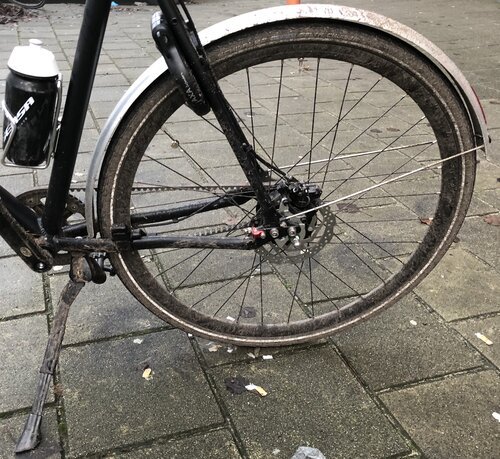 The dirt even finds its way onto the top of my rear fender. You can easily imagine that this kind of dirt is hard on regular bike parts, like a chain, cassette and derailleur.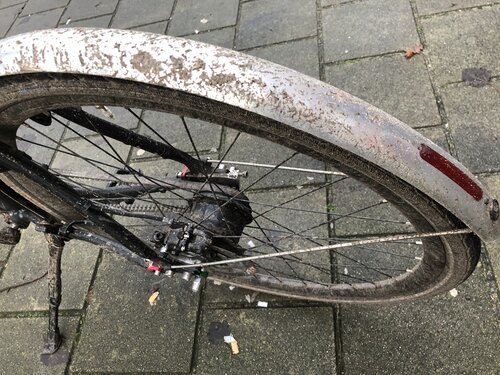 Gates Carbon Drive
The Cintura bike is equipped with the Gates Carbon Drive, a belt drive that runs without oil for lubrication. It's dry and therefore attracts less dirt. After a "dirty ride" you can easily rinse it clean with water, without fear for oxidation.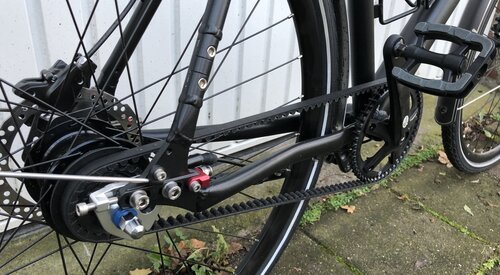 In theory this is fantastic, but in practice it turns out to be a different story. After just 1800KM I noticed weird sounds coming from my rear sprocket...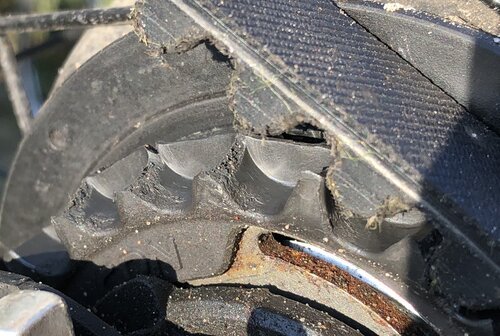 The rear sprocket not only became rusty, the polymer teeth are worn badly and a few have broken off completely. This is lacklustre quality and I was greatly disappointed by the Gates Carbon Drive system.
Turns out that the Sensa Cintura is equipped with the Gates "CDN" line belt drive. It's the lower-cost option for casual riders (according to Gates), it's certainly not designed to be intensely used through salty and dirty conditions.
Instead of being dissapointed in either Sensa (for choosing the CDN line) or Gates (for selling it), I decided to take matters in my own hands.
Upgrading Gates CDN to CDX
I was happy to learn that the inferior Gates Carbon Drive CDN shares the same shape and sprocket design as the premium Gates CDX system.
The Gates CDX system is designed for high mileage riding in the harshest conditions. The parts are compatible with each other. I was able to source some original CDX parts from a bike shop in Germany.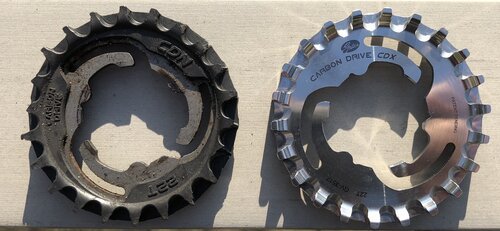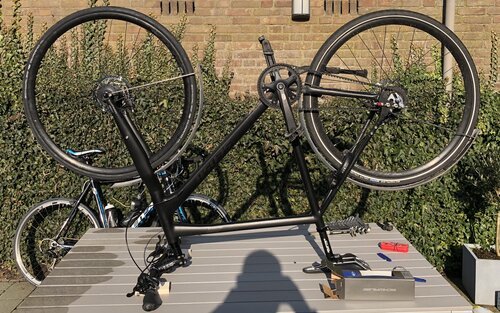 Changing the rear sprocket is not too difficult. There are numerous YouTube videos available depending on the type of rear hub your bike has (mine has Alfine 8).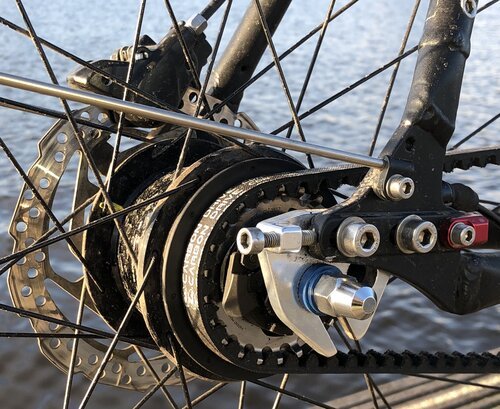 Tires
While I was at it, I also changed the bike's tires to something more sporty. Swapping the Schwalbe Delta Cruisers for Duranos. These tough road race tires are much lighter while still providing some profile and durability.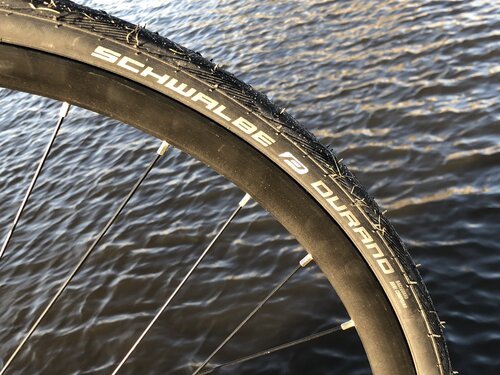 Saddle and Pedals
To achieve a sportier ride I installed click pedals (wich allow me to 'pull' in addition to pushing) and a Brooks Cambium C15 saddle that I think fits the bike well.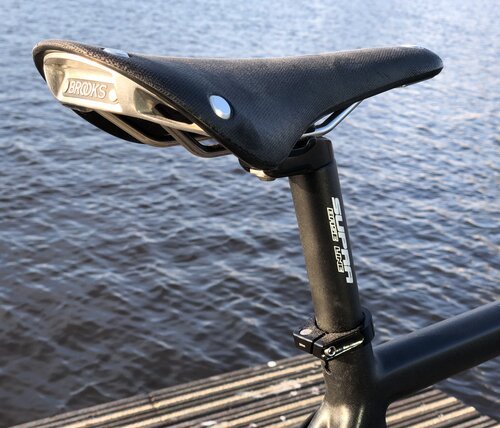 Shimano Alfine 8
The internal gear hub takes some time to get used to if you normally ride a regular chain/cassette/derailleur group set. The differences between individual gears are slightly bigger.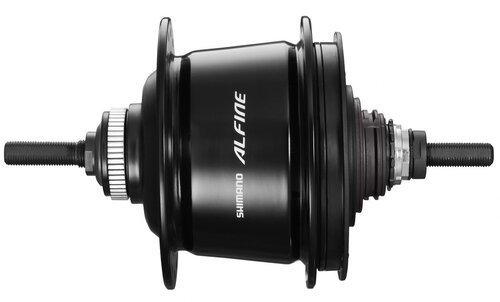 This causes your cadence to be somewhat higher or lower than you might prefer. But, in a flat country like the Netherlands this is not a problem. I really like the Alfine 8 internal gear hub.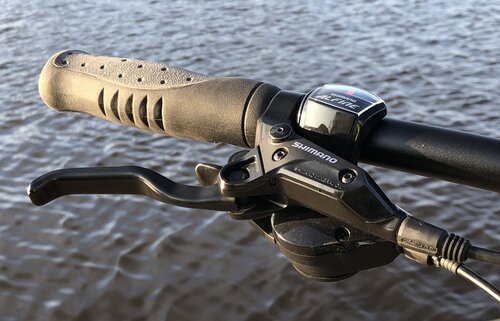 Conclusion
After the upgrades the bike rides even better then before. The nasty sound from the failing CDN drive is gone and thanks to the sporty tires, saddle and pedals I easily ride at 35KM/h.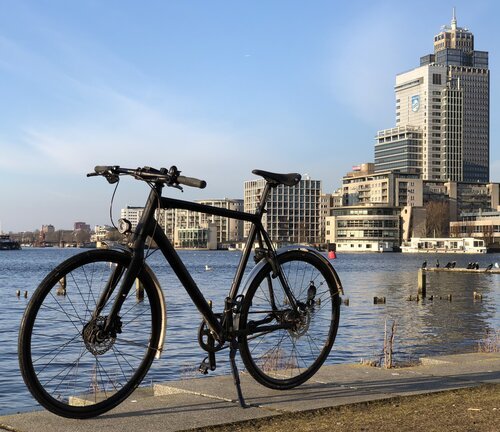 It's a very nice bike and if there is one thing to take away from this blog post, it's that you sometimes have to make (minor) modifications yourself to make a good product fantastic.

Updates:
Did you enjoy this post?
If you found this content useful,
consider showing your appreciation
by buying me a coffee ❤️😋: