Off the grid: Working on 100% renewable energy
Collecting, storing and using solar electricity to power my phone, computer and wearables
For the past 10 days I have powered my personal electronic devices (phone, computer, wearables) using nothing but energy collected using a small solar panel. I disconnected all grid-connected chargers. I hoped that by going off the grid, even in such a small way, I would gain insights that enable me to save energy (and money).
Solar Panel
Few weeks ago I dramatically decluttered my office by getting rid of many things I did not use anymore. While going through my stuff, I found a small solar panel, a Gomadic Solar Charger. It fits in a bag so that you can use it on the go, like on your boat, camping, etc.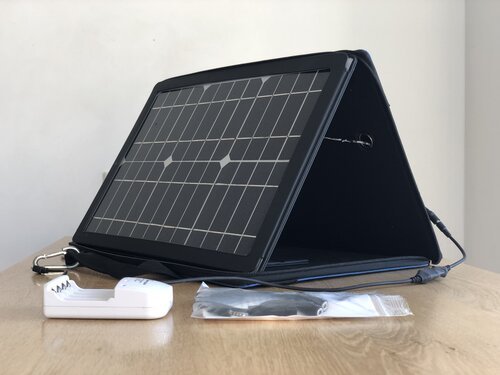 I got this panel from Kickstarter and used it a few times while camping on a festival and during a rare power outage in Amsterdam. It felt like a missed opportunity that I used it so infrequently. I wondered if I could use this panel to generate enough energy to power my electronic devices.
Personal electronic devices
For this experiment, I expected that I would learn the best if I would put my mostly used devices in the experiment:
iPhone: My smartphone is probably the most important device I use regularly. It's my main communication device (phone, messaging, email) and I use it as camera, music player, ebook reader, navigation system, bike computer and internet browser.
iPad + Pencil: My tablet is my primary computer and together with the Apple Pencil I use it to work, write, read, design and get things done. It's my main work computer.
Biostrap: On my wrist I wear an health and fitness tracker that collects biometric data like my heart rate, HRV, oxygen saturation, respiratory rate and sleep patterns.
AirPods: Used in combination with either the iPhone or iPad, the AirPods have replaced my stereo system and double as handsfree headset during conference calls.
The experiment: going off the grid
By taking my electronic devices off the grid I hoped find an answer to the following questions:
How much power can I collect with one small (330x305x38MM) solar panel in Amsterdam, where the sun is not always shining?
How hard is it to store energy collected by the solar panel?
How practical is this "off the grid going"?
Is it possible to do this on a larger scale, like the entire office or my house?
Collecting energy
Using a solar panel to collect energy is simple: you just need to make sure it is facing the sun for as long and directly as possible. While the portable solar panel is great, it is not suitable for usage in rain. So, one of the first steps was to find a way for the panel to be (semi)permanently fixed so that I could collect energy regardless of the weather.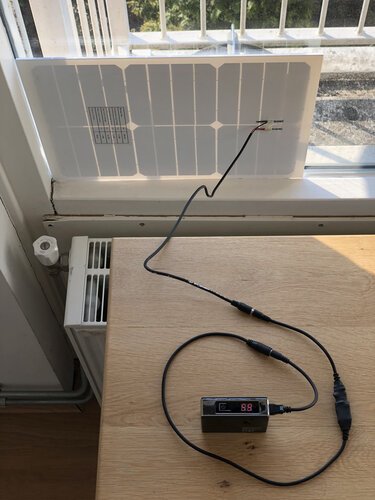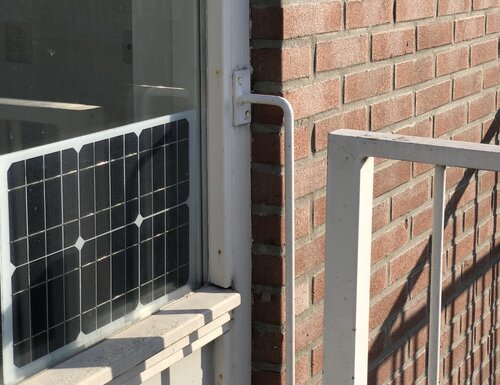 My first idea was to place the panel directly behind the glass. That way, I would not require any special mounts, it would be protected from the weather and its power output could be directly connected to my devices.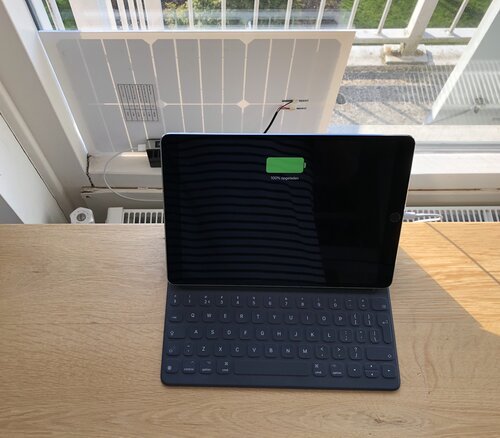 This worked, but charging my devices was notably slow. I suspected that both the angle (90º) and the position behind double glass caused performance to be suboptimal.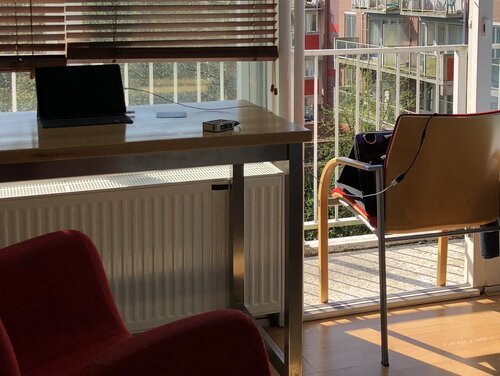 By directly placing the panel in sunlight, under an angle of about 40º, I achieved a much higher charging speed on my devices (under the same sunshine). Charging speed went up by 200-300%. If only I could find a way to achieve this optimal position more permanently...
Mounting the solar panel on the balcony
My portable panel did not come with any mounting materials. Luckily I had unused rack mounted server chassis with rail kit laying around. I figured that I could take it apart and make a solar panel mounting system from it.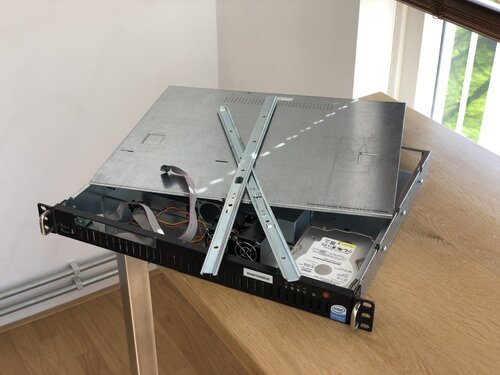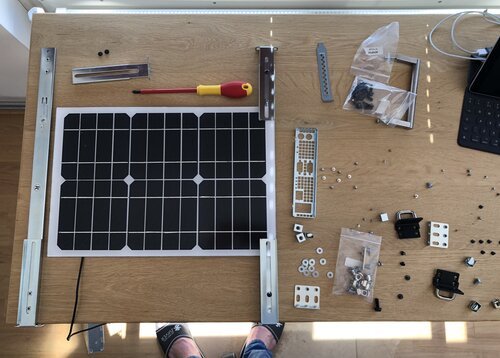 I designed the mounting kit in such a way that it would be possible to refit the panel back in its bag. I clamped the panel using parts from the server, I used some plastic to prevent damaging the glass.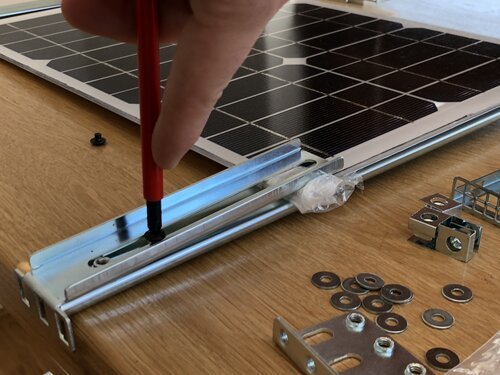 The panel performs best if it's placed under an angle. Depending on your location on the globe, the season, this angle differs. You can find commonly used angles for your location on the internet. In Amsterdam that is around 30-40º, an angle easily achieved by repurposing parts of the server chassis.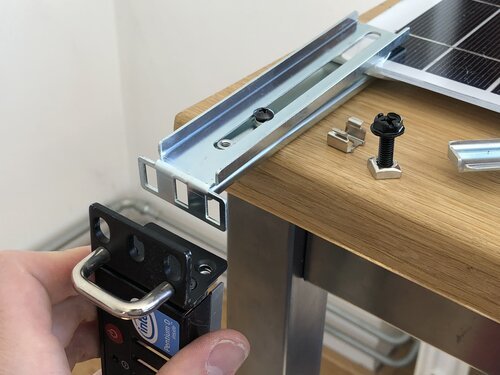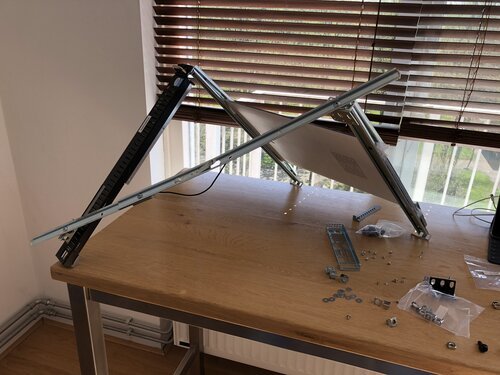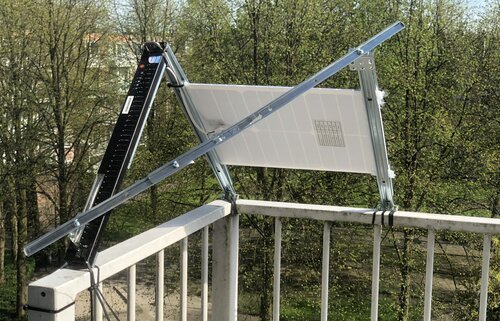 Storing and distributing energy
Now that the panel is fixed in an optimal and permanent position it collects energy. Obviously I am not always near the solar panel, I need a way to store and distribute the energy collected by the panel.
I use a standard USB power bank to store and distribute the solar energy. I have two power banks that I connect in turn to the panel. It's easy, while one is being charged by the solar panel, I use the other one to power my devices. This way I am able to use electricity whenever and wherever I want.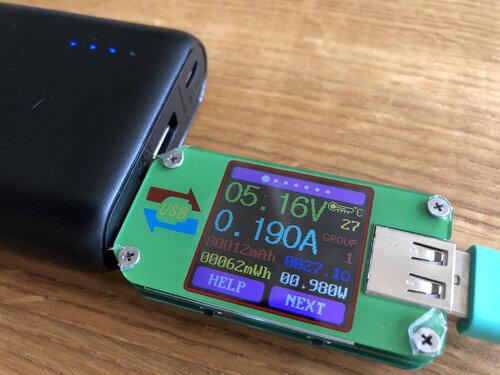 The panel easily charges a standard USB 5V, 5000mAh power bank in a day. That kind of power bank can charge an iPhone multiple times. I also have a much larger capacity Anker 20100mAh USB power bank that can charge my devices even more times.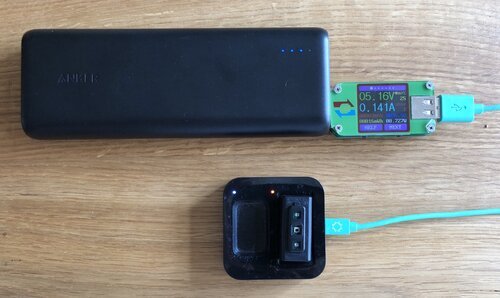 Different devices charge at different speeds. It's interesting to see (and understand) the differences in power between your devices. Using an in-line power monitor I learned about the actual power needed to charge my devices.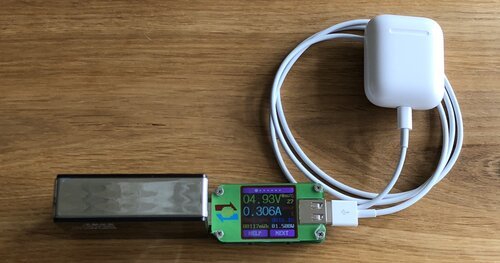 Conclusion - insights gained so far
During the past 10 days I have successfully powered my devices using nothing but the solar energy collected with the small panel mounted on my balcony. It's really possible to take my devices off the grid.
The panel generates enough power to keep my power banks charged, and in turn my devices. Power banks are surprisingly practical as they are mobile and easily connect to multiple devices; one power bank can replace a number of chargers and cables.
The experiment also created awareness that small changes, like turning down the brightness of your phone, limiting the frequency of polling for new emails (during the night), can have great structural effects on your power needs.
This is just a small experiment, but already its changing my perspective on collecting, storing, distributing and using energy.
Great things come from small beginnings, or sic parvis magna in Latin. If this works on a small scale, I will be eager to try this on a larger scale, like my entire office or house. Time will tell!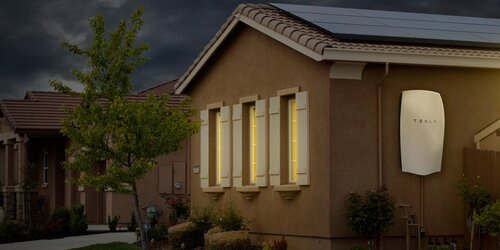 Note: this blog post, photos, image editing, writing, uploading and publishing was done entirely using solar energy!
Did you enjoy this post?
If you found this content useful,
consider showing your appreciation
by buying me a coffee ❤️😋: