Business in a bag
Using a waterproof backpack to fit my gear
Over the past few months I have been testing different bags and cases to fit everything I need to run my business. As I commute by bike, the bag needs to be waterproof. The problem with waterproof gear is that it is usually very bulky. I need my gear to be both portable and representative, a challenge worth a blog post!
My gear
If you've been reading my blog, you know I have been minimising the gear I use to get things done. Earlier I got rid of paper, I now do my business 100% paperless by digitising every possible document. I got rid of my entire LAN-network when I went 'mobile only', I no longer rely on local network infrastructure to be productive. After experimenting years ago, I now use a tablet as main computer. Having a minimal selection of gear allows me to fit my entire business in a bag!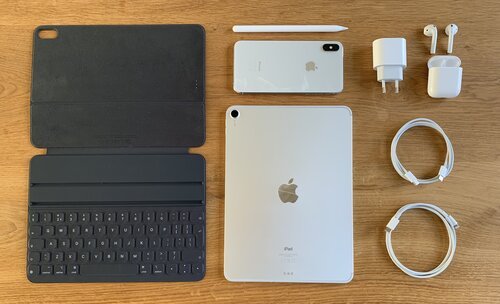 To run my business I use:
iPhone (XS Max): this is my most important device as it is the main communication gateway with my customers and business services. It's portable, but capable enough to comfortably read and write emails and messages.
iPad Pro (11" with cellular): this is my main work computer, I use it for programming, designing, drawing, research and managing everything that needs my attention. Its phenomenal battery life and build-in internet (using 4G/LTE) makes this the ultimate mobile computer.
Apple Keyboard Folio: this keyboard may take some time getting used to (because of its slightly smaller size and key travel), but once you do it is great! It's spill proof, super thin and wraps around iPad without cables, connectors of Bluetooth connections. It works very well.
Apple AirPods: These wireless earbuds are simply amazing because of the ease of use. Just plug them in your ear and the iPhone (or iPad) automatically starts using them. I use them to listen music, but moreover to do teleconference calls. As the AirPod-case also acts as charger, the buds are always ready to use.
18 watt charger and USB-C cables: I use a single charger to for all my devices. Unfortunately that means I need two cables as iPhone and AirPod still use the lightning connector (and iPad USB-C). Room for improvement on Apple's end: they should embrace USB-C for all devices.
Transport requirements
I want to be able to bring my entire business everywhere. Not because I want to work all the time, but because I don't want to be limited to just one physical location to get my work done. To make things more challenging, I like to have just one bag, suitable for multiple situations:
Riding my bike: I love to ride my bike and I do this through all kinds of weather, including heavy rain and wind. My gear should be safe from harm.
Walking through urban areas: Because of my work as volunteer in Amsterdam-Zuidoost, I need to be able to carry my stuff through areas of the city that are known to be dangerous. Any obvious flashiness or fanciness is an invitation to unwanted attention...
Visiting customers: Although much of my contact with customers happens digitally these days, there are times when I meet people to discuss business. My gear should be representative, not overly sporty or bulky.
Durable: I hate things to become obsolete, my bag and gear should be as durable as possible. Strong and lasting, useable in the future.
Backpack: Ortlieb Urban daypack 15L
Ortlieb is a German specialist in waterproof bags, the "waterproof"-text is even part of their logo! Their bags are designed to withstand even the worst type of weather.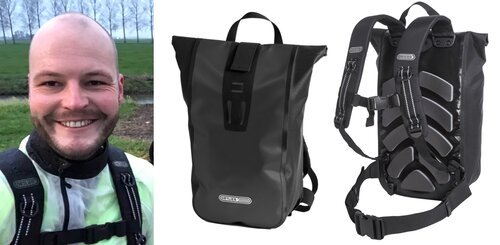 I have used the Ortlieb Velocity bag for years and it is simply amazing. Even through the worst type of Dutch weather, bags made by Ortlieb stay true to their name: waterproof! If you carry expensive electronic gear this is something important.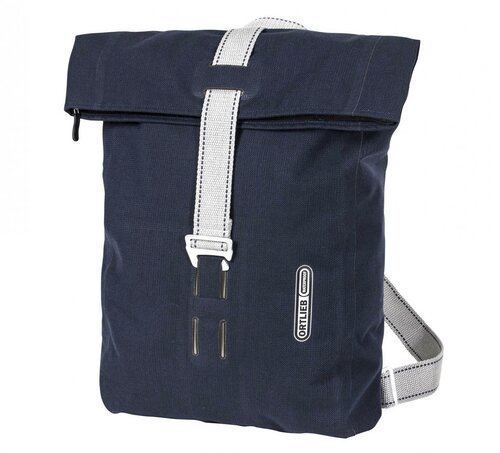 The new Urban line from Ortlieb is designed to appear a little less hardcore, and a little more "urban chique". Its made of a special blend of cotton and Cordura fabrics, the bag has a textile appearance that is a perfect match for both casual and business attire. Thanks to a supple plastic inner coating (polyurethane), it is nonetheless absolutely waterproof.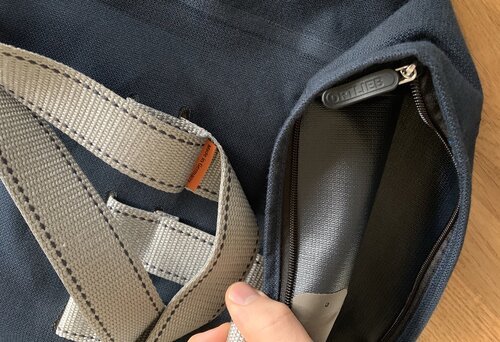 For my gear I have chosen the smaller 15L version (there is a bigger 20L available). The bag has a nice strap system that is adjustable without any loose ends (the straps end in a loop).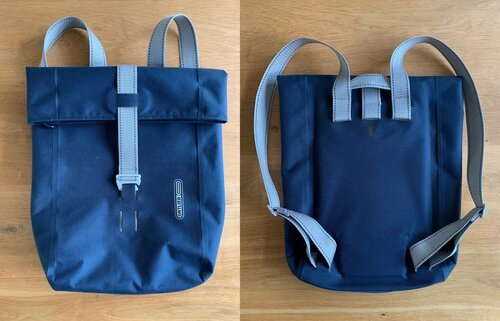 Hardgraft iPhone cash card walled
Years ago I got rid of a separate wallet. I prefer electronic payments wherever I go. It has advantages to combine the essential cards with your smartphone, resulting in just one 'always with you' package.
For my smartphone I selected the "Hardgraft iPhone cash card wallet". It is an iPhone sleeve combined with a thin wallet, designed for a few cards and some cash.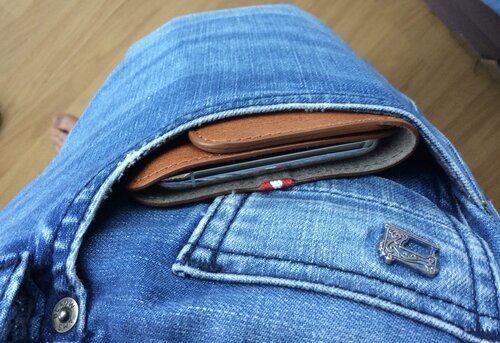 One thing I like about the Hardgraft wallet is that it protects the screen, while it still allows quick access to the (naked) phone. This way you can use the smartphone without any cases, flaps or wallet-things attached - while safely tucking it away when you don't. The case even features a small hole that can be used to charge the phone.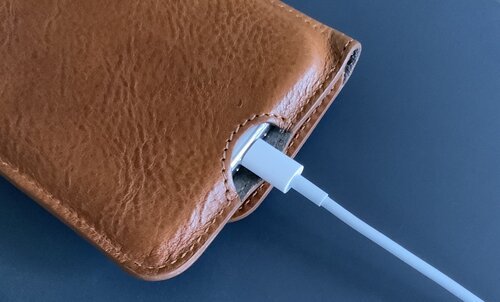 Hardgraft iPad Pro case
Matching the iPhone's wallet, I have selected a case for iPad that allows quick and complete access when I use the device. When I transport the iPad it is nicely (and stylishly) protected.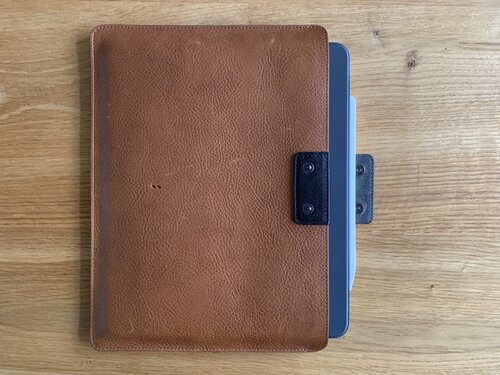 The great thing about this Hardgraft iPad Pro case is that it fits the entire iPad with the keyboard folio and pencil attached. Just like the iPhone wallet, there is a clever hole in the sleeve that allows charging.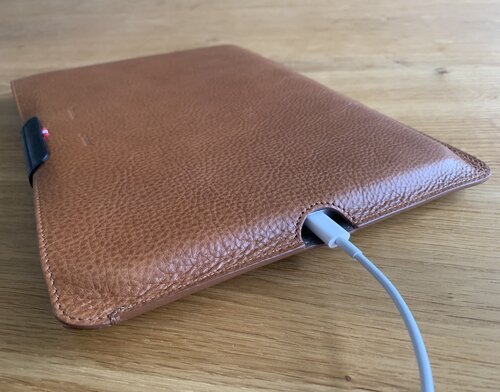 Perfectly matching any business attire is the finishing of the case. The stitching, the materials, the colour and the details all communicate quality. This is something that I really appreciate.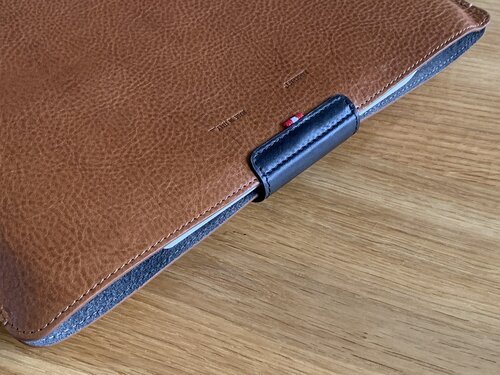 Peripherals case
To complete my set, I found a suitable "thing" that would fit the charger, cables and AirPods. Combining the peripherals into a single package seemed to be the perfect way to organise my 'business in a bag' package.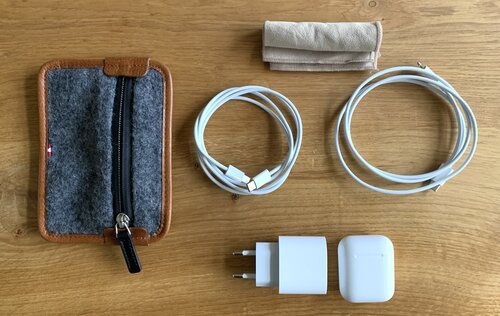 The nice thing about this "thing" is that it allows access from both sides. This allows my accessories to be organised while still be within quick reach.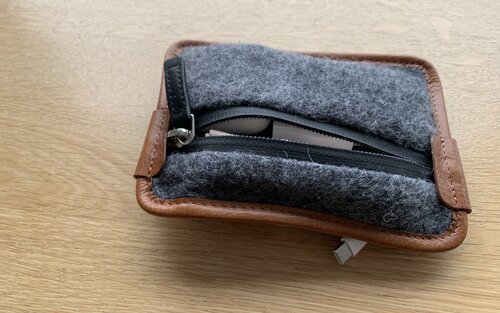 Putting it together
Organising my gear in three smaller packages allows quick and independent access. Each item is high quality, yet mundane enough to stay under the flashiness radar.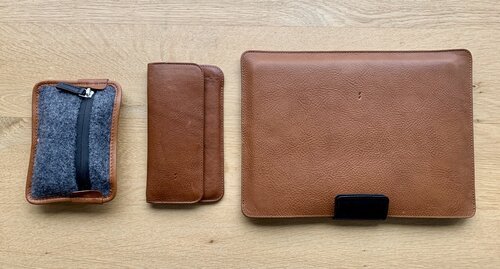 The lack of obvious branding adds to the serious business like character of the set. The saddle brown leather colour is a nice match with the Ortlieb's "ink" blue.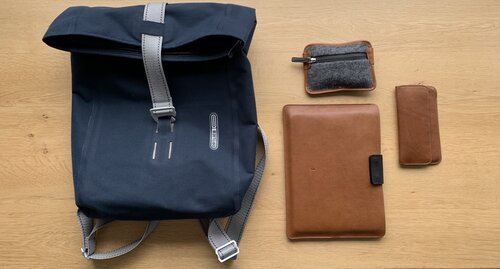 The inside of the backpack is spacious and features a sleeve that allows the devices to stay in position (while you move around with the backpack). There is enough space left for lunch, a spare set of clothing or something else.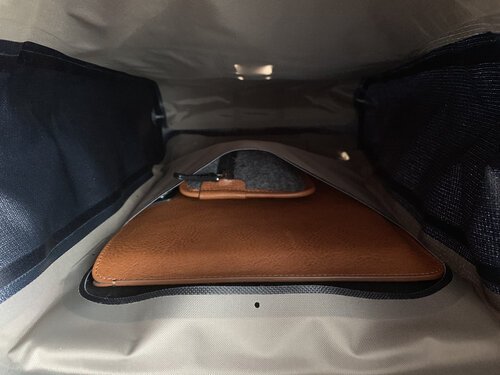 Conclusion
Finding the right gear takes time and effort. This 'business in a bag' is the result of different efforts in minimising and optimisation.
It all starts with being selective about what things you really need to bring along. Then think about where and how you'll be going. For me this meant: waterproof, urbanproof and businessproof.
Finally you should realise that the quality of the bag and cases are just as important as the items you carry. It's silly to safe a penny on a bag while spending pounds on its contents!
Did you enjoy this post?
If you found this content useful,
consider showing your appreciation
by buying me a coffee ❤️😋: