Climbing Mount Etna
Visiting an active volcano on Sicily, Italy
Last week me and my wife went to Sicily for a little summer holiday. It is the largest island in the Mediterranean Sea. It is an autonomous region of Italy, along with surrounding minor islands. It's home to Europe's largest active volcano: Mount Etna. We had a chance to visit this lava spurring monstrosity and it was quite the experience.
Volcanic region
Sicily and its surrounding small islands have some highly active volcanoes. Italy contains the only active volcanoes on mainland Europe. This is mainly because Italy is near the boundary of two tectonic plates. Magma erupting from Italy's volcanoes is thought to be the result from the upward forcing of rocks melted by the subduction of the African plate below the Eurasian one.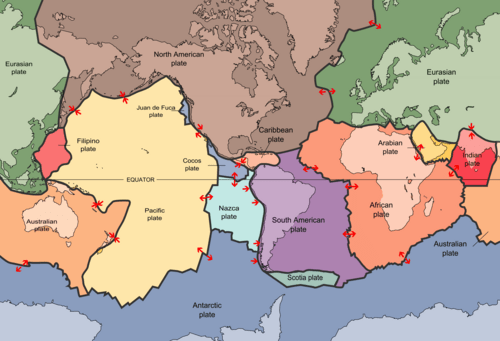 Mount Etna
The Etna is the largest active volcano in Europe. It's more than 3300 meters tall and its basal circumference is 140 kilometres. It's big and clearly stands out in the scenery. Every day smoke is coming from it's summit, consisting of steam and gasses.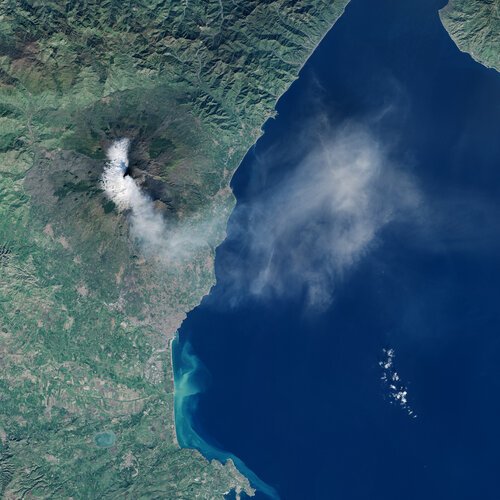 If you approach the volcano you're in for a treat in terms of scenic change. The higher you get the more extra terrestrial the environment looks. You can drive by car up to the Rifugio Sapienza. That's a base station from where you can go up the volcano.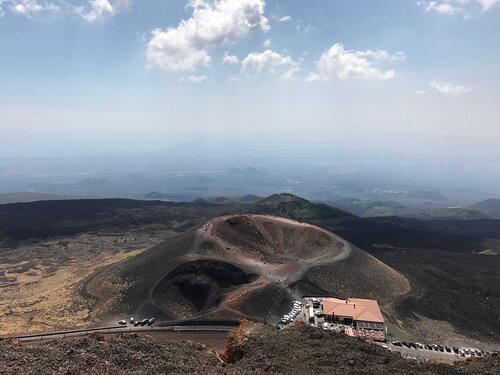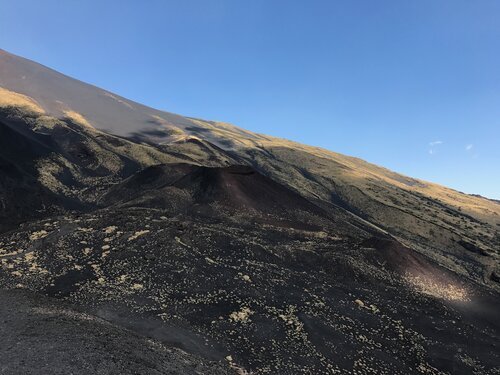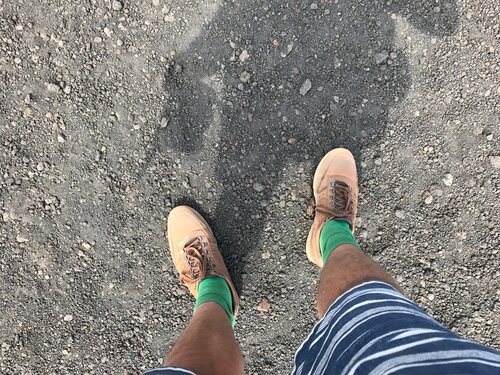 300+ Craters
Near the base station are a few recent craters which you can climb. Although the volcano summit stands out most clearly, there are more than 300 additional craters from which the magma has erupted in the past. It's quite incredible to realise this when you stand on mount Etna. These lateral craters can come out of nowhere and have done so several times before.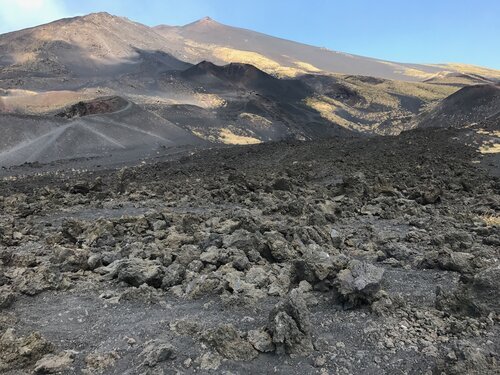 From Rifugio Sapienza we took the cable car up to the upper station at an altitude of 2500 meters. From this upper station you can take a special terrain bus that takes you up to about 2900 meters. From there you can only go higher under guidance of a professional guide.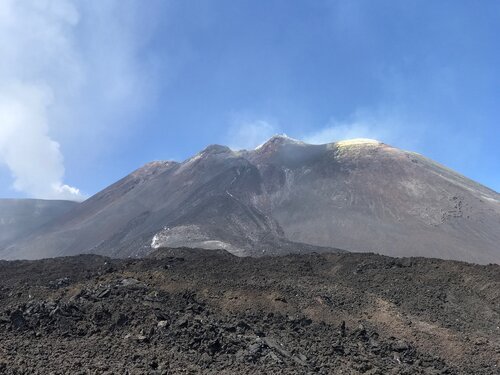 Breathing is a little different at higher altitudes as there less oxygen because the air is thinner. You just have to take it easy and don't be too quick when climbing the craters.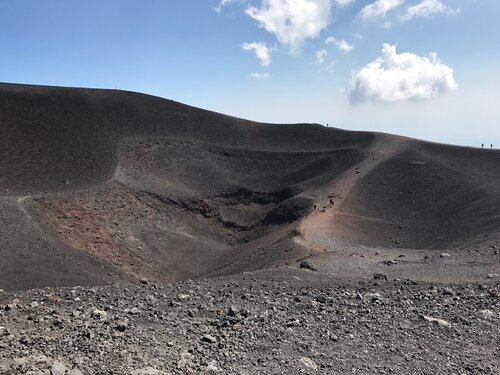 Volcanic dessert
The view is amazing. Our guide explained that there is practically no vegetation in this volcanic dessert. Everywhere you look there are rocks, old magma and lots of dust. Because of Etna still being active you can really see the difference between "fresh" and old lava flows.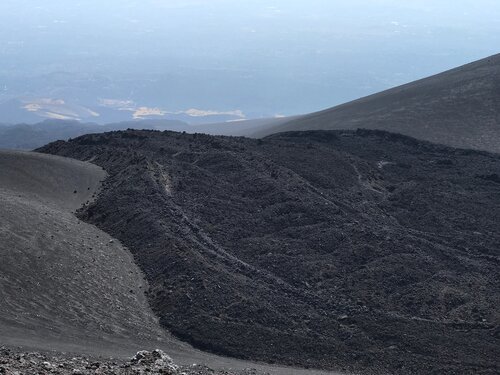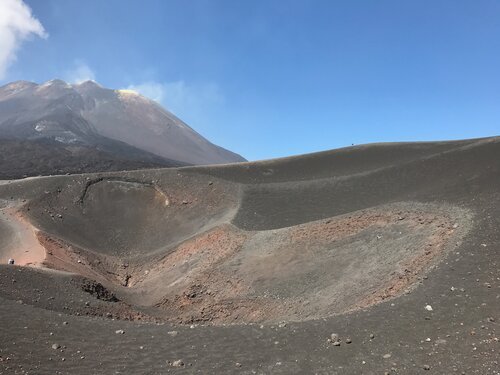 Most of the terrain is dark grey or black. Some parts are browner. This is because inside magma chambers all kinds of minerals are melted along with the rocks, including elements like iron. When the volcano erupts these elements come out, too. The brown colour you'll see is the result of oxidation of iron particles inside the pyroclastic material. In a way, the rocks are rusting. :-)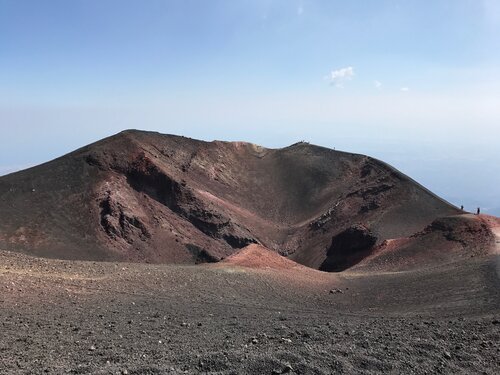 Volcanic heat
Our guide took us into the crater that erupted in 2002/2003. For humans that's some time ago, but at a geological scale that's still very recently. The crater is still hot.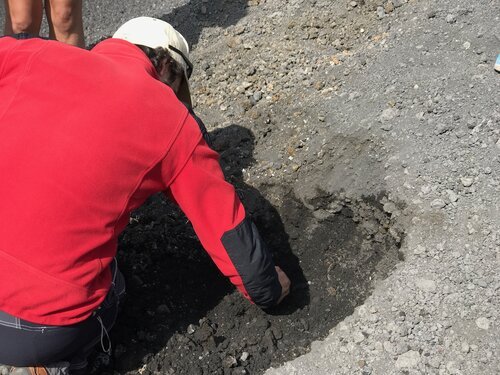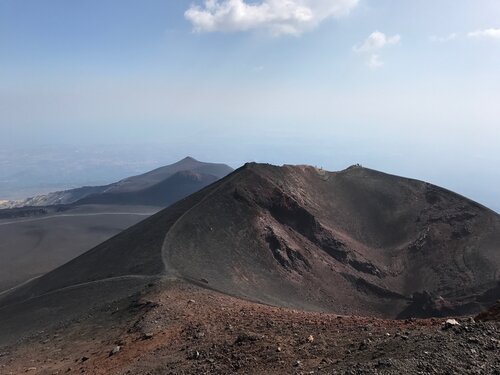 In fact, you can see smoke coming from inside the rocks. It's quite the thing if you're standing next to it. You can feel the heat with your bare hands if you move some dust and rocks aside.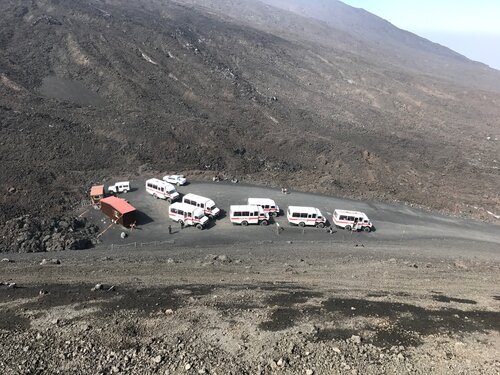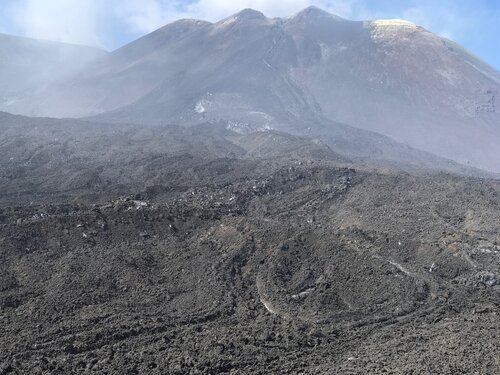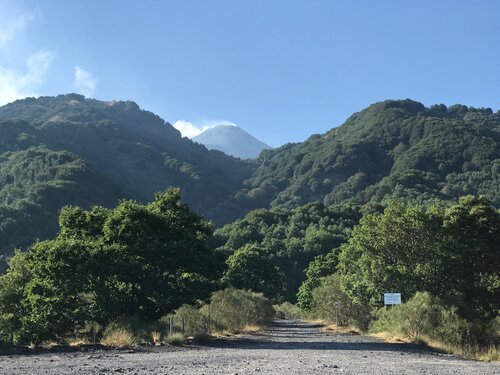 Standing on top of a volcano is something you should do if you ever have the chance. I highly recommend it!
Did you enjoy this post?
If you found this content useful,
consider showing your appreciation
by buying me a coffee ❤️😋: