Using a budget Android as main smartphone
Comparing a Nokia (€99) with an iPhone (€1329)
Every now and then, I switch phones to keep track of mobile developments. As professional app and web developer, I need to know how different devices work in real life. This time I used a budget Android smartphone, making me curious how it would compare to an expensive iPhone.
Switching phones
Although you may think that modern smartphones are all alike, there are some important differences that define the 'feel' of an mobile operating system. Things like navigation: on Android you have the widely used back-button, while on iOS you have the home button and gesture. If you develop apps, you need to make sure that your app behaves like someone would expect. Meaning you need to adhere to the operating system's way of doing things.
Badly ported apps feel out of place because they lack this refinement - they feel illogical. This is why I regularly switch phones, to keep a fresh understanding on how things work on both Android and iOS.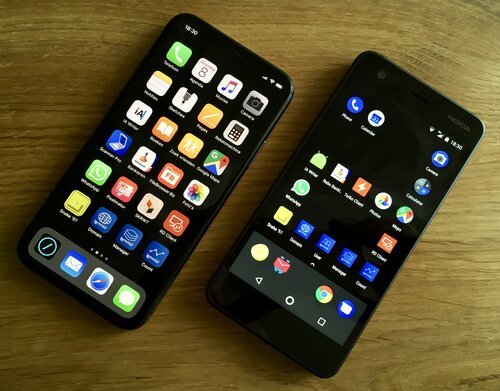 You may not realise it, but if you use the same phone for a longer period of time you'll develop muscle memory to quickly open common apps. Make switching easier by arranging the icons in similar fashion on both devices.
Budget Android: Nokia 2
The Nokia 2 is a basic Android smartphone that doesn't cost a lot (€99). It is the entry level smartphone that Nokia offers. It has a surprisingly nice feel to it because of the aluminium bezel. The screen is vivid and crisp and the phone has a gigantic (4100mAh) battery.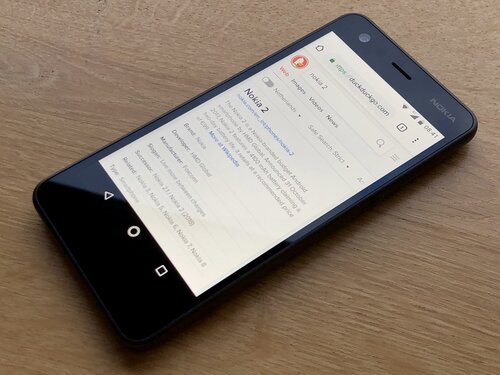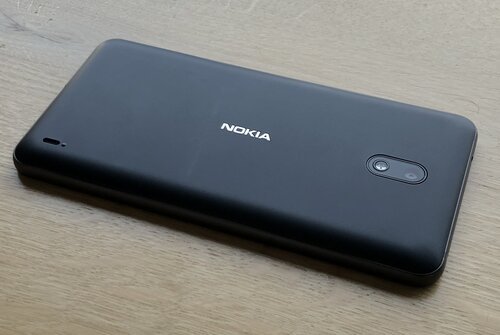 Compared to the expensive iPhone, the budget Nokia feels lighter and its metal bezel is brushed instead of the iPhone's polished "surgical stainless steel" (pfff). With the Nokia I feel perfectly comfortable not using a case, while on iPhone I feel like I need one (and insurance, second mortgage...).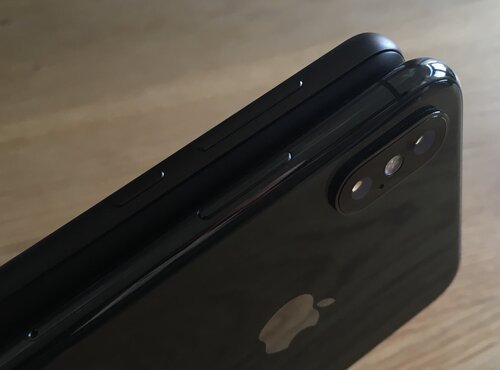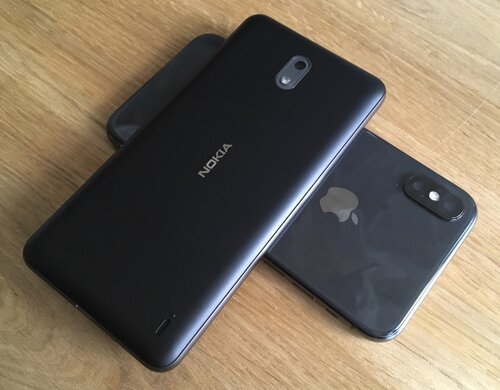 Android One on Nokia
Contrary to many other Android phone manufactures, Nokia is very quick with providing updates. Although this budget phone is much cheaper than offerings from - let's say - Samsung, it gets updates faster and for a longer period of time. With the new 'Android One' experience, Nokia and Google guarantee updates for at least two years.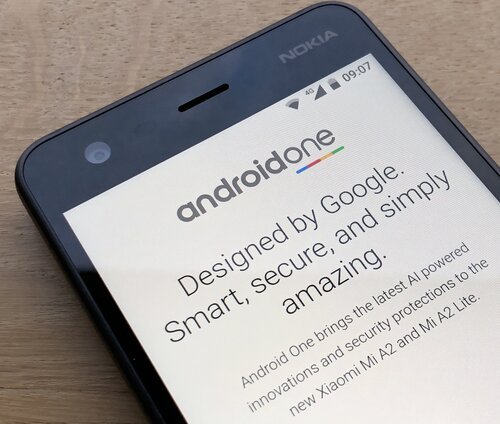 Setting up Android
Switching operating systems means that you'll need to find different apps to get things done, as not all iOS apps are available on Android (and vice versa). I do a lot of different things with my smartphone. For some common tasks I have selected a few apps that are worthwhile:
Email: K-9 mail, an independent email program made available as free software, sharing its source code. It may take some time setting up this app to your liking, but it works reliable. Free of ads, spyware and commercialisation.
SSH: JuiceSSH, one of the best apps to connect to your server or VPS. It works reliable and is free of ads. In addition to SSH it supports MOSH, which is a SSH-like protocol optimised for mobile connections with support for roaming connections and connection resuming.
SFTP: Turbo Client, is an FTP/SFTP client that you can use to access files on a remote server. This app is free of ads and has an intuitive, modern interface.
Writing: iA Writer, is an app for writing articles that has a minimal interface that gets out of your way, allowing you to fully focus on your content.
Windows: RD Client from Microsoft can be used to connect to a Windows computer. You can then have access to all the Windows desktop apps from your phone. I use this to respond to problems reported by my customers that use Windows.
Contacts: CardDAV-Sync, my addressbook is stored on a Radical CardDAV server. It is like running your own Google or iCloud. I like it because I can fully control my data and use CardDAV on both iOS, Android, Mac, Windows and Linux. Once synced, the contacts appear in the default contacts app provided by Android.
Calendar: CalDAV-Sync, my calendar is stored on a CalDAV server, just like my addressbook. Once synced, my appointments appear in the default Calendar app.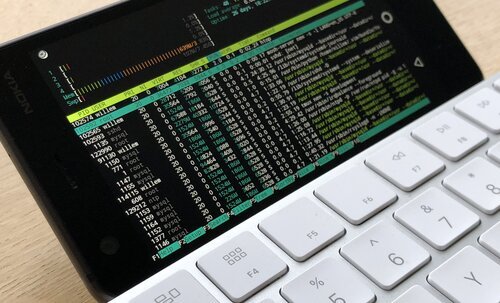 Performance
The budget Android smartphone is limited in its processor power and memory. This is something you'll notice: the Nokia is much slower than a high end smartphone. Opening apps takes a little longer (some seconds), and when switching apps it often has to reload because it cannot keep many apps active at the same time. But, once you've opened an app it works very well. I could do all the things I wanted, albeit taking a bit longer.
The Nokia 2 has just 8GB of build-in storage. While that may seem enough, you must realise that you cannot use the full 8GB of memory yourself. Android comes with a ton of Google apps that you cannot remove, and these apps take precious storage capacity away from you. Luckily you can use a Micro-SD card to expand the memory. It remains a challenge however, because not all Android apps can run from a SD-card.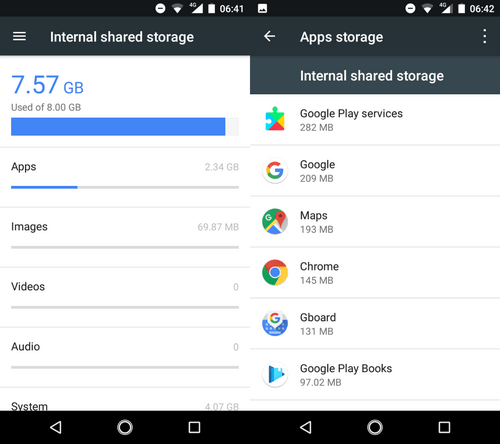 Google is watching you
If you use Android you need a Google account to download any apps. Google uses this account to create a profile of your online and offline behaviour. Using this detailed profile it can make recommendations, show relevant ads and inform you of things they think you may be interested in (like traffic on your daily commute, your favourite sports team etc).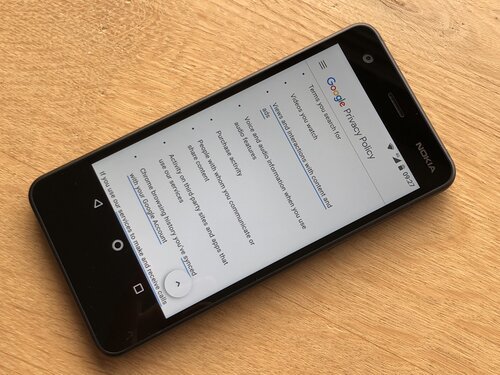 Although you can tune it back, you can never really escape it. You should check out the Google Privacy Policy, which is written in easy to understand language - explaining what exactly is collected.
Using the Android phone I was confronted with Google's data mining multiple times. When I visited my moms (who happens to live near a Polish supermarket), the phone prompted me to leave a review for this store.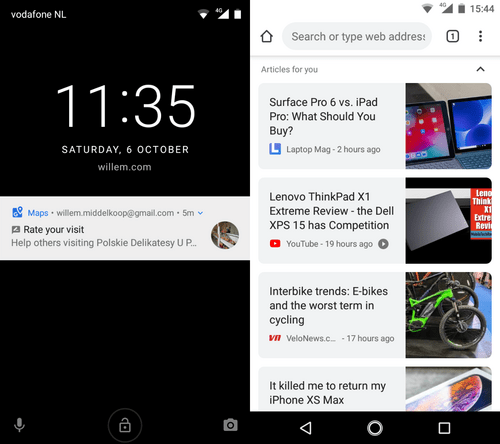 Another example is Google Chrome, the browser is actively making recommendations what I should read. If you know my blog, you'll notice from the screenshot that Google does a pretty good job describing my interests. You can hide these "articles for you", but you cannot completely disable them. I prefer to think by myself, I really don't want others to tell me what to read.
Screen and reading
The Nokia comes with a surprisingly good screen. It is sharp and its colours are vivid. Compared to the expensive iPhone, the budget Android phone has thicker bezels around the display. Although both smartphones are about the same physical size, the iPhone's edge-to-edge screen can fit more content.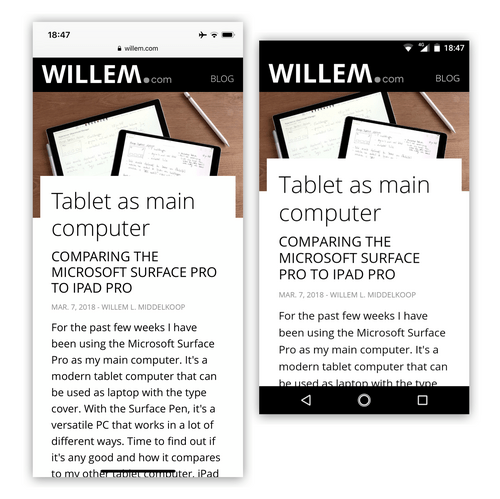 What's more is that iPhone offers the so-called 'reader mode'. This is an option offered automatically by iOS to most websites. You can remove all distractions from a page with a single tap, allowing full focus on the article you're reading. It removes ads too, which is probably the reason why this feature is not on Android (which is controlled by Google, you know, the company that makes money through advertising).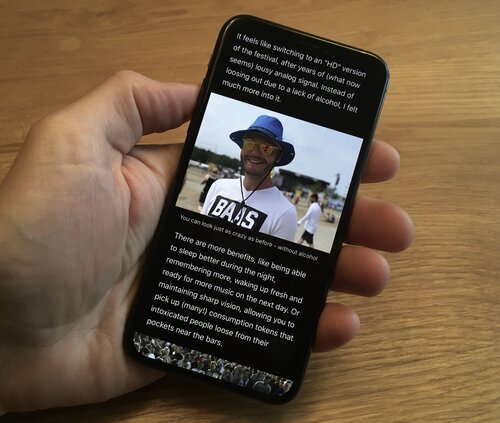 Camera quality
The best camera is the one you always have with you. If you're using the Nokia 2 as your main phone, then you might consider taking another camera with you as its picture quality lacks details and depth. Under good lighting conditions it gets the job done, but don't expect any miracles.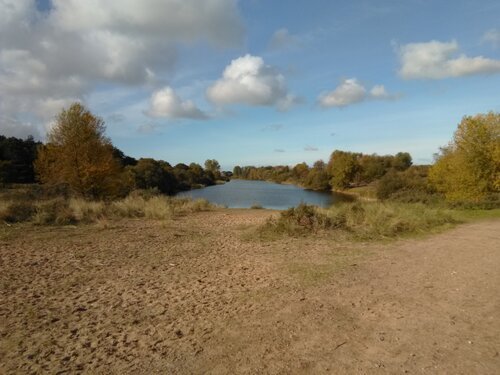 The landscape of the "Amsterdamse Waterleidingduinen" seems a bit fuzzy, lacking detail. Quality gets a little better if the subject of your photo is nearer.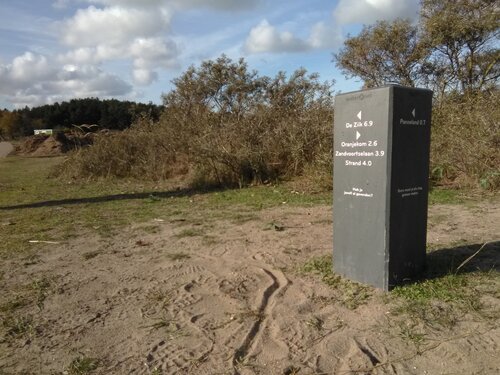 The difference in camera quality becomes very clear when you take the same photo with both phones. The photo taken with iPhone has more detail. But bear in mind, that that camera is 13 times as expensive! Do you think iPhone's photo quality is 13 times better?

Battery life
This is where the budget Nokia 2 blows the competition out of the water! The battery life is simply fantastic, it is measured in days! I used the smartphone extensively and the battery performed consistently great. This is really something that should make expensive iPhone owners jealous.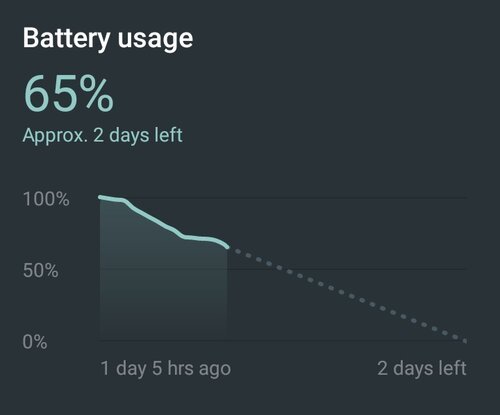 Conclusion
For just €99 you get a phone that can do an incredible lot. I managed to do anything I wanted - at just a fraction of the price of the iPhone (which peaks at €1659 for the 512GB XS Max model). In fact, the Nokia costs about as much as just one iPhone earpiece... crazy!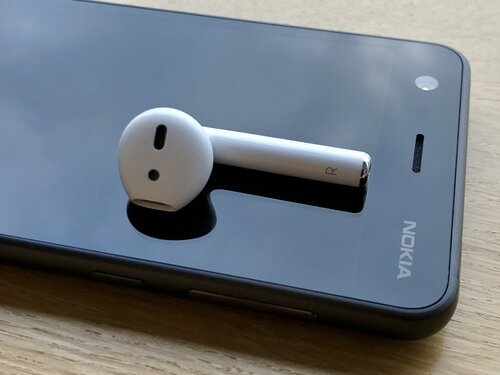 The really interesting thing about this budget Android is that it makes you realise that smartphone hardware is getting cheaper and cheaper. It's being commoditised. If today's budget phones can already do everything I want, it makes me wonder what a budget phone can do in a few years. They'll probably be so good that you won't need an expensive smartphone anymore. The cheap phones are getting better and better, something to keep in mind when you think about upgrading your phone!
Did you enjoy this post?
If you found this content useful,
consider showing your appreciation
by buying me a coffee ❤️😋: