Collecting health data with Biostrap
Wearing a clinical-grade photoplethysmography (PPG) sensor for a month
Most wearables (smartwatches, fitness trackers, etc.) use very basic sensors to capture heart rate. Their signal is binary: just counting beats. Biostrap is different, instead of just checking pulses, it captures a high-fidelity PPG waveform. These waveforms are the same kind that doctors use, making me wonder what I could learn from them!
Health data
One thing I learned from wearing an Apple Watch is that I like health data. You can learn a lot about your body by measuring biometrics, such as heart rate. It's not just for athletes, it's my experience that heart rate indicates:
how fit you are
if you're physically active
how well you slept last night
what influence longer or shorter nights have
how fast you're recovering from alcohol, partying or drugs
if you're under (emotional / work) stress
Best insights are gained over a prolonged period of time. Results are personal, what may be good for me can be totally different for you. It depends on your age, gender, fitness etc. I find it useful to know what (small) things in my daily routine have effect on my well being. With minor tweaks in your lifestyle you can feel a lot fitter, you would be foolish not to try!
Wearing a sensor
Earlier this year I wore an Apple Watch, but like I wrote about it here, I still prefer an mechanical watch. I just don't like the manditory daily charging and extra attention the wrist mounted computer demands (buzzing, flashing, beeping, etc.).
Meet Biostrap
It's an exercise in minimal design: no screen, no buttons, no buzz, no sounds; it's just a rubber strap that contains a sensor. You wear Biostrap on the wrist (either left or right) and you can combine it with any watch.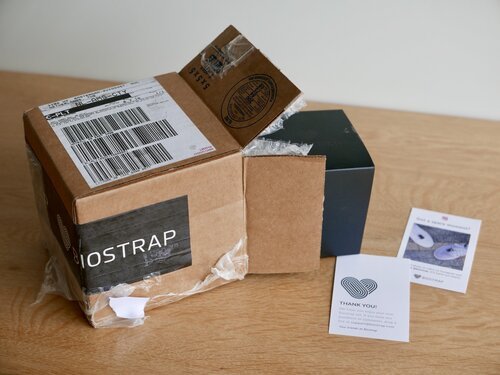 Biostrap comes in a small box with three different coloured straps, a charger, two sensors and a friendly "Thank you". Here in Amsterdam you can only get your hands on one by ordering it online.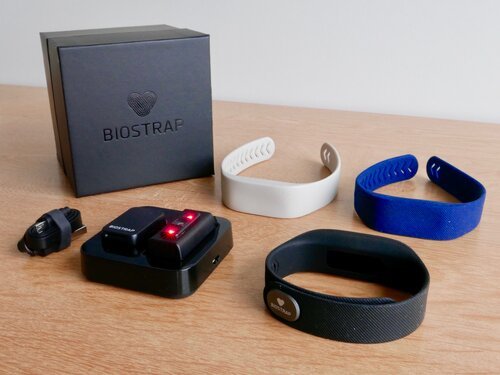 Brace yourself for customs charges though... importing one from the United States isn't free in this lovely tax burdened country called "The Netherlands". You can order it at biostrap.com.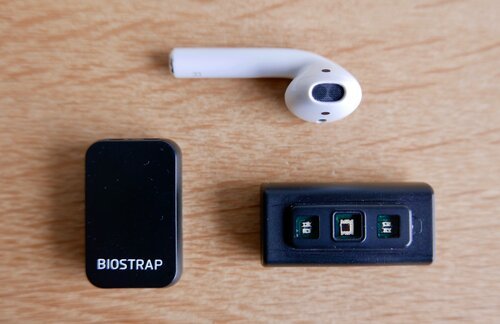 There are two small sensors, one that sits on your wrist and one that you can (optionally) click on your shoe. By combining data from two sensors Biostrap can recognise different activities and workouts. But for this experiment I was interested in the PPG-sensor, I did not use the shoepod (as I cycle a lot with different kinds of dedicated sensors, like cadence, speed, power etc).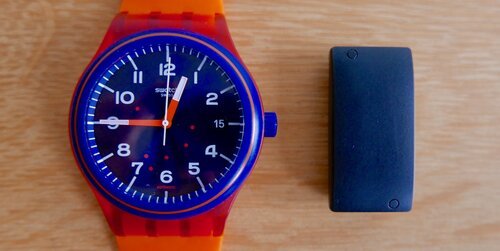 Compared to a normal watch you can see that the wrist mounted sensor is pretty small.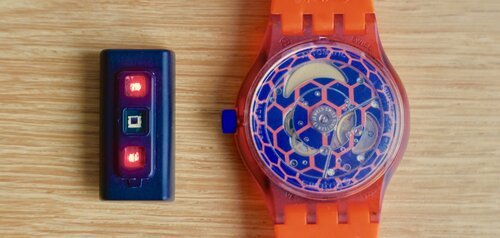 On the rear you can see the sensors. The two red LED's light illuminate the inner flesh and blood of your arm. In between the LED's is the sensor, it captures the intensity of the red light reflecting from your arm. That enables Biostrap to capture a waveform of the blood flowing through your body. Pretty awesome stuff, I'd say.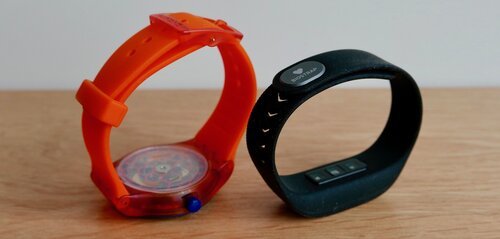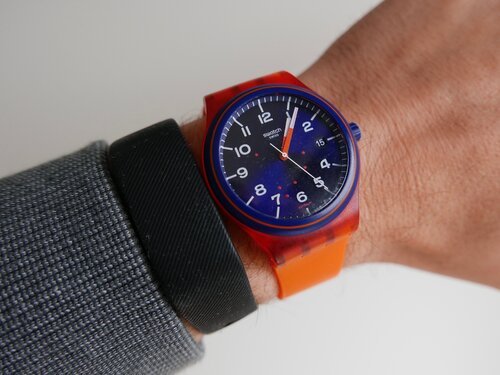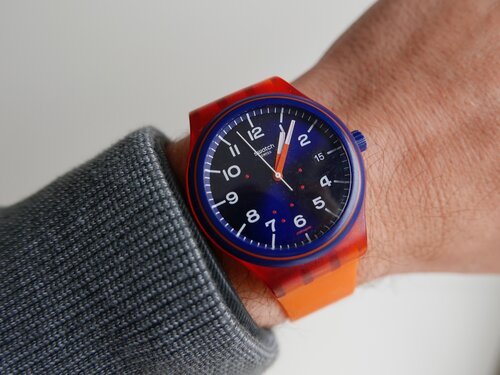 Data
About once every 10 minutes Biostrap tries to record a PPG waveform. This only works when you're at rest. If you're moving (too much) the recording is disregarded. Captured data is analysed by cloud services from Biostrap.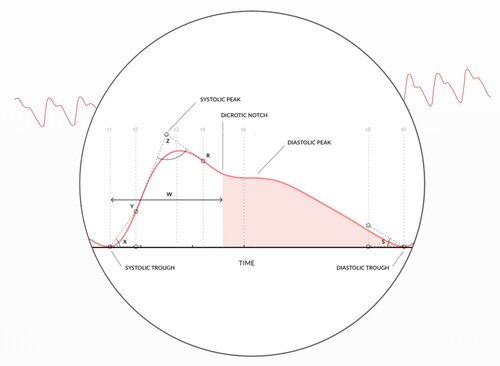 Every single beat is analysed for 29 different parameters, then analysed against all other heartbeats from the last 24 hours. On a good day Biostrap captures about 2000 beats - that's a lot of data.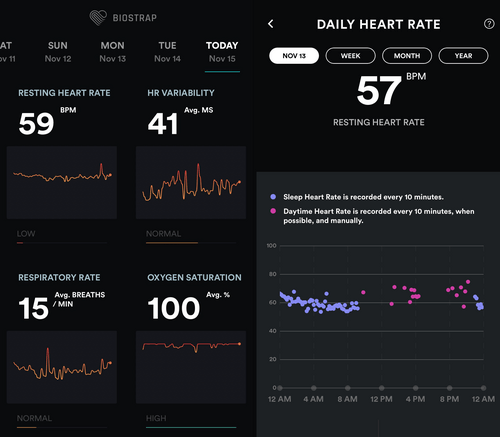 You can access your data through an easy to use app. Once opened you are presented a dashboard with the measurements of 'today'. You navigate through time or by specific biometric (like heart rate, oxygen saturation or respiratory rate).
The algorithms analyse the waveform and determine not only heart rate, but also respiratory rate, blood oxygen saturation and heart rate variability (HRV). The latter is considered an essential indicator to measure biological health (versus chronological health).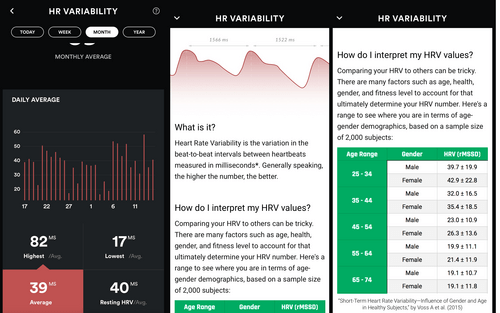 Heart rate variability (HRV) is relatively new and unknown to many. It measures the gap between individual heartbeats. The higher the variability between gaps, the better rested you are. Lower variability means you could be stressed or overworked. HRV has been linked to hypertension, obesity, diabetes and problems with the immune system.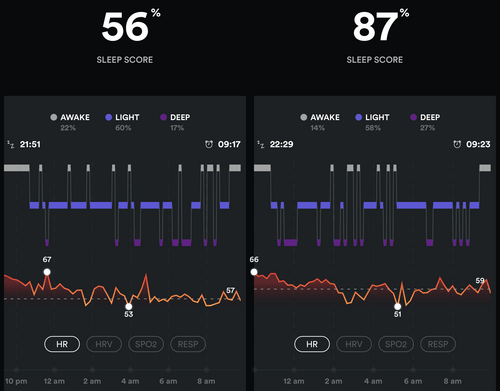 Biostrap is at best when you're at rest: it does comprehensive sleep analyses. Inside the strap is a gyroscope, measuring movement. It detects how still you lay. Combined with the PPG measurements this provides insights in how restful your sleep was.
Insights
With Biostrap you really get a lot of detailed data. I like that, but it can be overwhelming. That's why the app does some of the analyses for you and provides you with insights. Such as an alert that whenever you had a bad night, you should take it a bit easier during the day.
But if you're like me, you can go through the data yourself. You can find amazing insights and patterns. Take this graph for instance: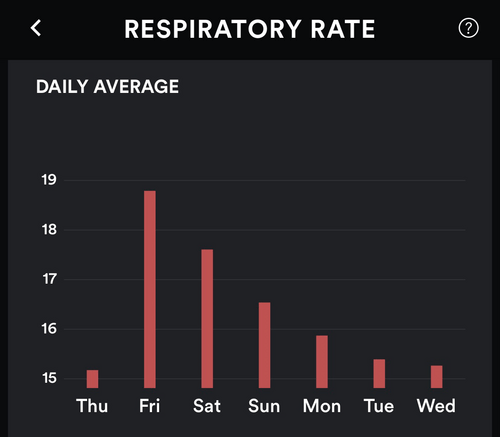 This graph shows my respiratory rate (the amount of breaths I take per minute). Lower is better, as it means you're more comfortable. You can clearly see that something serious happened at Thursday night, causing elevated rates for the entire week!
The story behind this graph is that I fell with my bike and injured myself. Although I didn't break anything, I did feel pain for days. This is clearly reflected in my respiratory rate.
Limitations
Although I really like Biostrap, it is currently limited because it only measures well when you're at rest. It's unaware of your heart rate during exercise. This tends to create a bias when looking at average heart rates during the day. The good news is that the Biostrap app allows you to automatically export your data to Apple HealthKit.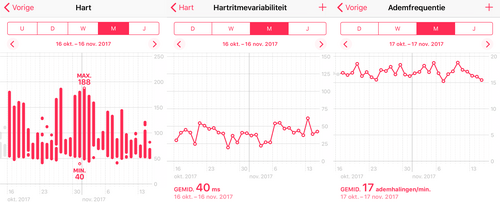 Using HealthKit I can aggregate the data from different sources and devices. Like my Wahoo Tickr that I use on my racing bike. I can imagine that data collected now will be available for years to come. For as long as I keep on using Apple HealthKit that is... (although Apple does in fact provide a way to export your data, neat!)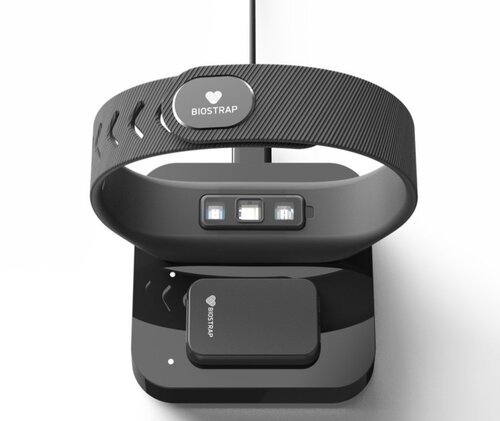 Battery life is about 4 days, that works for me but more is always better. I guess wearable health sensors is another field in need for a battery breakthrough. Luckily Biostrap charges quickly, from 0-60% in less than one hour.
Conclusion
I care a great deal about my health. I only have one body, I better make sure I treat it well. Collecting biometric data on a regular basis helps me keep track of the condition of my body.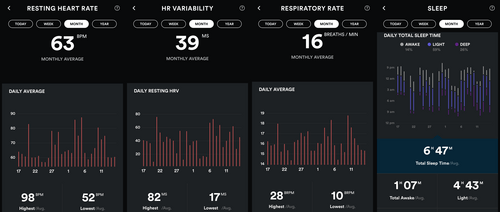 This is just one month of data, but imagine that you have collected years of data. You would be able to find patterns and diagnose problems before you actually experience health problems. Especially if you are able to compare your life signs with those of other people; both healthy and sick.
I truly believe that in the next decade wearable health technology will continue to evolve into smaller, less obvious things. It will become a part of our lives as it will contribute to our understanding of our health. For sure I'll continue collecting data!
Did you enjoy this post?
If you found this content useful,
consider showing your appreciation
by buying me a coffee ❤️😋: