Talking tablets: what makes a great tablet?
Working with Microsoft Surface Pro X
Earlier this year Microsoft released their brand new Surface Pro X tablet computer, in many ways this is a forward thinking device. As I like working with tablets I wondered what exactly makes a great tablet? Is Surface Pro X any good? Read along to find out.
Surface Pro X
Unlike traditional PC's that often provide backwards compatibility in software and hardware design, Microsoft primarily designed Surface Pro X to be a next generation device. It is ultra thin, always connected (using 4G/LTE) and it is equipped with an efficient ARM processor to perfectly power web-first experiences. Just like other Microsoft Surface devices, Surface Pro X represents Microsoft's best as it integrates hardware and software unlike other Windows PC's.
Keyboard
You should get the signature keyboard with the surface "slim pen" to fully enable the tablet's versatility. They're sold separately (just like iPad Pro's keyboard and pencil), which I still think is stupid.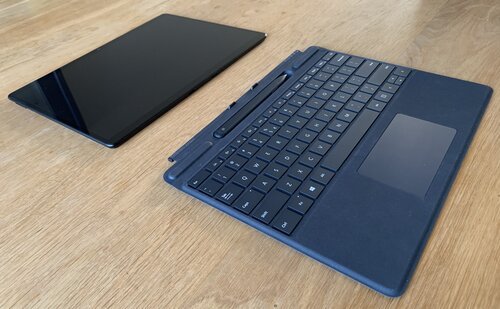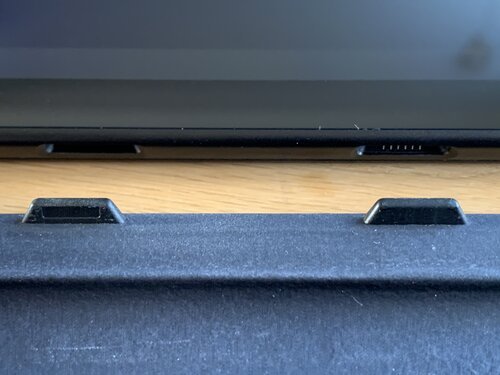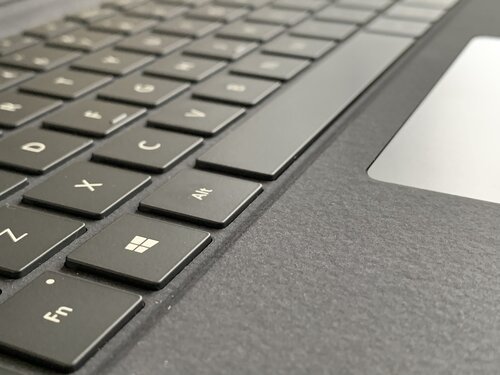 The Surface Pro X Signature Keyboard is the very best tablet keyboard that I have ever seen. It includes all the normal keys you'd expect on a PC keyboard (including escape and function keys). Yet it is slim, sturdy and it feels very solid. Tactile feedback is great, I love typing on it!
I only wish the keyboard would work when it is disconnected. It would enable even more different use cases, especially combined with the integrated, fabulous, Surface kickstand, the Surface dock and Window's powerful support for external monitors.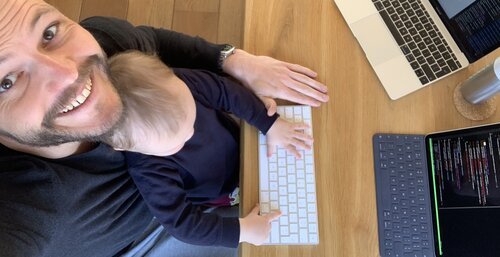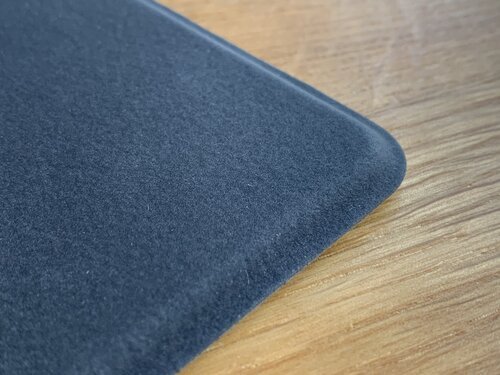 Something you'd either love or hate are the alcantara covered palm rests. I don't love them as they are way too "warm and mushy" for my taste, especially when you work for longer periods of time. But it is a personal preference - I guess - as I don't like cushions or blankets on a couch either, I prefer cold and uncomfortable.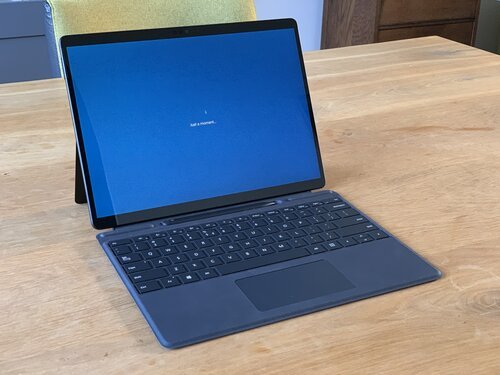 Surface Slim Pen
The Surface Pro X supports the Slim Pen, a oval-shape stylus that can be used to tap things, take notes or draw and sketch. The great thing about the Slim Pen is that Microsoft integrated it into the Surface design, offering a nice place to put it when you don't need it. It magnetically flips around so it can inductively charge itself while being stored inside the keyboard, an impressive party trick.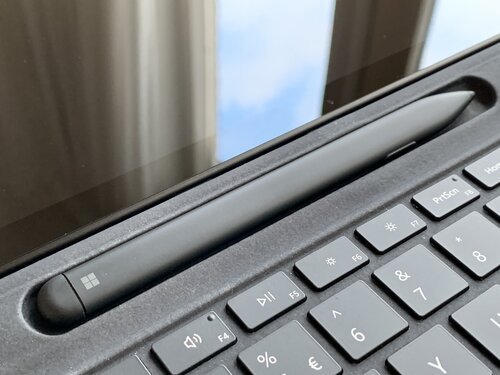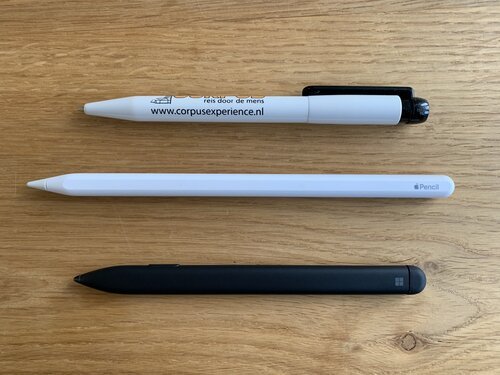 The Surface Slim Pen is similar in size compared to a conventional (for paper) pen. It is slightly smaller then Apple's latest Pencil.
When you hold the Surface Slim Pen you'll immediately notice that it is much lighter than other pens. This makes the Slim Pen feels a little "flimsy", it lacks the "balanced heft" that Apple Pencil has.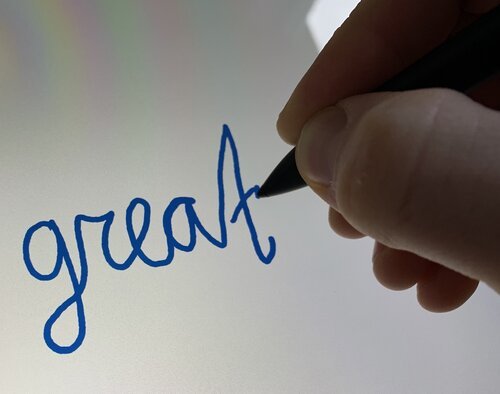 Despite being a little lightweight, it functions perfectly as pen responsiveness is simply great. Microsoft offers different apps for note taking and sketching, like Microsoft OneNote and Whiteboard. I like the latter, but it is not without its flaws as annoying bugs like an imprecise ruler hamper the Surface Pen's super powers.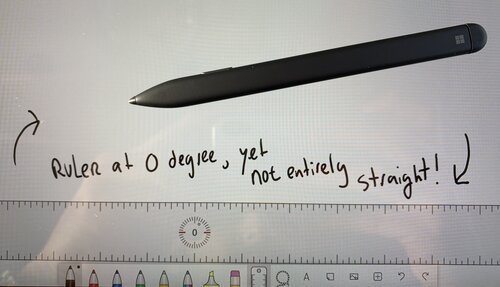 Working on with Surface Pro X
When you work with Surface Pro X for a few weeks you'll notice that the device is super capable. Its versatility makes it suitable in many different work situations, like:
video conferencing: the camera is on the right place above the screen (something iPad Pro can't say), improving 'eye contact' when you're in a virtual Microsoft Teams meeting.
reading: its (near) edge to edge screen combined with the Surface Pro X low weight makes it possible to comfortably read documents and webpages in portrait mode.
drawing/designing: use the pen to jot ideas, explore designs by sketching and drawing, tilt the screen using the integrated kick stand for improved ergonomics.
coding/programming: The superb typing experience and spacious screen makes Surface Pro X a great development computer. It's great for web development as it runs the full desktop versions of Firefox and Chrome (with their integrated dev tools).
image manipulation: I had no trouble running GIMP to edit images, working with high resolution web graphics and multiple layers.
server administration: It is now possible to use SSH natively on Windows, enabling you to login to your favourite cloud VPS.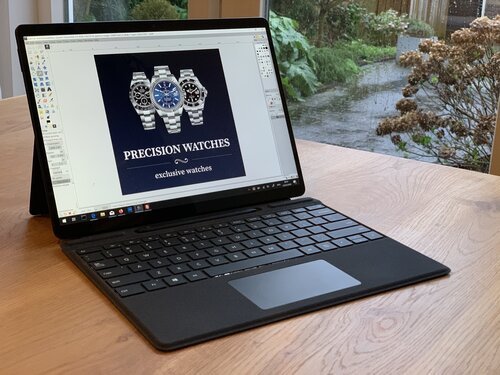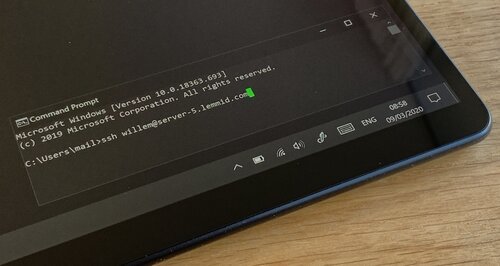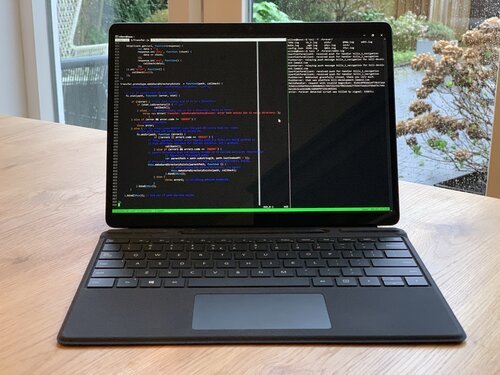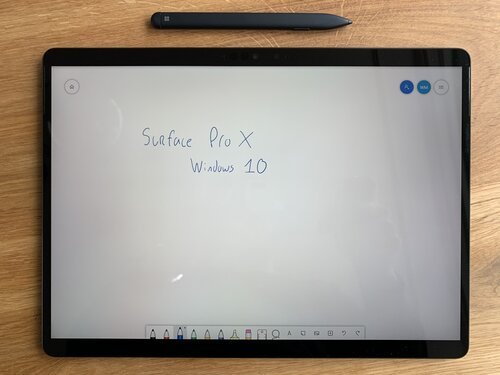 What makes a great tablet?
This brings me back to the main question, what makes a tablet great? Over the years I have worked extensively with different tablets. I even built my own tablet OS. This has given me the opportunity to learn about the things that really set the 'tablet category' apart from conventional desktop or laptop computers.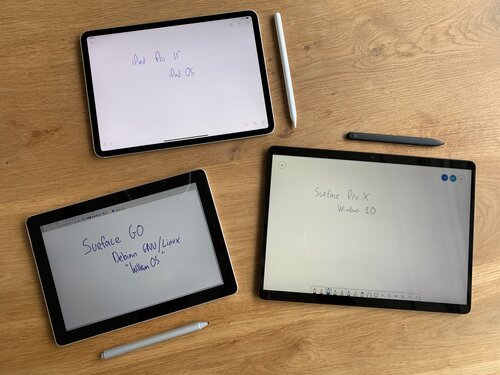 Versatile, mobile hardware
The main takeaway from a tablet computer is the versatile, mobile nature of the form factor. There are no wires, it fits in most bags, you can use it in different angles and orientations. It is precisely this that lets the tablet computer transient into the 'background', enabling you to just do what you want it to do.
It doesn't require a certain physical position, like sitting behind a desk, to use the device. The battery and mobile connectivity enable you to use it wherever you are. Although I appreciate the power of a big screen desktop computer, I don't like its requirement to use it in a (dull) office all the time. A tablet computer gives you a certain degree of freedom thanks to its versatility and mobility.
Software
A great tablet experience depends on seamless integration of hardware and software. Tablet computers are very much defined by the large touch screen that acts as a canvas for anything the tablet can do. Great tablet software takes advantage of the direct manipulation that is possible with your fingers.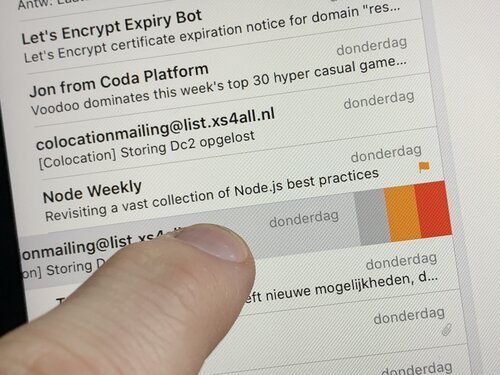 If designed well, software is able to enable an intuitive understanding of its workings. Quite literally one can use a tablet by simply touching it, you should not need a manual or a degree in computer science.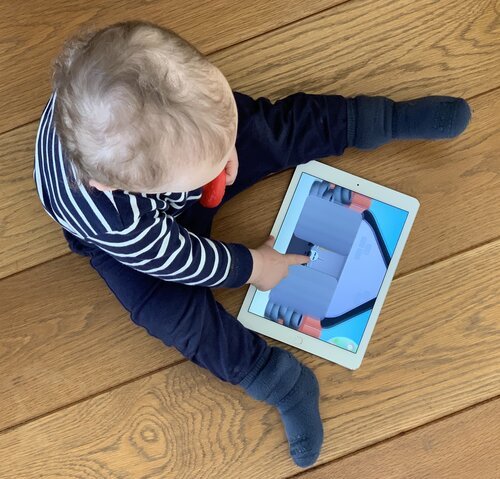 For this reason my one year old son can use a tablet computer, but not a PlayStation which requires a physical controller. The mere lack of the abstraction of the distinct controller (with buttons) removes friction from the interaction with software.
Conclusion
If you haven't tried working with a tablet computer, you should really consider it. The Surface Pro X is a perfect machine to introduce you to novel ways to get things done, while providing you with access to familiar apps and files.
Its versatile, mobile hardware combined with software that is designed to take advantage of the large touch screen, enables you to get things done in many ways, pretty much anywhere!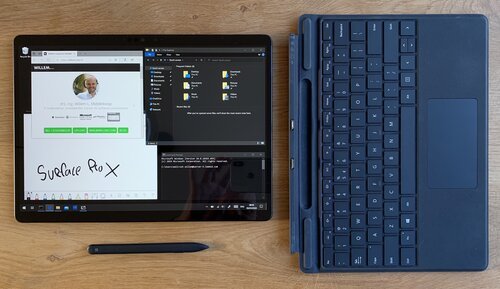 Did you enjoy this post?
If you found this content useful,
consider showing your appreciation
by buying me a coffee ❤️😋: