iPad Pro next to my primary machine
Using it with Apple Pencil as a creative powerhouse
I wanted see if I can find something better than my old fashioned pencil and paper that I use for designing software as professional developer. I knew iPad Pro from my test last summer, figuring out if it could replace my primary development machine. While it may not be able to completely replace my thrustworthy ThinkPad, it turned out to be a totally different story when it comes to paper.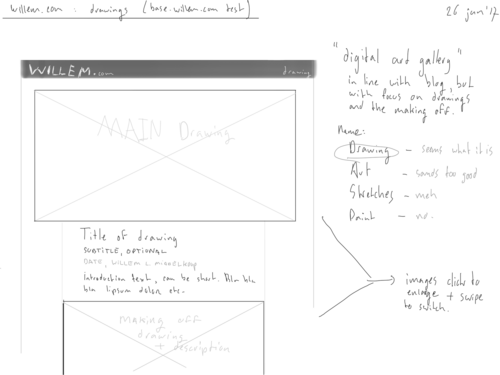 Extending and improving my thoughts with paper
I use paper to jot down ideas and when I do that right, it enables me to improve and extend my original thoughts. Using pencil and paper I have been able to design some of the best things I have created as professional software developer. I like paper because it is free of distractions and whenever you use a blank sheet it feels like a fresh start (of something potentially amazing).
Problem with paper
Inherent to its physical form, a piece of paper can only be at one place at the same time. You need to carry it with you if you go somewhere, together with a pencil and eraser. It seemed somewhat silly that my smartphone can do all this amazing stuff and yet I carried around pieces of sliced dead trees...
Problem with digital drawing and note taking
So, why didn't I ditch paper a long time ago when I got my first laptop or smartphone? It is because I feel limited by a physical keyboard as it forces me to use words to express my ideas and thoughts. And while it is possible to draw using a mouse, I experience too much distance between me (my hand on the mouse) and the drawing (on my monitor) to really like it.
Meet iPad Pro with Apple Pencil
My best ideas come from direct manipulation, instantly and without distraction. Earlier I used iPad Pro in an experiment as primary computer, of which you can read about here. While it didn't succeed in replacing my primary computer I did like it's pencil and digital note taking app. The Apple Pencil feels just right and if you disable notifications, the iPad poses little distraction with its minimal industrial design.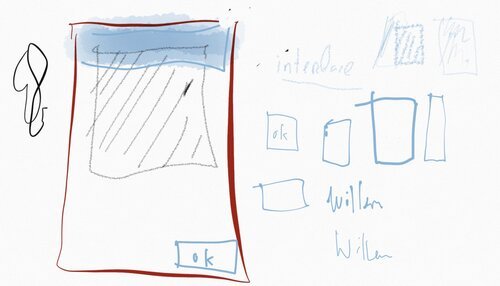 The Pencil's response is very direct and precise. Due to the high resolution of the iPad's retina display, digital ink is rendered convincingly. The standard Apple note app does a great job, but there are few apps that simulate different drawing tools like paint and bigger pencils.
Designing software with iPad Pro and Apple Pencil
I decided to simply start using iPad to do my design work to find out how I like it.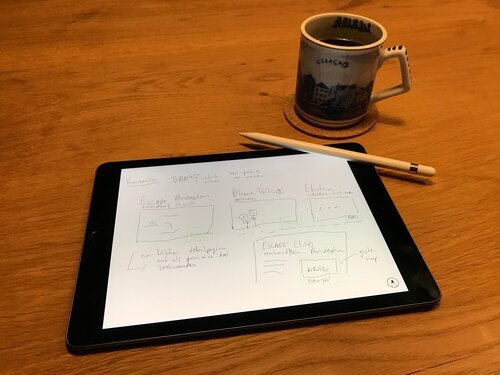 If you use your imagination to think the bezel away, using iPad can be just like a piece of paper. It blends in very nicely because of its physical dimensions.
The software can be configured to move away and the brightness and white balance can be set to match the environment. Apple calls this the "true tone display", and it really works.
Beyond traditional paper
Because iPad is digital, it becomes possible to share my designs with my customers, synchronise them between my devices and to automatically have them backed up. This is a mayor plus compared to traditional paper.
Not soon after my first scribbles, I got used to Apple Pencil and my writing and drawing improved. I began experimenting with the ruler, different tools and colors.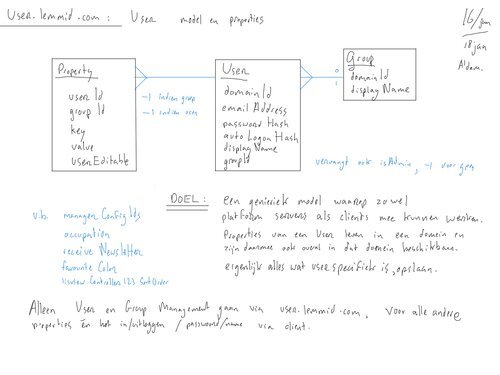 But perhaps one of the most surprisingly cool advantages is the undo function. It allows you to draw something and have it be removed instantly. While it may sound obvious, this is very difficult on traditional paper since an eraser is far more clumsy and removes everything it touches.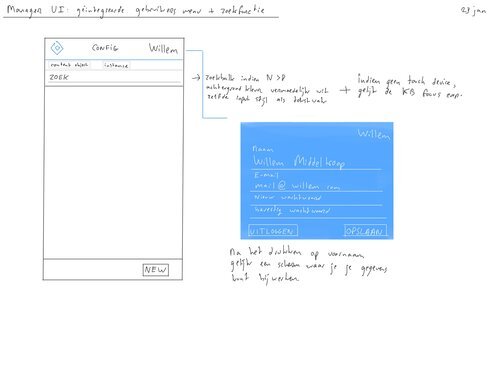 Before, I had one colour pencil because I didn't want to carry around multiple pencils. But with digital ink it is no extra effort. I can now even use a white pencil, it is really a lot of fun.
Drawing
I liked drawing with Apple Pencil and iPad so much that I started drawing some more, just for fun.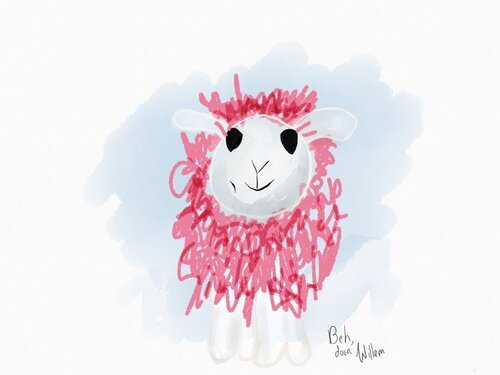 At first I tried to create something simple, a pink sheep but soon after that, I continued on more challenging subjects, like a Rolex GMT Master.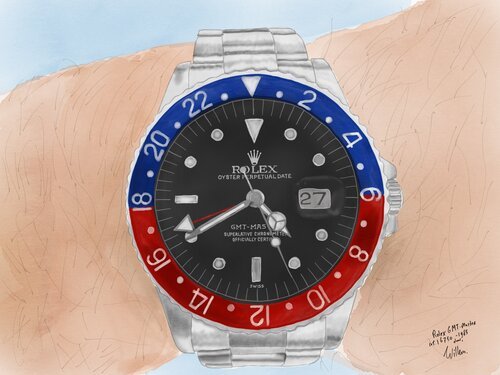 Or a sunset: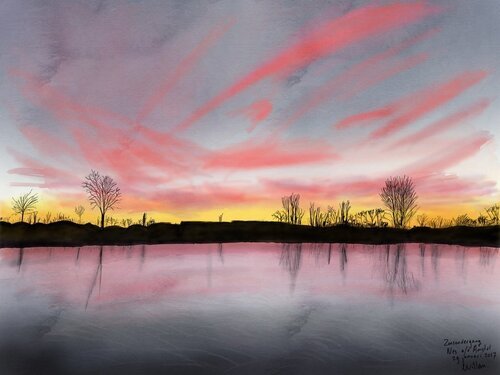 willem.com/drawing
Because it's all digital, I am now able to share my drawings with you. I have created a separate section on my website: willem.com/drawing
Together with the drawings I also post some "making of" photos, so you'll have a better idea on how these drawings are created.
Conclusion
Without any doubt I can say that iPad Pro with Apple Pencil really is better than my traditional pencil and paper. While it may be different for you, I can highly recommend that you give it a try!
And that's why the iPad has earned a position next to my primary development computer.

Did you enjoy this post?
If you found this content useful,
consider showing your appreciation
by buying me a coffee ❤️😋: