My first weeks as dad
On the challenges and rewards of being a father
Last Christmas my wife gave birth to our son, a little boy that would change everything! It's an incredible experience to become a parent, especially if it is your first kid. It introduces a whole new way of living, having to deal with regular feeding, caring and sleepless nights. Read along for my (biometric) findings and some practical tips!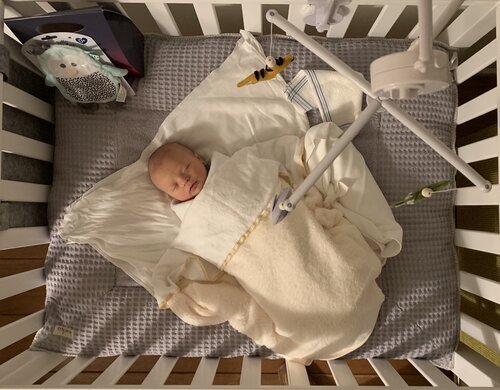 Birth
During the middle of the night on December 24st my wife noticed that things were happening in her belly. She was due to give birth around Christmas, so we immediately suspected IT has begun... That's one really crazy way to wake up, I ensure you!
Having prepared myself as much as possible, I knew I had to time the contractions. The more frequent and regularly the contractions occur, the further the "birth process" is. With my IT-engineer's eyes I tried to make sense of the situation, having funny thoughts of progress indicators along the way: "Unzipping baby... 34% complete... please stand by". I was wise enough to keep these thoughts for myself as my wife was undergoing some serious pains.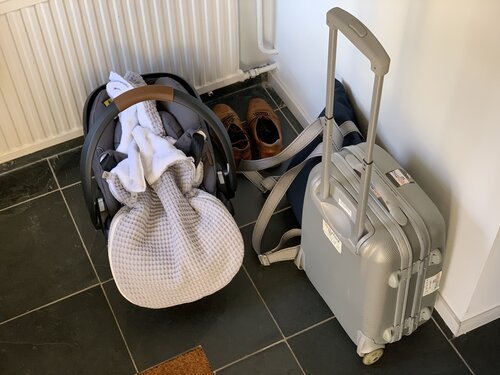 Some hours later the contractions were rapid and intense enough to contact the midwife's office. We went to the hospital for the actual birth. We planned to do this and had a suitcase with Maxi Cosi on standby. Make sure you'll practice setting up the Maxi Cosi before you'll need it... I did!
Once in the hospital, my wife had to work even harder and longer. Witnessing all the hard work from up close, it occurred to me that being a man has its advantages and that we (as men) should have intense respect for our wifes, mothers and grandmothers. At last, almost 25 hours later our son was born, hooray!
Everything changes
Hearing and seeing your son for the very first time is something truly special. It must be one of nature's tricks, but I felt immediately attached to the little man. It's a beautiful moment, but it also marks the beginning of the crazy period you'll endure after birth.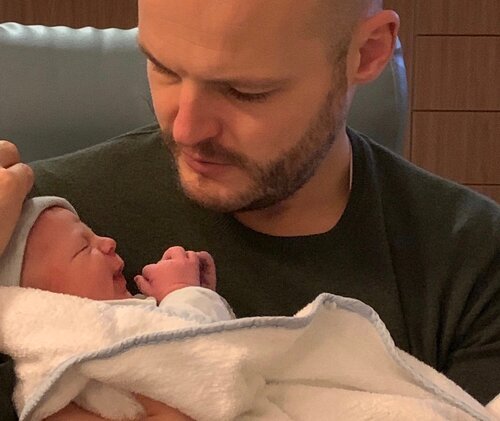 The truth is, that the period after birth is hard, very hard. You'll have to learn and do a lot of new things while you're deprived of sleep. Your life will be in chaos. I visualised my life as a LEGO building set taken apart: everywhere are familiar pieces but you have to figure out how to put them back together.
I decided to organise my rebuilding effort around three important themes:
Health: personal fitness, sleep, food etc.
Family: care for the mama and kid, household
Work: to make sure there will be money
Health
The first and foremost priority is personal health. This sounds selfish, but you need to be fit in order to help others. By far the biggest challenger during the first weeks of parenthood is sleep deprivation.
Soon after birth you'll desire sleep above anything else. Even a small nap during the day will feel like luxury. I used Biostrap to analyse my sleep pattern and effectiveness based on heart rate variance (HRV), an indicator of how well you're rested.
During my nights as newfound dad I change nappies and feed the baby using a bottle. This is done at a fixed schedule at 3 hour intervals, including two or three sessions during the night. This is the main cause for fragmentation of night rest. It takes time to adjust to this new pattern. During my first nights I barely recovered any HRV, effectively waking up sleepy.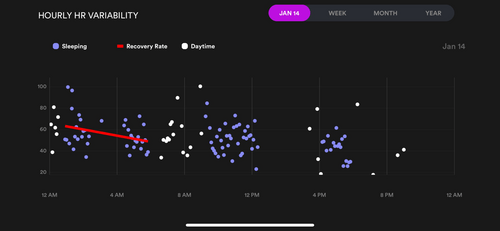 I compensated for the mediocre nights using small naps during the day. Nap data is shown above in purple. This can really give you an energy boost to keep going. After a few days my body started to adjust to the broken nights. My HRV would recover again, despite the interruptions - alleviating the need for naps during the day.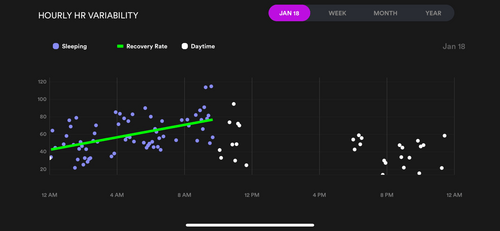 It's good to know that your body can adjust to the new daddy patterns. In addition to sleep you should keep moving too, possibly even do some exercise. Both family and work offer opportunities for this, read along.
Family
Especially during the first few days after birth, both your wife and kid need all the love and attention you can give. In The Netherlands you'll get some help from the maternity service, but after the first week you're on your own. This is the moment to shine as newfound dad.
One way of doing this is cooking! Before our son was born I learned to cook, especially for moments like this. Cooking serves two purposes, feeding and a little "baby off-time". After hours of caring for the baby, you'll welcome a little cooking as it requires a different kind of attention from your mind.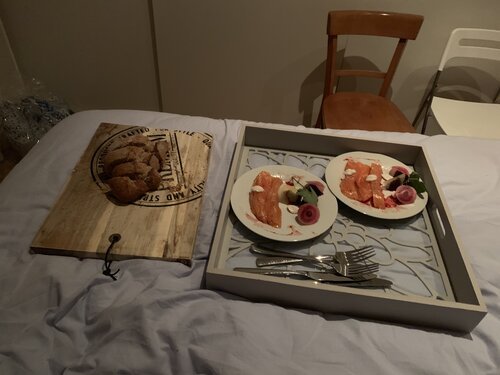 Feeding your son provides an unique opportunity to build a relationship with your kid. As you're concentrating on how he's drinking his milk, you'll have plenty of 1-on-1 time. I try to make the most out of this by explicitly banning my smartphone from the scene. It's seriously rewarding to do this as a dad.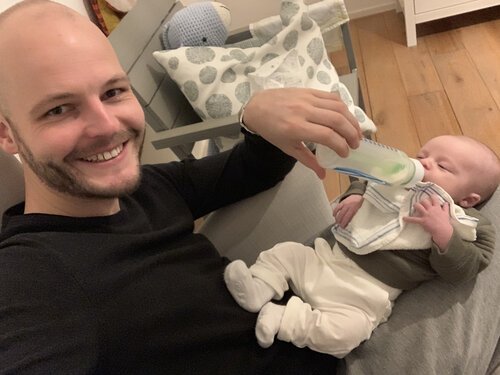 In addition to cooking, you'll find common household tasks highly rewarding as they provide both an opportunity to do something useful, to move a little and to do something with you kid! Grocery shopping, dish washing, cooking, vacuum cleaning are all opportunities worth embracing. I use a baby-carrier to free my hands during common household tasks, it's fun and useful.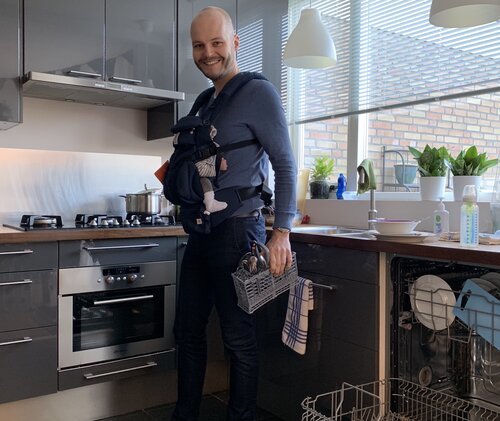 Work
In the Netherlands, employees with employment contracts are entitled to statutory paternity pay, but if you're self-employed like me, there is no such thing. You'll have to plan ahead and save money before the baby is born - because you can expect productivity to be at a deep low during the first weeks.
The upside of being self-employed is that you decide how long, when and where you'll work. This flexibility comes in handy! I found working in the morning quite allright, right after the 7.00hrs feeding session as the little one will easily resume his sleep after finishing his milk.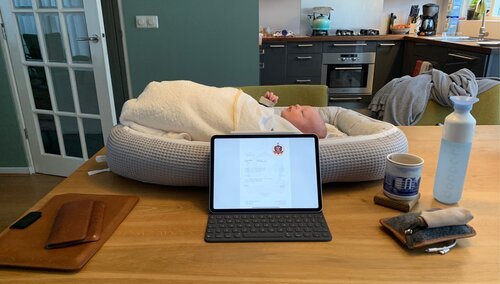 As newborn babies love to have body contact (as it relaxes them because they hear your heart and breathing), you can try to provide a place to sleep for the baby while you get some work done using a baby carrier.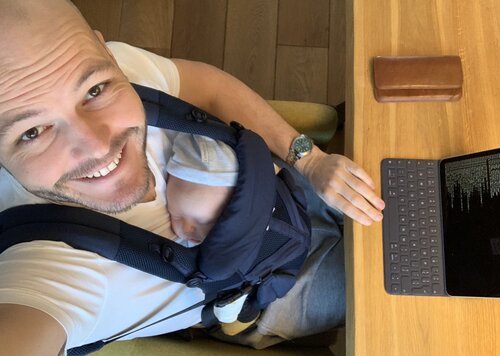 Conclusion
Becoming a parent is something special. Take the time to enjoy it, as it will be over before you know it. Your time will revolve around your baby, this is something you should embrace instead of fight.
Focus on your health, the family and put the rest of your energy in your work. The first weeks are most difficult, after that things become easier because you'll adapt and gain experience. The easier it becomes, the more fun your newfound fatherhood gets!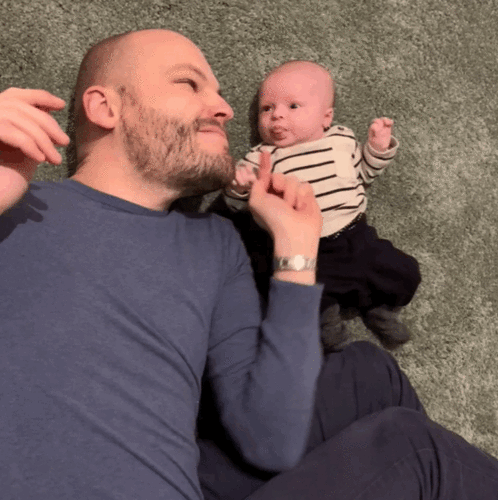 Did you enjoy this post?
If you found this content useful,
consider showing your appreciation
by buying me a coffee ❤️😋: