Around town in an electric car
Driving the Smart Electric Drive (EQ fortwo)
Earlier this month I drove around town for a week in an electric vehicle, a brand new Smart Electric Drive (EQ fortwo). I used it to commute, for my daily groceries and to visit family, friends and customers. What's it like to drive a fully electric car on a daily basis?
Swatch Mercedes Art
Smart is more than a little car, it is the result of a partnership between Mercedes-Benz and the Swiss watch brand Swatch. Back in 1982 (!) the visionary Swatch CEO, Nicholas Hayek had an idea for a small electric city car.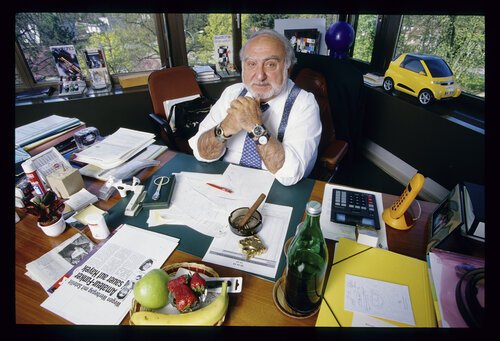 Nicholas Hayek was not just a CEO, he is often credited with saving the entire Swiss watch industry because of his forward thinking as leader of the Swatch Group, that includes well-known brands like Omega, Breguet, Hamilton, Tissot and Longines. He believed that the automotive industry had ignored a sector of potential customers who wanted a small and stylish city car.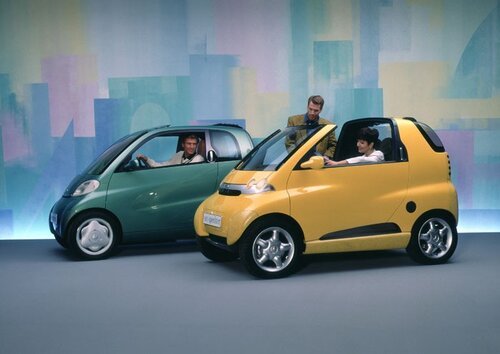 Swatch and Mercedes announced the Micro Compact Car (MCC) company in 1994. One of the first challenges at MCC was the name of the car. Nicolas Hayek insisted it retained Swatch in some way: "Swatchmobile", or "Swatch Car". Mercedes refused and pushed for a neutral name. They settled for Smart, an acronym that had been previously used internally by MCC for Swatch Mercedes Art.
Smart EQ fortwo
Today Smart is a Mercedes-Benz brand, yet it retains much of the original city car concept. With modern electric vehicle developments, a fully electric version of the city car is now available: Smart EQ fortwo.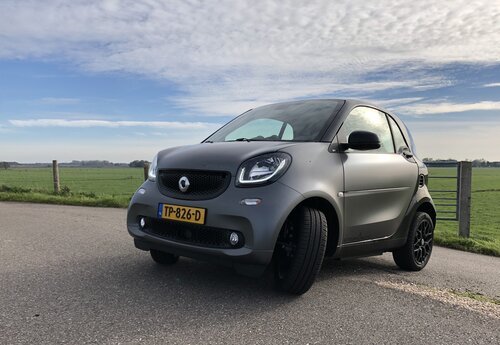 The Smart EQ fortwo is an electric car for two persons, designed to be agile in and around cities. It's a compact car with just 2.6M in length, 1.6M in width and 1.5M in height. Packed with a 96-cell, 17.6 kWh lithium-ion battery it weighs just over 1085KG.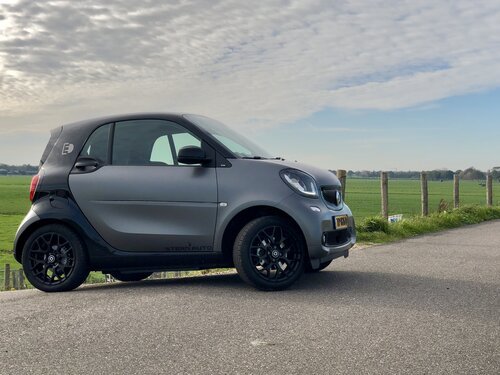 Even though the car isn't big, there is plenty of room for the two passengers. The car has two comfortably large doors and a practical trunk.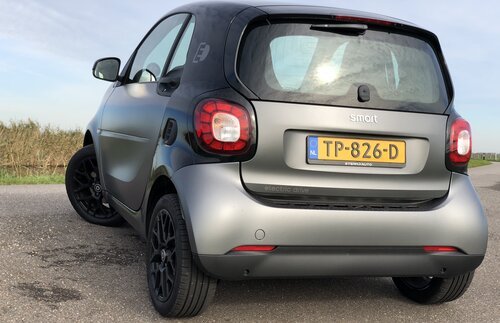 The trunk can be accessed through the rear window, which can be opened quickly. This is ideal for taking out (and putting in) small items. For larger items you can flip down the hatch.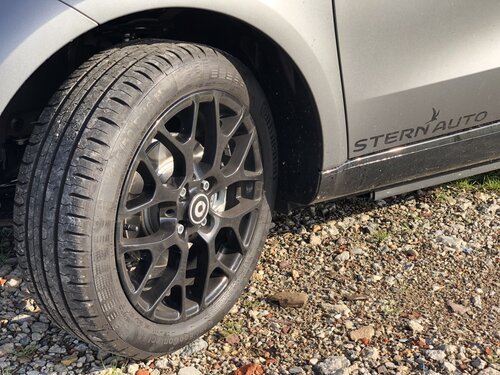 The Smart is anything but dull! You have numerous styling options and can have the car look pretty much anyway you wish. Just like the popular Swatch watches, the Smart is available in many different poppy colours.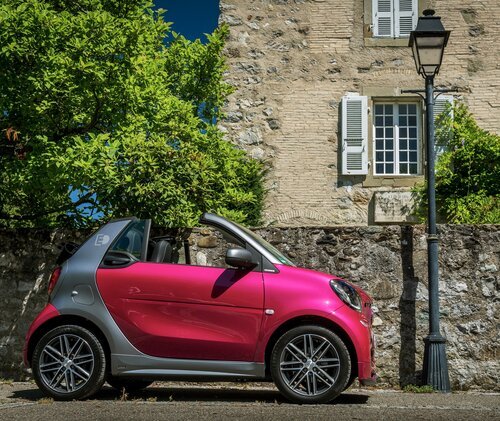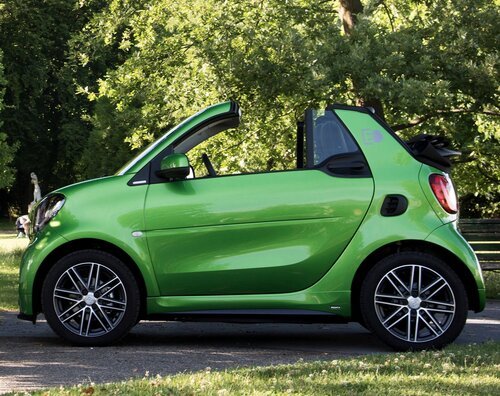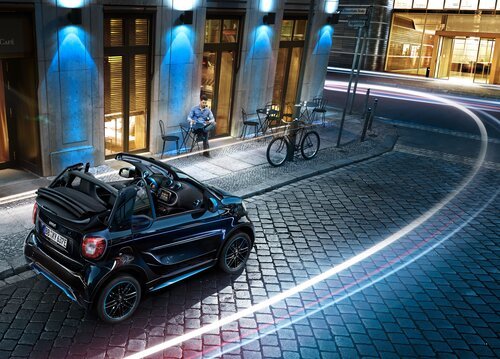 The car I drove had a matte grey finish with black accents - a bold appearance! But whatever colour you choose, the car's modern design works well with it.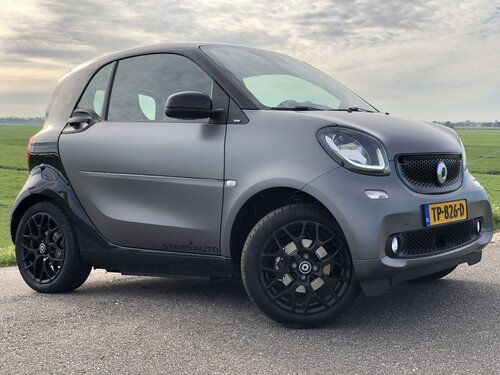 Interior
Like many Dutch men, I am not exactly small with 1.93M in length... yet inside the Smart fortwo I feel very comfortable. The interior is designed to accommodate the two passengers in a big way.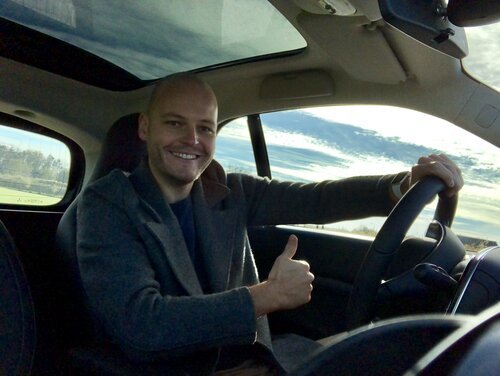 The roof window is a nice extra, it gives you a spacious feeling. Pretty much like driving a cabrio, but without the danger of ruining your haircut.... (if you have any...)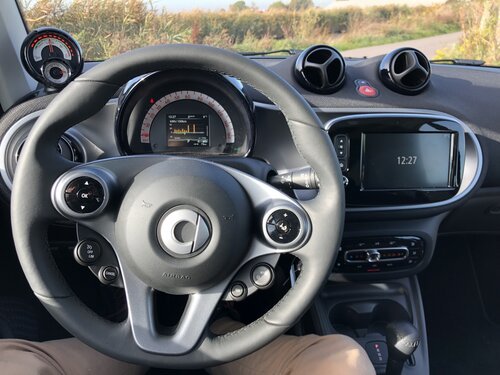 The (heated) steering wheel has numerous buttons for controlling music and cruise control. You can use the buttons to have the contents of the various displays change. The displays can show anything from speed, distance to electric power data.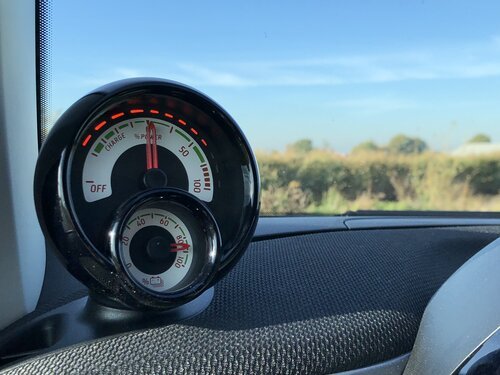 Leave it up to the Smart designers to come up with a fun little electric power gauge. It shows you the current power level and battery charge. The power gauge goes two ways: going to the left, it indicates regeneration (by magnetic braking), to the right it shows power usage (by accelerating). Its fun and useful if you're new to electric cars.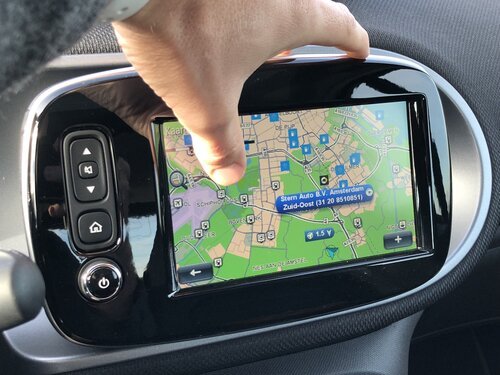 In the middle of the dashboard there is the central screen. You can use it to navigate, play music and connect to your smartphone. Alternative to the integrated media system is the smartphone cradle that allows you to use your phone as central screen.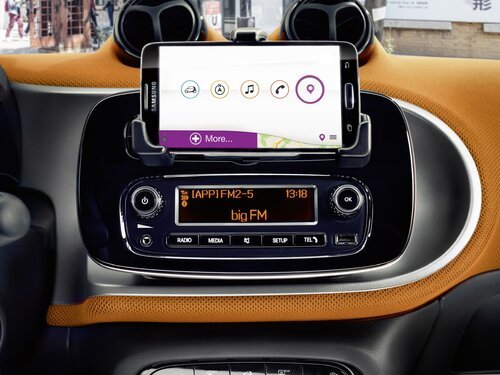 If you use the car on a daily basis you don't only see the interior, you feel it. The steering wheel, the handles, the buttons: it's Mercedes-Benz quality. That's a good thing. While the Smart is a fun little car on the outside, on the inside it feels like a serious luxury car.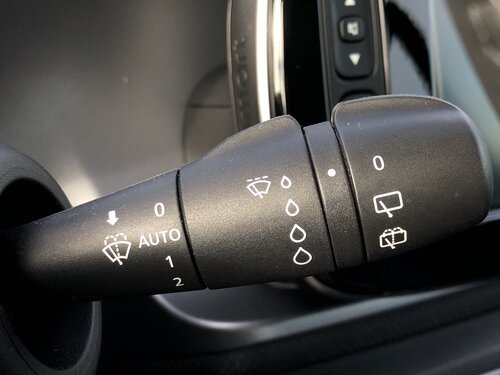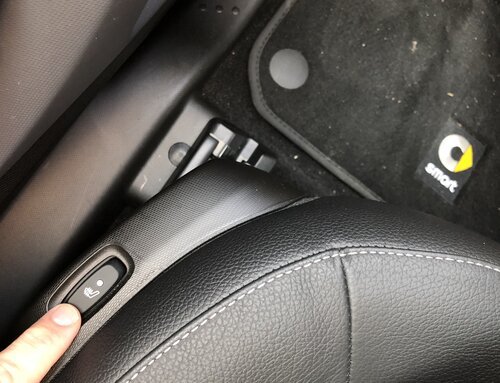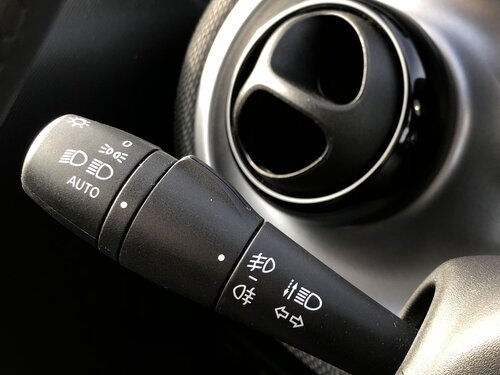 The interior designers really show that they understand how the car (and passenger seat) is used in practice. They included handy things like a baggage belt on the passenger seat. Its top notch, in thinking and finish.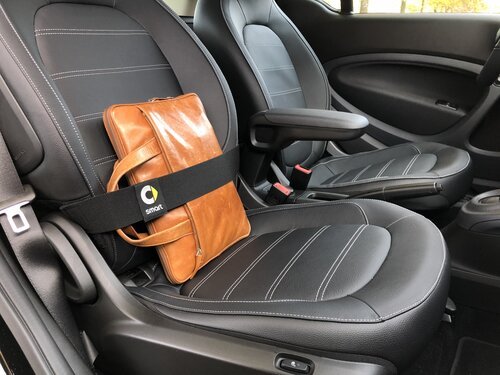 Handling
Driving a fully electric car is something genuinely different than a traditional petrol car. Using petrol, the internal combustion engine only has a limited range where it delivers power efficiently. Therefore you need a gear box to shift up and down to get moving. Electric engines deliver power at all speeds and do not need gearboxes.
This makes accelerating an electric car much more like a roller coaster: it goes! There is no lag, no shifting, just power! The relatively light Smart (1085KG) may have a small electric engine (±60kW / 80HP), but it delivers speed in a continuous and joyful way. It gets you from 0-60KM/h in 4.9 seconds, good for a big smile at traffic lights in the city.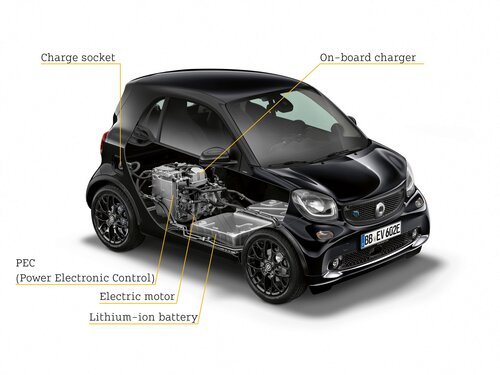 The gearbox isn't the only thing that's missing in an electric car: no oil/fuel tank, pumps, filters, no cooling liquid, radiators and no start engine. An electric car can be much simpler in terms of parts than any petrol car.
The lack of traditional car parts enabled the designers to optimise weight distribution by putting the heavy batteries as low as possible. The engine is very close to the rear wheels, freeing up the front axles, allowing them to steer very sharply. Combined with the short wheel basis this gives the Smart an incredibly small turning cycle of just 6.95M.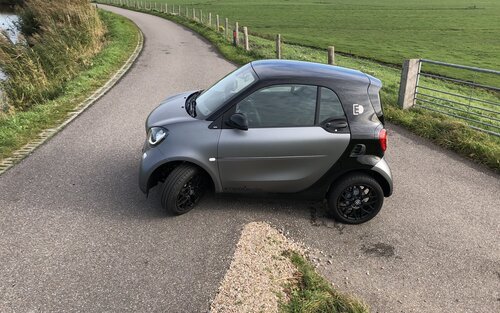 The perfect manoeuvrability is very handy in urban areas. You can squeeze the car in almost any (tiny) parking place. The look on my neighbour's face was priceless!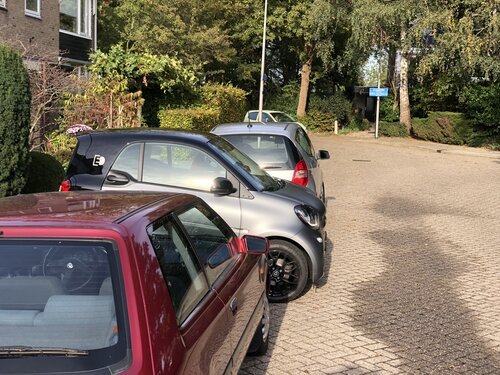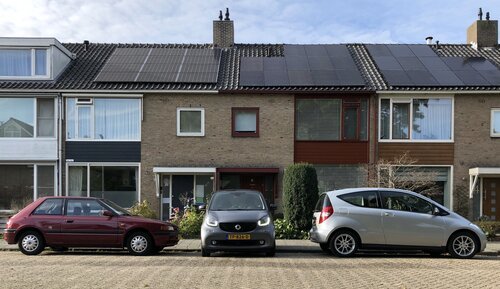 Range and charging
During my time with the electric Smart I easily got 100KM range from a single charge. If you use the ECO-mode, adapt your driving style and take it easy, you'll be able to get a range of about 130KM.
Initially I thought that this would be a problem, a petrol car can easily have a "range" of hundredths of KM's. But, there something an electric car can do that your petrol car can't: charge overnight.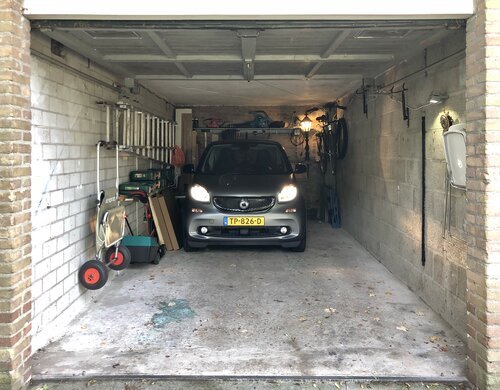 I found that whenever I parked the car in my own garage, it was a very small effort to connect the charging cable. This way the car will always be charged when you wake up in the morning. Suddenly I realised how badly I hate tanking petrol!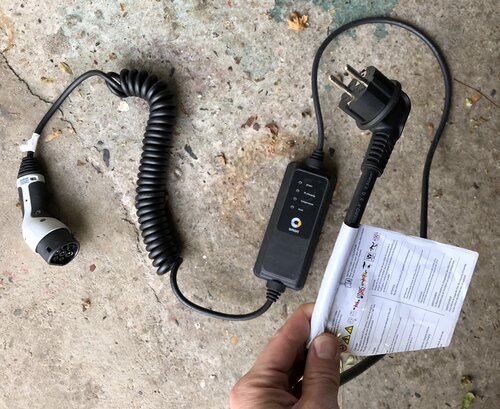 It will take a maximum of 6 hours to charge the car up to 80% using a normal, 230V power outlet. If you install the optional wall box you can increase charging speeds dramatically.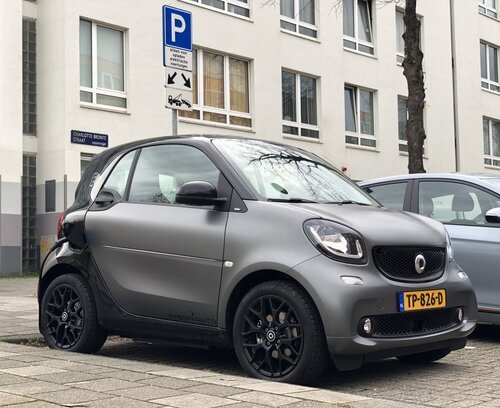 In addition to charging at home, you can use any public charging station to fill the batteries. This is ideal in cities, where its often hard to find a parking place. Using a smartphone app you'll find free charging places everywhere. While you're visiting friends, family or customers - the car is filling itself with fresh power.
The beer test
There are lots of important things in life, being able to transport a box of beer is one of them. Luckily the Smart is designed by Germans, and they love beer. I wondered how many boxes of beer I could fit in the car...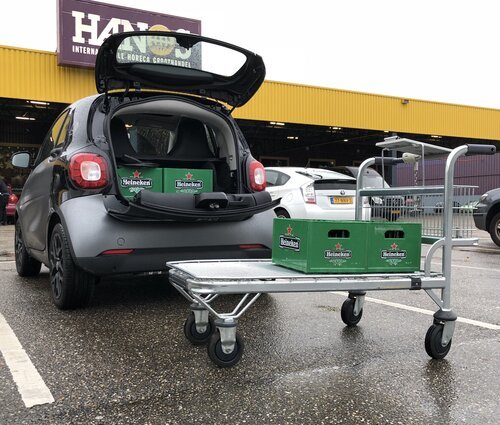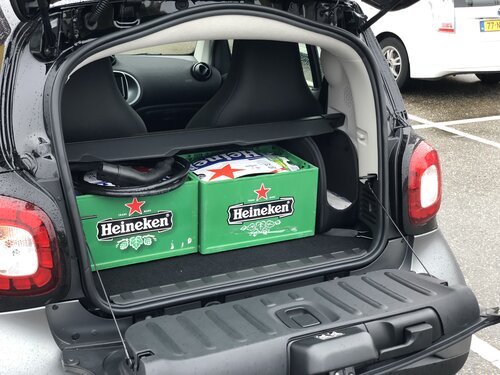 The rear trunk easily fits two boxes of beer. If you're really having a serious party, you can use the passenger seat to go crazy... I stopped at 96 bottles of beer, but if you're any good with games like Tetris, I imagine you'll be able to fit much more!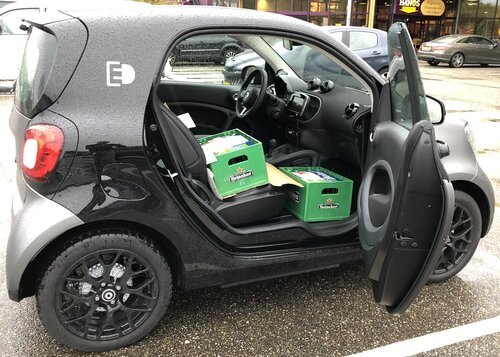 Conclusion
One week and many kilometres further, it was hard for me to return my new electric buddy back to the Smart dealer in Amsterdam, Stern Auto. Its simply so much fun, zipping around town in an electric smart.
Even more than the forward thinking in terms of design and drive train, its this fun that sticks! It makes you smile, when you drive, when you park, when you charge. Fun!
Did you enjoy this post?
If you found this content useful,
consider showing your appreciation
by buying me a coffee ❤️😋: