Whoop strap review: 24/7 wearable sensor
Beyond fitness tracking and smartwatches
The past months I have been wearing the WHOOP Strap 3.0, a wearable sensor that collects health and fitness data. It's different compared to most other fitness bands as it was designed with professional athletes in mind. It is focussed on daily strain, recovery and sleep. Read along to find out how this works.
Pure, minimalistic design
The WHOOP strap is designed to be a sensor, not a smartwatch or notification device. The device is therefore unobtrusive, not making any sounds or buzzes. There are no buttons and there is no display.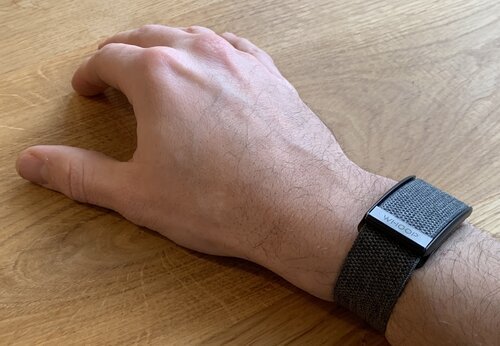 The device has an array of advanced sensors, measuring heart rate, heart rate variability, resting heart rate, respiratory rate, movement, temperature and skin conductivity.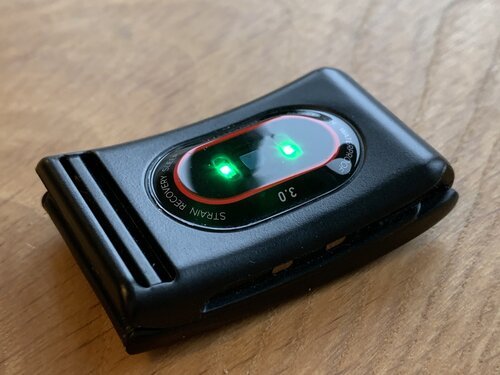 On an average day it collects more than 100MB of data. Most of the data is processed on the device itself, allowing for efficient synchronisation with the WHOOP cloud service, where all data is collected, analysed and presented.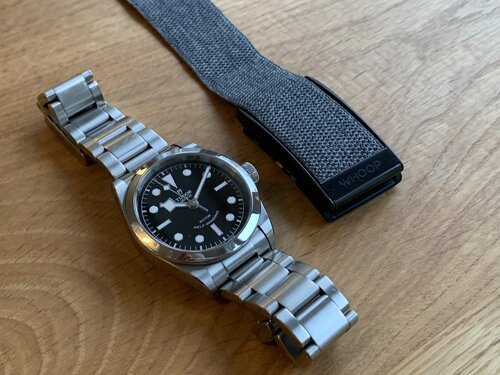 Strap
The "ProKnit" strap is made from a stretchy yet sturdy material with an anti-slip pattern underneath. It allows your skin to breathe, which is impossible with typical rubber sports bands. Straps are available in different styles and lengths.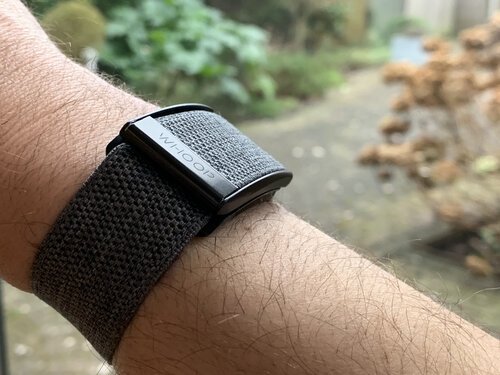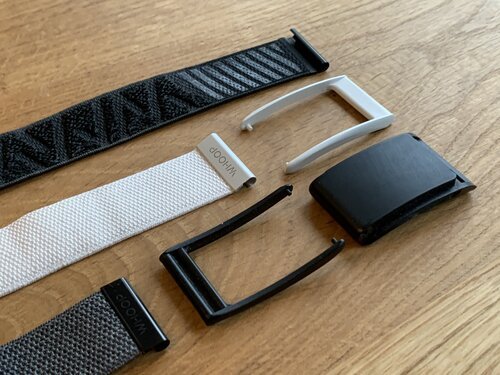 It is possible to wear the WHOOP strap on the wrist, or higher up your arm on the biceps. This allows the sensor to be hidden under your clothing.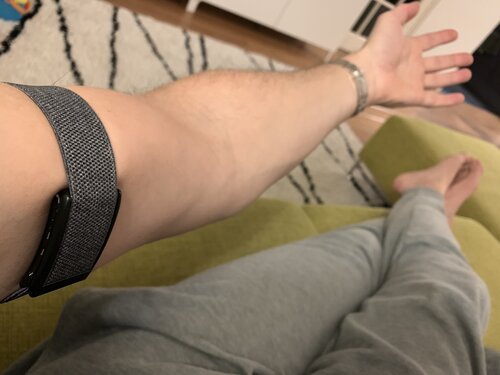 If you wear a mechanical watch, you can combine the strap with your watch if you want to. This way you sort of smarten-up your 'dumb' watch. It may be a solution to the populair question of "smartwatch vs regular watch".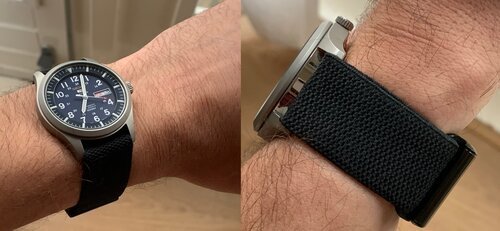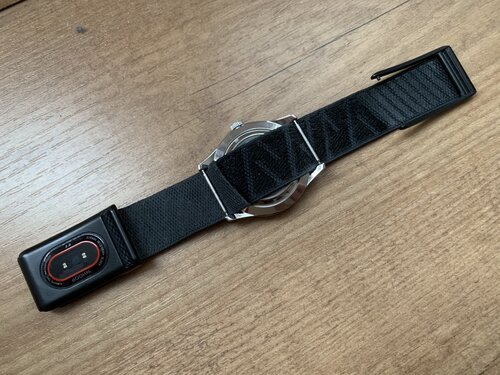 Wearing it 24/7 (and charging)
The WHOOP Strap is designed to measure your biometric data 24 hours a day, never to take it off. The idea behind this continuous data collection is that there is important progress to be measured when you're not working out. The device does a tremendous job tracking you during recovery, sleep and activities. The continuous data collection provides a much richer picture of your physical condition.
This is useful when you (like a professional athlete) want to unlock all the potential that your body has. By matching activity (expressed as 'daily strain') with recovery, you keep your body in balance. This balance is important to prevent over training and to structurally improve your fitness.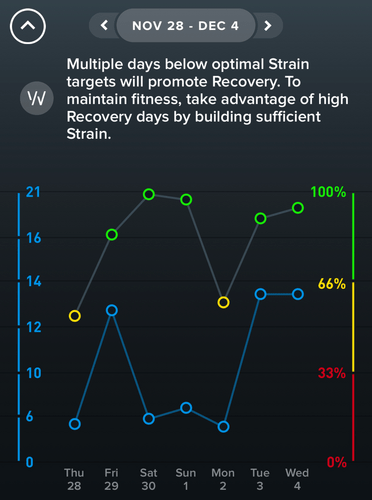 The device is highly personal, its algorithms adjust to your bodies values. This allows it to track relative progress. This approach enables the WHOOP Strap to detect when you will become ill, even before you feel it yourself!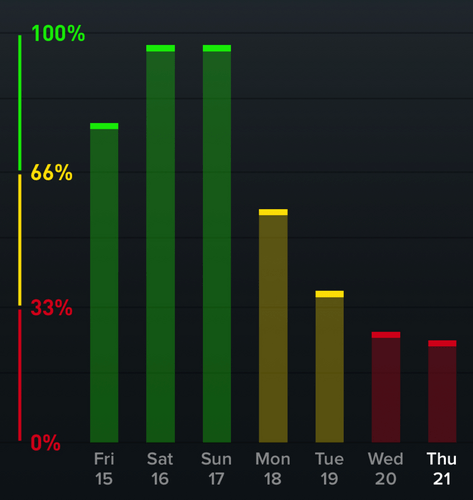 The main challenge with a 24/7 device is battery power. In the past I have worn multiple other sensors, like Biostrap and Apple Watch. While these other devices have their own strengths, they are limited by the requirement to take it off for charging. Even though this may only be for a few hours, it requires annoying 'manual management': taking the strap/watch off and putting it back on.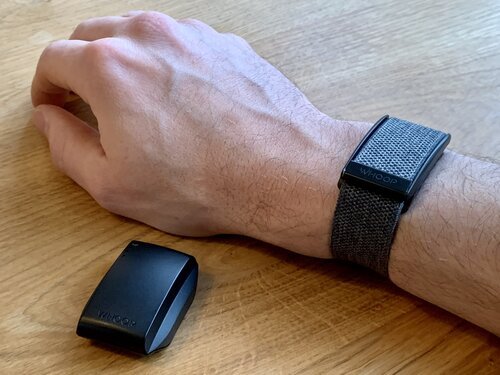 In contrast, the WHOOP strap can be charged while wearing it using a relatively small external battery pack that slides on the WHOOP sensor unit. Charging is quick, ± 30-60 minutes to fully charge it. While charging, it continues to work.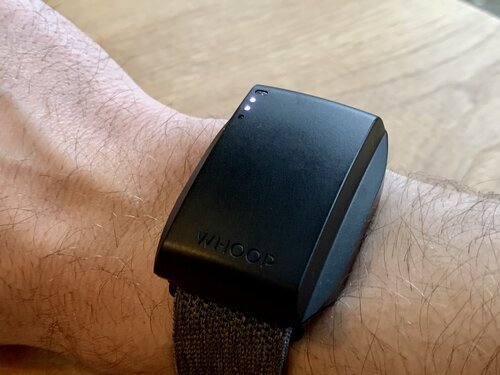 Once fully charged, the WHOOP strap has an actual battery life of about 4 days (they claim 5 days, in practice it's close to 4.5).
Measuring activities, workouts and sport
The WHOOP Strap measures your biometrics continuously, this means that if you decide to workout you don't have to start any app or activity tracking. You just "do your thing" and the device will measure the intensity of your workout. It automatically detects common workout types using machine learning and by analysing the type of movement the gyroscope sensor detects. You can (very) easily adjust this recognition in retrospect, adding different workout types that the device may not detect initially.
It is important to understand that defining a workout is not necessary for the WHOOP strap to work: it measures everything. That means that everything you do adds to your daily strain. You'll be surprised how much energy you spent on things like common household tasks and work.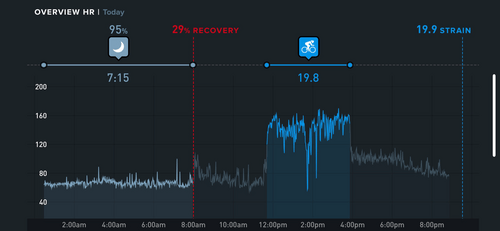 The continuous data collection allows you to clearly see the workouts you do relative to the rest of your day. If you look at the graph shown above, you'll see that it takes many more hours for my heart rate to return to normal after working out. A simple/stupid fitness tracker would not see this "post workout" data.
Heart rate broadcast
Another cool, useful, feature is heart rate broadcasting. The WHOOP Strap 3.0 allows you to broadcast your heart rate on devices that are compatible with the "Bluetooth Low Energy Heart Rate Profile". This enables the WHOOP to work with bike computers, fitness machines and external apps. I use this feature to connect to my favourite bike computer app, making it unnecessary to wear a separate HR chest strap while cycling (like the Wahoo TICKR).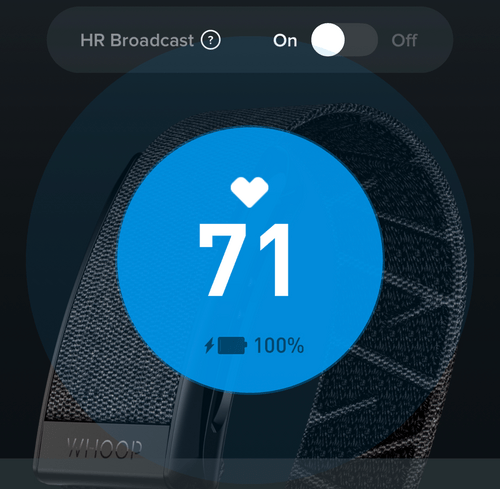 Matching strain with recovery (through sleep)
Ultimately the WHOOP strap distills all the collected data into three simple pillars:
Recovery: this is how ready your body is to take on strain, it is determined by analysing HRV values during your sleep. The recovery score is highly personalised, based on your body's usual metrics.
Strain: this is a numeric value (0-21) indicating how 'hard' your day was. The value is determined on the popular Borg Scale of perceived exertion. This is a scientific scale developed by Gunnar A.V. Borg in 1970 to objectively measure exertion. Strain values are personal as they are determined by the average heart rate during a workout: a well trained person will have a lower heart rate during the same workout.
Sleep: as rest is important for recovery, sleep is meticulously analysed by tracking movement, heart rate, respiratory rate and heart rate variability. WHOOP will analyse your sleep pattern (time in bed vs time asleep) and suggest the optimal time to go to bed.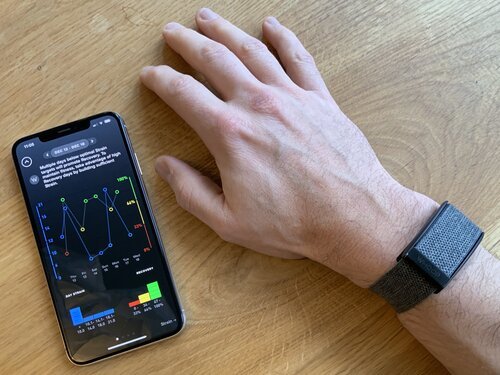 Whoop community and teams
In addition to the WHOOP Strap and its data, there is a lively WHOOP community on Facebook. Other users share their experiences with the strap and data. This is useful as it enables you to learn from others, like how they improve their sleep and how to promote recovery.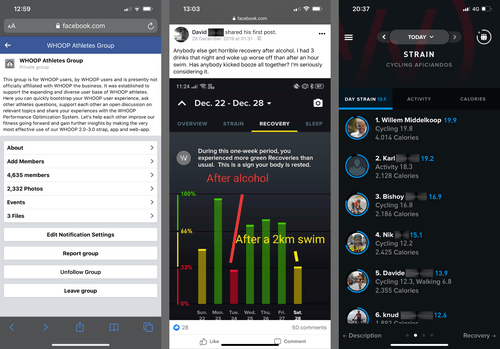 In addition to Facebook there is the "Teams feature" inside the WHOOP app. It allows you to compare your stats with other people. This can help you motivate to go the extra mile when doing your workout.
Conclusion
The WHOOP strap is a designed to perform advanced continuous analyses of your biometric data in order to provide you with easy to understand, actionable insights.
The WHOOP strap is easy to wear on a daily basis, sitting comfortable on different positions on your body. In many ways it is exactly how I would design a minimal (yet very functional) biometric sensor. I highly recommend it to anybody who's interested in unlocking the potential of the human body!
Get a free WHOOP strap + one free month!
Thinking about getting yourself a WHOOP? Get a free WHOOP strap and your first month free when you join with this link: https://join.whoop.com/willem
Did you enjoy this post?
If you found this content useful,
consider showing your appreciation
by buying me a coffee ❤️😋: