Swimming and cycling with Apple Watch
Different activities in the workout app in watchOS
This month Apple launched a new Apple Watch series and released an update to watchOS. The focus of the smartwatch is more and more gearing towards health and fitness. This made me curious, how well does Apple Watch work for different activities?
Cycling and Swimming
For this test I used a Apple Watch + Nike, it's the most sporty style available. But, all Apple Watches are identical in their health and fitness functionality. Because I am a bit of a data nerd, I strapped another tracker on my wrist to be able to compare data.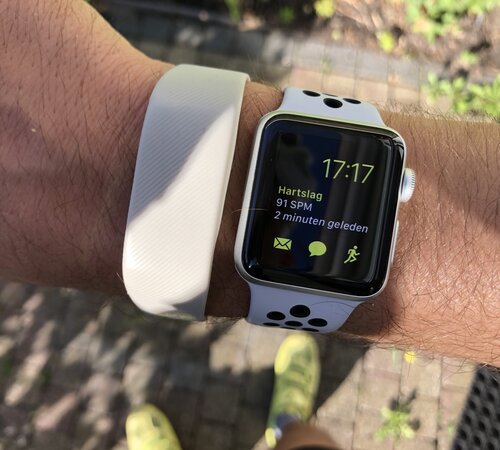 Instead of using third party apps, I decided to stick with the build-in Apple Workout app. When I tested earlier models of Apple Watch, I found it to be lacking features. But ever since Apple updated watchOS, it has matured into a very capable activity tracker. As I like swimming and cycling, I decided to take the watch for a plunge and ride.
Cycling with Apple Watch
Riding your bike with Apple Watch is easy. Just wear the watch, tap 'start cycling' in the workout app and get moving! You don't need any external sensors (like speed, cadence, heart rate), the Watch provides everything needed to perform the activity analyses.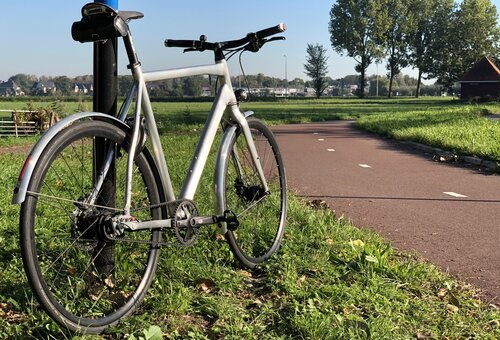 The Watch feels nice on the wrist, the silicone sports band is very comfortable. Especially the aluminium Apple Watch models are very light on the wrist - which is nice when you're working out. While riding you keep your eyes on the road - the watch performs its analyses in the background. If you glance at your watch during workout it will show you a summary of the current progress.
Ride data
After you've completed your ride you stop the workout session in the app. Data is automatically synced to your iPhone where you can analyse your performance in detail.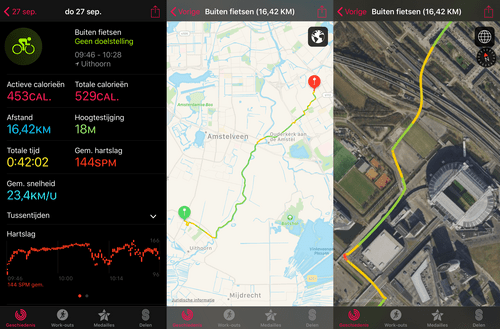 You can see your average speed, distance, ride duration, calories and heart rate. I like the heart rate graph as it clearly reflects the intensity variance during my ride. It also offers you to see your route on a map. A (very) nice detail is the colour of my path, green indicates fast cycling, red slow cycling. If you're trying to improve your average speed this enables you to quickly see where you're slow.
Swimming with Apple Watch
Working out in the swimming pool with Apple Watch is easy too. Before you jump in the water, you start a swimming workout session. This automatically enables the water resistant mode, disabling touch screen interaction (since that is somewhat troublesome with wet fingers). You can enter the swimming pool length, which helps the watch analyse your stroke.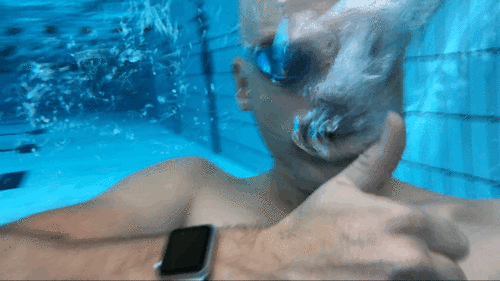 After you've completed your swimming, you rotate the Watch's digital crown to disengage the water resistant mode. The Watch will make a sound, expelling excess water from its speakers. This is really an inventive way to make this work, cheers to the Apple engineers.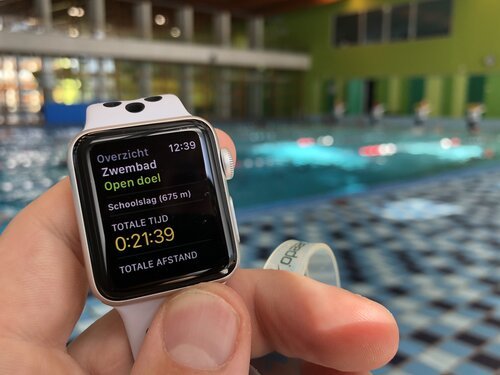 On your Apple Watch you're presented a summary after swimming. You can see the amount of times you've swum across the pool, including the total distance.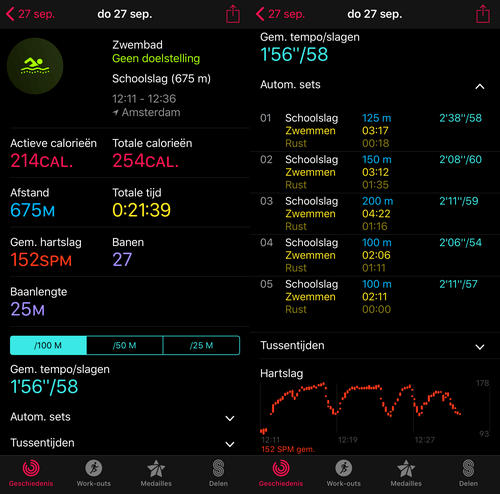 Using your iPhone you can analyse the swimming session in detail. The Apple Watch automatically syncs the swim data once it is back in range of your phone. There is no need to bring your phone near (or in) the pool. It's amazing that the Watch is able to perform heart rate analyses while in the water. Using the gyro sensors it is able to accurately identify my stroke type and duration, including the small rests I had between swimming sessions.
Conclusion
Apple Watch is just one tiny device on your wrist, yet it packs so much computer and analyses power. Combined with iPhone it is a fantastic sports companion.
What amazes me is the versatility, I used the same Apple Watch to swim and cycle. You don't need dedicated bike computers anymore for decent ride data. I am really impressed by the Watch's ability to track my movement under water.
Measuring your own performance can be a motivational factor when working out. It enables you to track progress and motivate you to go the extra mile. It's good, now get moving!
Update on cycling with Apple Watch:
Check out my other post about using Apple Watch as cycling computer on your bike.
Did you enjoy this post?
If you found this content useful,
consider showing your appreciation
by buying me a coffee ❤️😋: