Cleaning a vintage watch
Rediscovering old beauty under layers of dirt
This week I was cleaning my closet when I found an old watch. It came from my grandfather's house. It looked like it had an adventurous live, full of wear and tear. I recognised that it had an automatic mechanical movement. Upon picking it up it almost instantly started running again. I wondered how cool it would be if I would gently clean it.
Citizen Automatic, 21 jewels 6000
After my grandfather passed away we cleaned his house. Among the many (old) items was this Citizen Automatic watch. I did not know its story, but it clearly seemed like it went through things during its time on the wrist.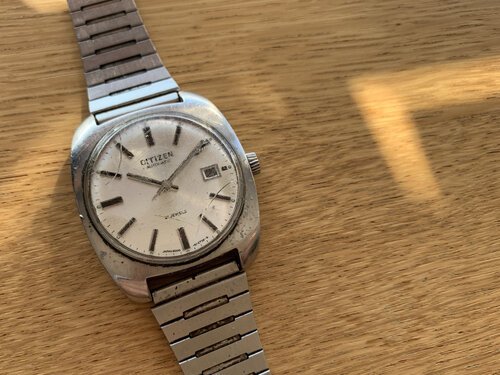 It is an automatic mechanical watch from the 70's (judging by it's design and by looking up the reference numbers on the back). Back in the day a mechanical watch was something you would simply need; there were no smartphones and computers with abundant digital clocks. This was just before the so-called 'Quartz Crisis', which spurred a ton of cheap battery powered watches. The watch I found was a relic from a time gone by, with a mechanical heart that was still beating! How cool!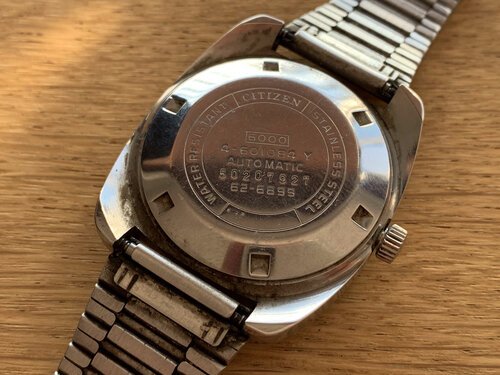 Unlike most smartwatches (that last only a few years), most mechanical watches were worn for many years. During their time on the wrist they picked up the signs of daily wear. This watch clearly went through its fair bit of beating around.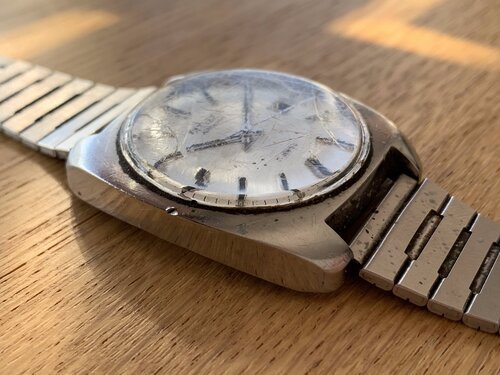 As far as I could determine the watch was in original, unpolished or serviced condition. This is a good thing when it comes to watches. A vintage watch can lose all of its charm when it is polished or when characteristic parts such as the dial or hands are replaced by service parts. Hence, it's no wonder that an original vintage piece commands a premium price on the watch market.
Cleaning a vintage watch
When you're planning on cleaning a vintage watch you should be really careful. Old watches can be very fragile. Even though the casing may state texts like "waterproof" or "water resistant", chances are that it no longer is protected against moisture. If in doubt, you should consider bringing your watch to a professional watch maker to have it cleaned and handled professionally.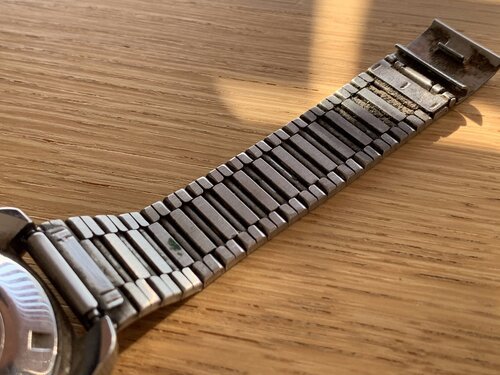 If you're planning on doing it yourself, you should get yourself some watch tools. They can be found on the internet and they will enable you to open and close the watch without damaging it. Using the right tools it is easy to remove the bracelet from the watch head. This will allow you to more easily clean it (as a bracelet is better resistant against water).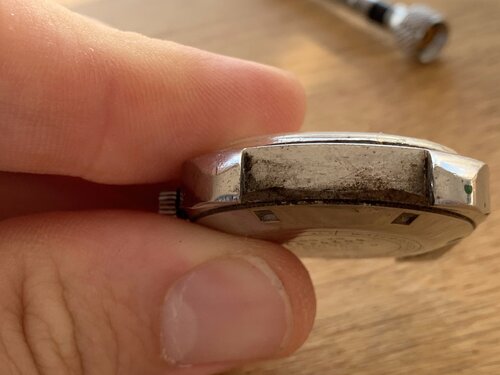 This watch had a ton of dirt inside the bracelet. You'll often find dirt stacking up in between different links and parts. Over time, bracelets can become a flourishing microbial ecosystem, with germs, bacteria and other microscopic life.
You can use different things to clean the bracelet and the watch head. I often use my electronic tooth brush (with a spare brush!) to easily remove dirt from between links. A bracelet can be cleaned using an ultra sonic bath, too. Be careful with the watch head as it houses the movement, use water sparsely (if at all).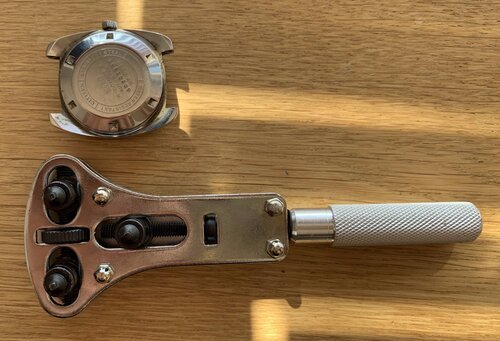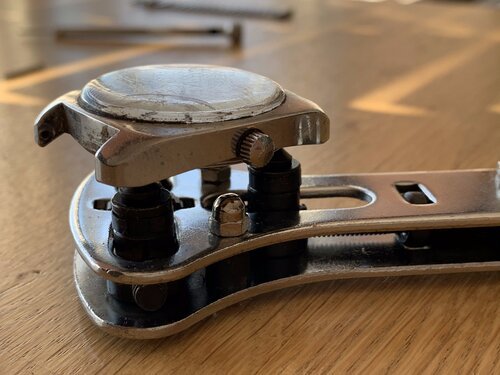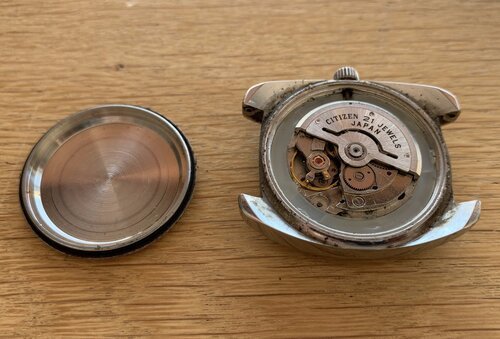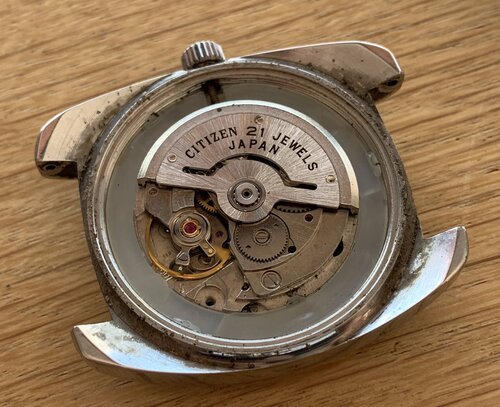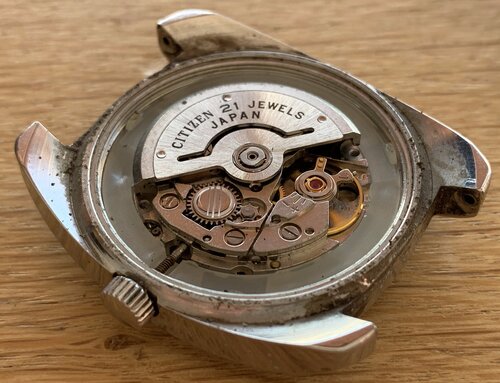 I checked the mechanical movement on the inside of the watch to determine if the case was ever open to moisture or dust. If this is the case, you should have the movement serviced by a professional to prevent any (water / dust) damage from damaging the movement any further. As there are many steel parts, oxidation is a real danger to a mechanical movement. This watch looked clean on the inside, no signs of trouble and the automatic movement appeared to be in good condition!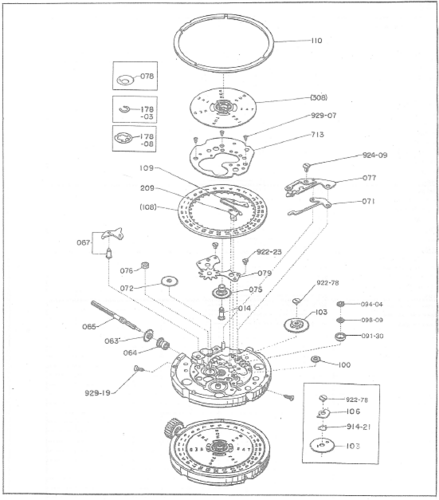 If you're really adventurous, you can probably find technical schematics of common watch movements. They're like the blueprint of the movement, allowing you to identify individual parts. Luckily, this watch movement was alright.
Results
After carefully cleaning the watch I put it back together. Just like the vintage bike I cleaned earlier, I was amazed by the beauty that was hidden underneath the dirt. Cleaning it was a good thing to do!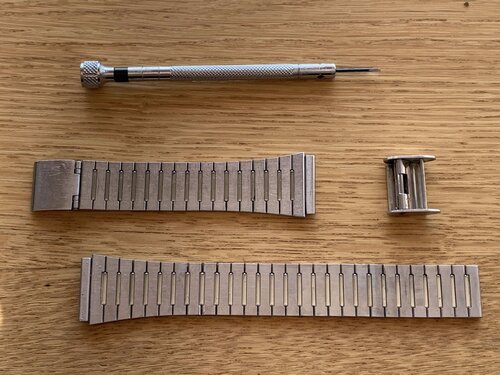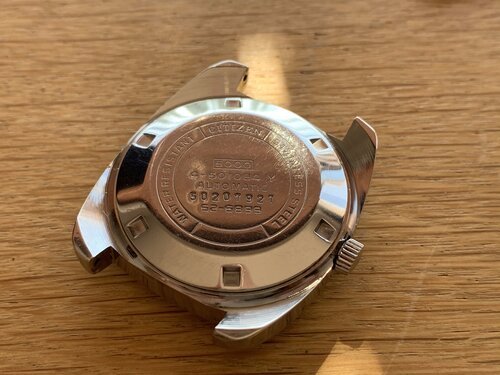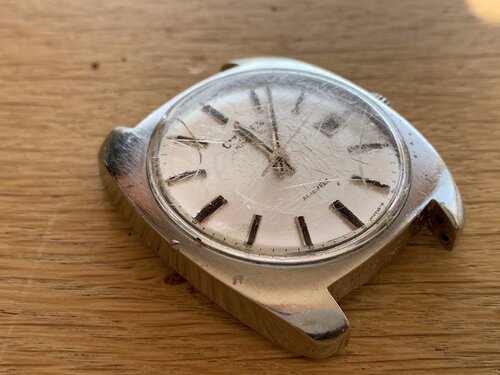 Obviously the plexi crystal is damaged, it has many scuffs and cracks. The good news is that you can easily have them replaced. But, I like things original and did not mind to leave it like this. I think it adds to the character of the watch and it has an interesting way of refracting (sun)light.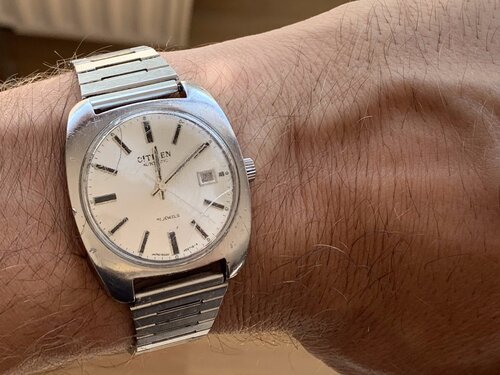 Thanks to the modern wonders of the internet, you'll be able to find many different straps and bands for your vintage watch. Fitting them is easy and they will often allow you to rediscover your old watch in new ways!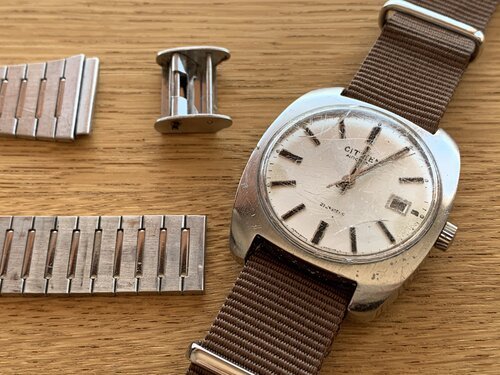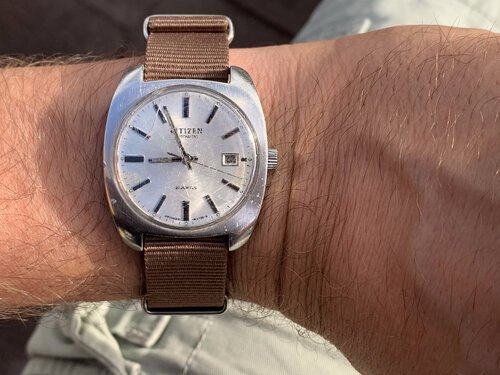 Conclusion
Vintage watches are popular for their unique characteristics that evolved during their time on the wrist. Each watch tells a different story and this is what makes it interesting. Collectors love the fact it takes time for a watch to become the way it looks today. Countless tiny scratches and occasional scars tell the story of previous owners. One may even imagine inheriting some of the machismo of previous wearers.
If you ever come across a nice vintage watch, you should handle it with respect and care. Consider signs of wear and tear to be something beautiful instead of something that should be refinished to factory conditions. If you want a new watch, buy one. Vintage watches are about the stories of their lifetime, handle them well and you might add a chapter of your own to their story!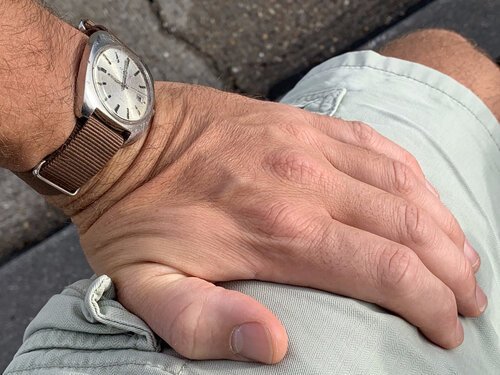 Did you enjoy this post?
If you found this content useful,
consider showing your appreciation
by buying me a coffee ❤️😋: