The value of notifications
How to setup your smartphone to save time
It's easy to dismiss your phone's notifications as something that disturbs you, something annoying. But if you take the time to set them up correctly, notifications can actually save you time in the long run. Gain more focus by taking control over your online connection to the world. Read along for some tips!
Screentime
Start with taking a good look in the mirror, how do you use your phone? Did you know that a lot of people underestimate the amount of time they use their smartphone?
If you're looking at your screentime you should pay attention to three different things:
time spent: the actual time you spend inside apps or on websites
pickups: the number of times you've picked up your device
notifications: the number of notifications you received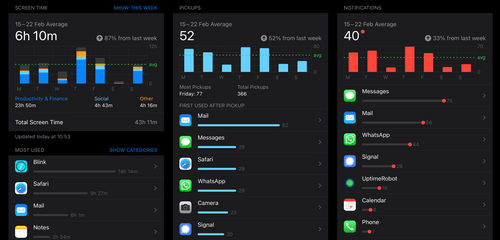 Look at my usage pattern, you see that I spend most of my time in an app called "Blink", this is where I code and develop new products. If you look at my pickups, you'll see that I am a heavy "Mail" user. This is because email is my primary communication channel with my customers, followed by Messages, WhatsApp and Signal.
The real value of notifications is that you can use them to reduce the number of times you pickup your device. In the long run this can save you a lot of time!
Break the loop
A lot has been written about people getting addicted to their phone. This has something to do with what is called a "dopamine loop". If you disable all notifications, you must manually engage (and "search" your phone) to see if there is anything new available. This is known to be an addictive pattern, because our brain is looking for a reward: perhaps this time you'll find something new and amazing on your phone! (et voila, you're sucked in again)
This brings me back to notifications, you can use them to break this dopamine loop. If you configure them correctly, the notifications will only inform you if there is really something you need to check out. You can then safely ignore your phone if there is no notification, the need to manually "check it" will cease to exist.
Instead of checking your mail manually 10 times per day, you should have the notifications setup to inform you when something important comes in. This may only be once or twice a day, saving you the time it would take to manually check 8 or 9 times!
You decide "who and what"
The key thing to make this work, is to have a very refined and strict notification policy. It will take time for you to find the right balance, don't be afraid to "steer along". It took me weeks to reach my balanced configuration and I continue to occasionally make changes. For instance when emphasis on different projects or customers change.
Start by turning off most of the non-critical notifications, optimising the "noise to signal" ratio. I killed all notifications for apps like "iOS tips", social media trending topics, any advertisements, games, etc. As a rule of thumb, only real people may interrupt me - I do not wish to be disturbed by any algorithm!
The only exception to this rule is my realtime server monitoring system, which alerts me if my servers go down. This algorithmic push notification will save me many "people driven notifications" like calls and messages. Knowing about problems before my customers do saves me time, too.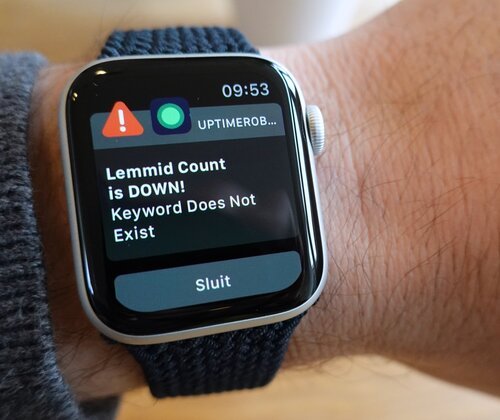 Then you can choose to further refine your policy by differentiating your notifications settings per sender or caller. You can define groups or add people to the VIP-list. I use this to filter out 90% of my mail's notifications. Who is on the VIP-list is something you should decide for yourself. My VIP-list changes as I start and finish projects over time.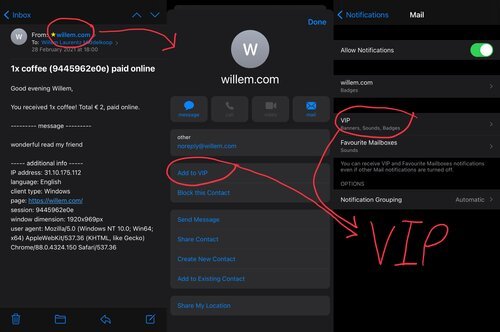 Few other tips you can consider:
mute group chats: while people driven, messages are often not directed at you
mute social media: while you may think these notifications are people driven, social platforms impersonate people to increase engagement: "someone liked you" is not really a person
ignore the news: its safe to ignore the news if it doesn't affect you directly, and if it does, chances are real people will talk to you about it!
send fewer messages: treat others as you would like to be treated, if you send fewer messages and emails, chances are you'll receive fewer replies! Make those that you send count, take the time to consider what you send.
Do not disturb
If you're dealing with customers from abroad, from different timezones, you must take pay special attention to your night's rest. It's OK to be offline! I have configured an automated schedule to activate the "Do not disturb" function on my phone.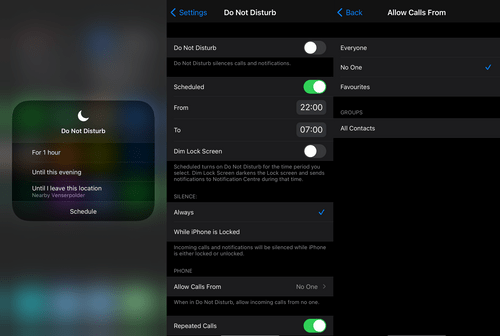 This allows me to filter out 99% of the notifications during the night, while allowing emergency calls and notifications to come through. I prefer it over shutting my phone down entirely, as I do like to stay available for close family, friends and the UptimeRobot.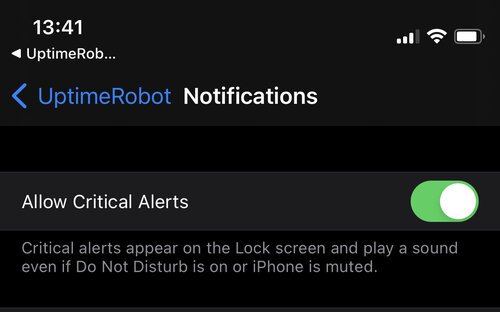 Conclusion
It's easy to be overwhelmed by notifications in our modern connected world, but it is a mistake to bluntly "kill them all". Be wary of the dopamine loop that lures you into regularly picking up your phone to "check it", it's a waste of time!
Instead you should take the time to look at how you use your device. Come up with a refined policy to stay connected, but in a selective way that you control - it will save you time in the long run!
Did you enjoy this post?
If you found this content useful,
consider showing your appreciation
by buying me a coffee ❤️😋: